Zoosk is not yet another dating platform. Implementing a bunch of unique features and combining them wisely with traditional communication tools have brought this site's operation to an entirely new level. It is true that the number of positive Zoosk reviews online is overwhelming. Moreover, this company hits the top positions in The Best Place to Work chats year after year, and its net income is inspiring. What is their secret? They make people trust in them and prove they are worth this trust. Let's take a closer look at Zoosk services and see what it can do for you.
When was Zoosk Founded?

Zoosk history started in 2007 in California. It was originally a Facebook app.
Alex Mehr and Shayan Zadeh founded this concept.
Who Owns Zoosk?
For seven years, it was run by Mehr and Zadeh. In 2014, they were replaced by Kelly Steckelberg. And five years later, Zoosk has become Spark Networks SE that owns it for over a year now.
Registration & Profile
Zook offers two major ways to get started. Neither of them will take you more than a few minutes. First, you may fill out a form that includes the following fields:
your gender and gender preference,
your birthday: one has to be at least 18 years old to join Zoosk,
an active email,
and password.
Or, you can just hit either an FB or Google button above.
After that, you may upload your profile photo or skip this step. The third registration step is filling out a very basic 'About' form by choosing one option from several dropping windows. Select your body type. Answer if you have children. Indicate your highest level of education and pick your ethnicity.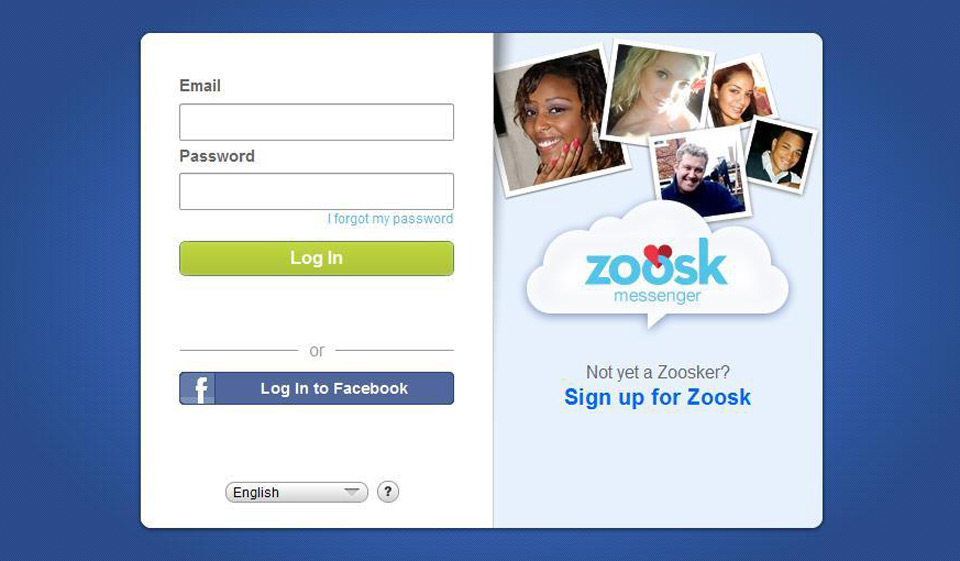 Communication/Matches
Matching on Zoosk is what makes this site stand out among all its competitors. Zoosk Behavioral Matchmaking engine doesn't use the personal details you submit. Instead, it bases its Dating Insights and Smart Pick on your Zoosk activity. This allows you to get matched even before you entirely set your profile. Nevertheless, your very first Smart Picks won't be too precise either, as the system doesn't have a lot of data about your likes, views, search results, etc. But after a while, using Zoosk, you will be stunned to see that this technology truly works. Another fun way to get matched is Carousel.
But in case you are a free user, getting in touch will be a problem, no matter what search or matching tools you use. Only paying members can send messages. So, without a subscription, you can neither initiate a conversation nor reply to a person who has shown some interest in you. You can interact on Zoosk by sending flirts, though. They are free, and both paying and non-paying members can see them. The difference is that free users can't answer people who flirted with them.
Digital gifts let one draw others' attention and express appreciation. One doesn't need a premium membership to purchase those gifts. Instead, they can pay with unique Zoosk coins bought in separate packages.
How to Search for People on Zoosk?
With Zoosk search filters, one can browse for:
men interested in women/men,
or women interested in men/women.
Pick the age range of people you are interested in. The distance can be selected automatically or manually from the list. Then, get down to choosing other preferred characteristics, such as:
height range;
religion. If this list doesn't include what you are seeking, pick Other;
education: users are sorted by 'no degree,' 'graduated' from high school or college, and 'attended college.' Finally, you can search for people with an advanced degree, but there are no specifications. You'll have to wait before you can ask for this information personally;
relationship history: never married and divorced, separated, and widowed — anyone can tag themselves correspondingly;
ethnicity. There are six specified options, while the seventh implies that you are interested in a partner with a mixed ethnic background or the one that is not on the list;
children. Can your partner have any and, if so, should they live together? These are rather important questions Zoosk smart filters can answer for you;
body type. Choose average, slim, curvy, or athletic;
smoking. Pick whether your match should smoke and how often (regularly or socially.)
You can save search filters more than once. Your saved searches will be available in an additional tab. This will allow you to search for different types of people to chat with, depending on your mood, for example.

How to Delete Zoosk Account?
To leave Zoosk for any reason, go to the Settings and change the 'Active' account status by hitting the 'Deactivate' button. If your Zoosk account is integrated with Facebook, adjust your App settings there. Just open an 'Apps' tab in your FB settings and delete Zoosk for good.
Ideally, your account will be deleted right after that. But as an alternative to the blind hope, ask the Support Team to make sure your account has been deleted. Contact them via email or on the phone.
Members Structure
As said, Zoosk is tremendously popular all over the world. It has 40 million users, half of them come from the US. The activity on the site is very high, too, with over 1.5 million daily logins. The major part of the audience is young adults between 25 and 35 years old. But many users are younger and older than that. Both genders are almost equally represented on this site. There is a slight outnumbering of the male population, though.
Sexual Preferences
When one logs in on Zoosk, they choose to start an account as a man or a woman. Gentlemen can seek both men or women, and so can the ladies. So, we can conclude that the site is oriented at straight users, the gay ones, and no one else. On the other hand, Zoosk claims that it is a bi-friendly site. To prove that, they grant bi-sexual users with the second account, whether they can indicate one more sexual preference.
Race and Ethnicity
Zoosk is a truly multicultural community, and its users represent a great variety of ethnic groups. Zoosk users indicate their ethnicity by choosing one of the options from the list. These are White/Caucasian, Black/African, Latino/Hispanic, Asian, Indian, Middle Eastern, Mixed/Other.

Religious Orientation
As it is clear from the variety of users, religious diversity is as rich. Some religious views are enumerated in the dedicated section, but here it is possible to choose 'Other' too. This applies that Zoosk is an extremely welcoming environment for people of all beliefs and denominations.
Pricing Policies
The pricing policy on this site is mixed. It combines a paid subscription bought for a chosen period and coins used to purchase some 'perks,' not included in the subscription fee.
Free Membership
A free user gets a perfect opportunity to look around. For starters, you can create an account and build a profile as a free user. It means that when you upgrade, you won't need to waste a single day of your paid subscription to do it. You can view all the details of any Zoosk profiles out of charge, too.
Free users can also use one of the most efficient and fun matchmaking features — Carousel. And you can express your interest by sending flirts and smiles. It won't get you too far if you don't purchase a subscription eventually. Also, it won't cost a penny either. If you do decide to upgrade, your activity as a free user will help your networking on the site hugely. So, you'll win anyway.

Paid Membership
Zoosk offers the only type of premium membership, but one can opt for different durations: one month, three months, and six months. The fee per month will vary in all three packages. The total price will make $29.99 for a one-month plan, $58.85 for three months, and $89.98 for half a year.
Premium membership grants one with an opportunity to send messages, hide your profile while browsing, fully enjoy Smart Picks, chat with other users, and view who likes your profile.
But as we have already noted, this is not everything you can get on Zoosk. With a little extra money users might buy coins and spend them on one of the following:


Sending virtual gifts. Such presents are an additional way to show how much you like the one you are chatting with. They are also perfect for sending on one's birthday or for cheering them up.
Carousel with no limits. Swiping the Zoosk Carousel is fun as it is. But it can get even more useful when you can see mutual matches and get in touch with those who like you back.
Boosting your profile. Get higher positions in search results and get the messages you send to others highlighted. With Zoosk Boost, you'll win some extra points in Carousel, too.
Getting notified about the delivery of your messages. Some people won't answer you right away. Wanna know why? Maybe, they haven't read your message yet. Or maybe, they just ignore you. To be sure, activate delivery confirmation, and it will be easier to decide if you should spend your time on these people. Mind that, as opposed to other coin-based features, this perk can only be used by paying members.
One can buy 50, 250, or 750 coins at a time. These packs will cost $4.99, $19.99, and $49.99, respectively.
How to Cancel Zoosk Paid Subscription?
Yes. To do so, visit your Account Settings page and opt off a paid subscription. You won't be refunded for the time you won't use, but you can make use of Zoosk services until it ends.
Is Zoosk Safe?

Zoosk users confirm their profile by integrating them with social media or providing their phone number. So, if you see a verification sign on one's profile, you might be pretty much sure it is a real person.
Some new Zoosk users worry about their private security. So, they prefer getting a new email address to register and avoid connecting Zoosk accounts to Facebook or Google. But we don't see much point in it, as all the data you provide here is thoroughly protected. Take the precautions we all know about by now, and you'll be fine. For example, choose a strong, safe password that includes lowercase letters, capital letters, numbers, and symbols. Don't use the one you use elsewhere.
Quality of Profiles
The profile information comprises the basics every user indicated at the registration stage and a few more details. Thus, you can learn about a user's sign, height, gender, ethnicity, body type, history of the relationship, kids, educational and religious background, and some lifestyle habits. Besides, a user might write a story about themselves. This has nothing to do with automated matching, as no keywords from the story are included in the search or matchmaking process. But those who have been matched love reading these stories to see how precise the algorithms were to bring them together.
All the users' photos are available on the page. Click on any of them to take a closer look. Additionally, you can request more pictures from this or that user.
All in all, a Zoosk profile is not too detailed, but it still gives enough information to make you understand whether you should consider this person as a prospective date or not. Photos are large and clear.
Website Design and Usability
The site uses a blue-greyish color theme reminding plenty of platforms we visit daily. There is nothing unique in Zoosk design, but maybe, it is for the better because users don't get confused when they first get here.
A great thing about Zoosk search is its navigation that won't let one get lost. Visitors get all the information they need right from the landing page. Here, they can find everything about the site and the company, including the Terms of Use, Privacy Policy, Contacts, and FAQs. Besides, there is a dating advice section and success stories here. The site is available in more than 25 languages.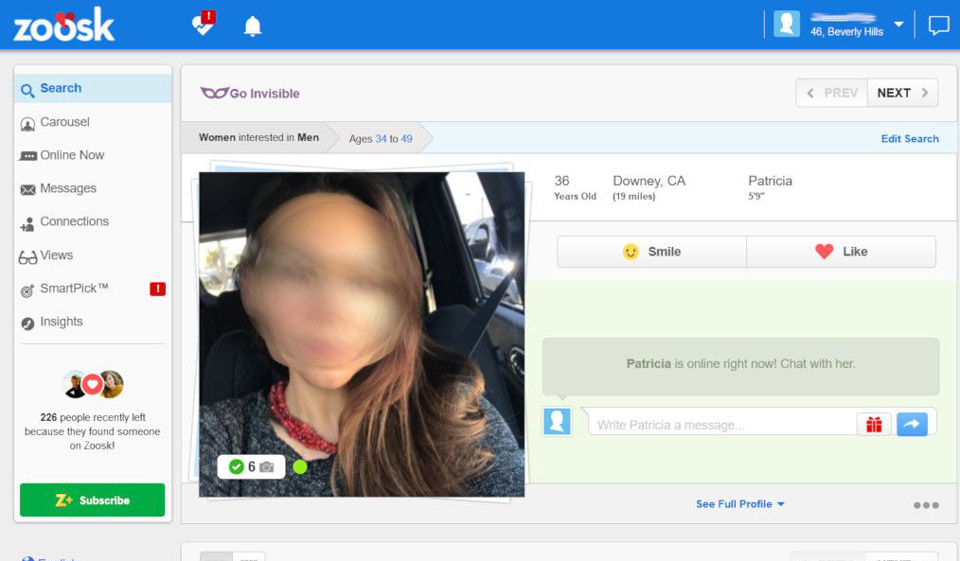 How does Zoosk Work?
Zoosk is a multifunctional dating platform letting one search for your matches themselves or benefit from Behavioral Matchmaking. On other sites, this won't be easy unless you build a profile. Zoosk Smart Picks make it possible, and the site doesn't need much information provided by its users. Still, mind that after you are matched with someone, they will want to know more about you. So, a well-built profile won't harm anyone, and it is only sensible to work on it at the earliest stages of your Zoosk experience.
Zoosk App
The mobile application can be downloaded on iOS and Android devices out of charge.
Bug-free and stable in its operation, the app is perfect to use interactive features on the go. One of them is Carousel. Used by almost every dating platform, this mechanism is based on viewing users' photos and reacting to them. You can pick NO, MAYBE, or YES options represented by intuitively clear icons. What you are after is a mutual match that will give you the reason to contact this person.
This app allows one to use all the scope of desktop features. And as a bonus, it can be used to verify users' photos.
Alternatives of Zoosk

A number of strong players represent this niche of online dating, so Zoosk has got quite a competition:
Tinder. Known and used everywhere, this app still has its pros and cons. So, many users choose sites like Zoosk. Yet, competitors should thank Tinder for a constant motivation to improve themselves in the race with an undeniable leader.
eHarmony. Sixty-six million users in the world have picked this site over anything else. It stands out with its advanced Compatibility feature and diversified pricing policy.
Clover. A comparatively small but rapidly growing platform is tailoring its features non-stop. One day, its database will reach the numbers shown by Zoosk itself.
Conclusion
Zoosk is a trustworthy provider of online dating in many countries; its experience and wise management have made it one of the most user-friendly companies in this niche. We all notice that some sites keep ignoring free users who are not allowed to do anything. Other platforms don't have a free membership at all. The success of Zoosk and the platforms alike lies in the ways they attract potential clients. Thus, using Zoosk for free is never a waste of time. And when you upgrade, you can savor each moment of interacting on this platform.

Company: Zoosk, Inc.
Address: Zoosk Customer Care – Spark Networks Services, Attn: Customer Service – Terms of Use, 3300 N. Ashton Blvd, Suite 240, Lehi, UT 84043
Phone: 888-939-66-75, 415-728-95-74
Email: support@zoosk.com