Flinsgter is definitely not unique in its concept, but it does have at least one competitive advantage over most other sites. Thing is, online dating has become so mainstream nowadays that users are spoiled for choices. It does not matter what you look for in a relationship; you can be certain that there is at least one dating platform for that. While most of them offer many varieties of dating experience, too many follow the same trend. That is overcomplicating the registration and account creation process, even for websites that focus on quick hookups.
This is where Flingster comes in. It works similarly to Omegle in the sense that you get to chat with strangers at random. The difference here is that Flingster is for those who seek hookups. The best part? There is no overcomplicated registration and account creation process. Want to give this quick-registration service a try but not sure if it's worth it? Read our review and find out.
When Was Flingster Founded?

Flingster is relatively young since it was founded in 2016, meaning that it has less than four years of experience. But as you will soon see, this has not stopped them from making Flingster a great dating platform.
Who Owns Flingster?
Flingster is owned by Brentwood Holding Group Inc.
Registration & Profile On Flingster
First things first. How can you become a member of Flingster? As mentioned before, this process is very short. Unlike some dubious dating sites, creating an account is free. There is no need to provide your banking information upfront. That will only be needed when you pay to upgrade your membership, but more on that later.
To register, simply to go flingster.com and provide your email address and password. In that instant, your account is created, and you can start using Flingster straight away. No verification needed. You don't even need to spend time putting together your profile because it is not needed.
More vigilant users may think that this is a dangerous move as it opens up a possibility of scamming attempts; but, you have nothing to worry about. We will discuss Flingster's safety and security later in this review.
Communication/Matches
So how can you reach out to other members? There are two features to help you with that, and they work on the same screen. They are matching and messaging.
To use these features, simply click on "Start Chatting" after logging in, and the system will start to match you to other users based on your preferences. Of course, you will need to allow this website to use your microphone and webcam. Even so, you will not be launched straight to video chat immediately. This is a handy feature if you are shy or just want to stay private.
Here, you can talk via text only, with voice, or with video. At first, both users would be presented with a black screen because the default option is text-only chat. We recommend you chat with another person this way first until you are comfortable using voice chat, and then video chat.
Of course, some users are comfortable enough to start with their webcam and microphone turned on. Others will simply leave when they see that you do not have your webcam on. You might run into this second group quite often, but do not sweat it. They are probably not the kind of people you want to hang out with anyway.
That being said, we do not recommend you use Flingster in public because some members have their webcam turned on and are already naked or wear revealing clothing. Again, expect to see this often during your time on Flingster.
The matchmaking process here is random just like Omegle, and only premium users can narrow down their matches a bit. Both chat and matchmaking features are accessible for all members. While most users are from the United States, Flingster includes a translation service to facilitate communication.
How To Search For People On Flingster?

Unfortunately, there is no way to search for other people on Flingster unless you are a premium member. Everything is pretty random. Besides, even premium members have only a few filtering options.
How To Delete Flingster Account?
Flingster does not provide clear instructions on how you can delete your account, but you can do so by contacting customer support via email.
Members Structure Of Flingster
So what does the userbase on Flingster look like? It is worth knowing what you are getting yourself into, after all. While this platform is available internationally, most users are in the United States. To be precise, there are about 225,000 users from the USA alone, with at least 15,000 active users every week. You are looking at a fairly large and active community right here.
Gender-wise, the ratio is skewed toward men as there are vastly more male members than female members. While 70% are male, and 30% are female, that does not mean your chances of finding girls are low. That would be a problem if you are on a dating site for long-term relationships. But if you are after quick hookups, this ratio should not affect your experience at all.
All users are required to be above 18+ years old before they can join. From what we have found, the number of users is pretty leveled across the age range, with more users between 25 and 34.
Sexual Preferences

When it comes to sexual orientation, there is nothing to worry about either. Flingster is open to all users, regardless of their kinks and sexual preferences.
Race And Ethnicity
As mentioned before, while there is no regional restriction, most users come from the United States. If you are outside the US, then you might not find that many users to meet up with.
Religious Orientation<
Finally, religious orientation. Again, you have nothing to worry about, as anyone can join despite their religion. Still, Flingster is not a faith club, so it might be the place for those who take religion seriously.
Pricing Policies
With all of the features in mind, how much does it cost to use Flingster? This is the part that can turn many users away from this site because its prices are a bit steep. But let's take a look at what users would get as a free member first.
Free Membership

Every registered user is granted standard (or free) membership. They have access to the following features:
Text chat
Video chat
Anonymous masking (2D mask covering the face)
Translation
As you can see, these features are more than enough to connect you to other users on Flingster. So, in theory, you can still find dates as a free user. The only downside to being a free user (other than slightly limited features) are the ads. We all know and hate third-party ads because of how distracting they are. However, because they are conveniently placed to the side, you will not notice them at all while using Flingster.
Considering that most dating sites put some of the above features behind a paywall, we appreciate what Flingster has done so far. While users have to deal with third-party ads, which are not even intrusive in the first place, they have access to some very nice features without having to pay a single penny.
Paid Membership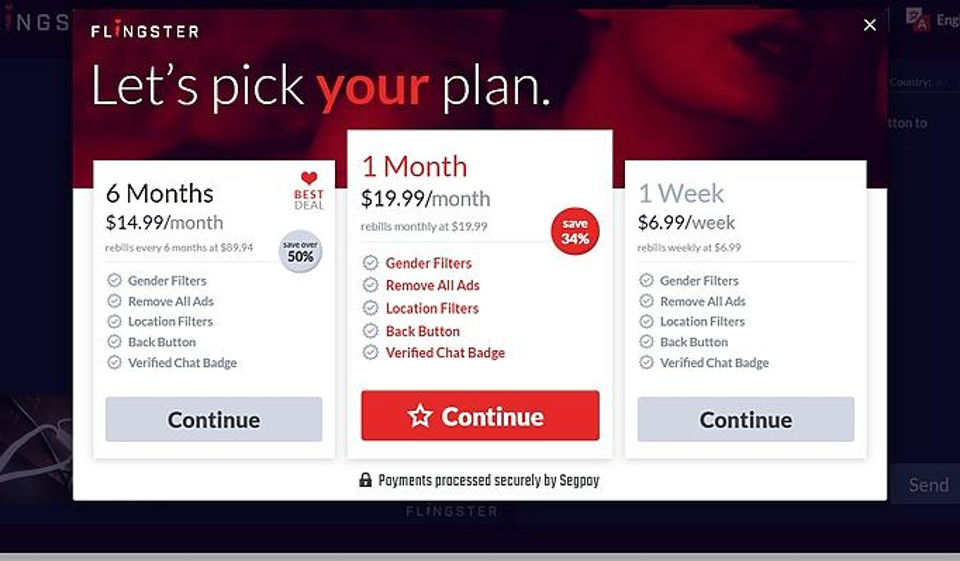 While you can get plenty from Flingster as a free member, we recommend you upgrade to a premium membership for the best experience. You will have access to the following:
Gender and location filter
No ads
Face filters (face blur)
Ability to reconnect with previous users
Verified Chat Badge
To keep things simple, Flingster only offers one premium membership package with three different time durations. You can go for the 1-month plan, which will cost you $20 per month and the 6-month plan, which will set you back by $15 per month. There is also a short trial version that will let you enjoy premium membership for a week, which costs only $7.
Suffice to say, the 6-month plan is the best value, and we recommend you get this one if you are serious about Flingster. The extra features they provide justified this price tag. If you are unsure, you can spend $7 on the 1-week plan.
Keep in mind that payment is automatically made at the start of the billing cycle, and you will only be charged once. If you go for the 6-month plan, you will be charged $90 immediately and will continue to be charged every six months. You can pay via credit card, but the payment is handled by a trusted third-party, which can complicate the refund process we will discuss in a minute.
How To Cancel Flingster Paid Subscription?

Flingster allows users to cancel their subscription, although you will not get a refund. Upon cancellation, you can continue to enjoy your premium membership until your next billing cycle. By then, your membership will be reverted to standard.
Is Flingster Safe?
With all that said, how safe is Flingster? While it is true that scammers can get into Flingster easily, community members know how to spot and avoid them. Most members on Flingster only interact with users who have verified their accounts, and we recommend you do that too. If you happen to be matched with a scammer or any user who behaves inappropriately, you can report them by clicking a little flag icon. The moderation team will take appropriate measures.
Quality Of Profiles
Next, let's talk about profile quality. As you might expect, you won't find out much about other users by looking at their profiles. You only see their gender and which country they are from. However, some users are comfortable enough to share their topic of interest or the kind of relationship they are looking for.
Out of all of that, one feature stands out. It is Flingster's verification feature. While users are not required to verify their accounts, they will get a "Verified" badge if they do so, which works similarly to email verification. We recommend you do this because it will put other users at ease when they know that you are a real person. Conversely, we recommend that you only open up to users who are also verified to reduce all chances of being exposed to scammers.
Users can also personalize their profiles further by writing their messages. This will be shown to other users when they match with you, which might attract their attention before they leave.
Flingster Design And Usability

Next, let's talk about design and usability. How well does the team put Flingster together? For a dating platform dedicated to hookups, it looks very well done. Many other hookup sites have outdated and ugly graphics and animation, not to mention poor optimization and loading time.
Flingster does not look like that at all. While its color palette consists of black & red that we are familiar with, they don't overdo these colors. There is a fair amount of white to balance everything out. The fonts are large and easy to read, as well. The pictures look like they were taken by professionals, and they are very well placed, giving this site that premium feel. The graphics and animations look clean and smooth as well.
Performance-wise, we have nothing to complain about. This website is very well-optimized, and we had a very smooth experience during our test run. The loading time is short, as well. Overall, Flingster works like a well-oiled machine.
Here, we want to talk about the landing page a bit because this is where most dating sites make their first impression. Flingster's take on aesthetics combines the energy of a hookup site while still practicing modesty. Right on the landing page, users are not greeted with an overly suggestive picture. At the website header, users can sign in or log in.
If you scroll down, you will see more information about Flingster, such as what they do and how they do it. They also provide good explanations of their features to those who want to know what Flingster offers. At the very bottom, you can find more information about Flingster, such as its terms of service and privacy policy.
What piqued our interest is the frequently asked question (FAQ) section at the top. Users who run into trouble on Flingster can consult the FAQ before they contact customer support. More often than not, most of their questions should already be answered in this section. We consider this to be a neat feature for new users, especially those who are inexperienced with dating sites. The FAQ is very extensive and covers both basic and more technical problems
There is only one downside from Flingster. That is the problem with third-party ads on the site for free users. They can be distracting, but Flingster has not overdone it or placed intrusive ads into every vacant space on their website. The ads are placed to the side so that you would be able to focus on using Flingster. Given time, you may not notice it at all.
How Does Flingster Work?

Flingster works just like Chatrandom, Omegle, or ChatRoulette. You are matched randomly with users, and you can either talk to them or leave. The only way to slightly narrow down your search is through gender and location. If you two hit it off, you can take it to another platform to chat and perhaps exchange personal information.
Flingster App
This is where Flingster lags behind a bit. Flingster does not have a dedicated mobile app, although you can still access it with its mobile-friendly website. That being said, we do not mind its lack of mobile app. Its absence might be a design choice rather than a lack of resources, considering the nature of this website.
Because most users you meet will have their webcam activated and would be naked or wearing revealing clothing, you do not want to use Flingster while you are out and about. You are better off using it when you are indoors, so having a large computer screen helps. Of course, that would be a problem if you do not have a computer, but at least Flingster provides its users with a mobile-friendly site.
The mobile site is just as good as the main desktop site. You will have access to every feature that the desktop site has to offer, so you are not missing out on anything other than your big computer screen.
Alternatives Of Flingster
What if you do not like Flingster but still want a dating site on the same level? We have some suggestion for you:
Tinder: Go-to mainstream dating site for everyone
Eris: 100% free dating platform for those who seek long-term commitments
OkCupid: A 100% free dating platform from the renowned Cupid Media Network
Badoo: A social media and dating platform combined
Sweet Pea: A dating platform that emphasizes conversations
Conclusion

To sum up, if Flingster is similar to Chatroulette and Omegle because it randomly pairs you up with other users unless you are a premium member. If so, you have some influence over your matches. Considering all its security and features, their asking price is very competitive. The design suits the nature of this website without going over the top. We thoroughly enjoyed the experience that Flingster provides. Even free users can enjoy what they have to offer, so why not give it a shot now?
Company: Brentwood Holding Group Inc.
Address: Road Town, Tortola, VG1110, British Virgin Islands
Phone: +1 800-952-5210
Email: info@flingster.com