With the ease of use and top scientific algorithms, will Clover dating app hook you up?
On the upside, Clover can offer you on-demand dating in just two taps, and quite a few of their features are free of charge. It has a massive database of active users for you to choose from, so you have the edge in selecting that dream date.
On the downside, Clover's premium packages are going to cost you some 'ka-ching,' and you are going to need a premium account to access unlimited messaging. Clover has saved free users their best asset, which is their "Date on Demand" feature. You will also have to keep your phone handy because Clover does not have a PC alternative.

When Was Clover Founded?
Clover was launched in 2014 as a new answer to online dating that aimed to pair Tinder's user-friendly interface with the rigorous science of Match.com's algorithms. Not only can you set a date in just two clicks, but Clover's refined criteria allow you to isolate your compatible other out of several million users.
Who Owns Clover?
The brainchild of Isaac Raichyk, Clover CEO, this app aims to create ease of use but with a higher capacity to engage users on a deeper level by using enhanced filtering to zone in on what a user is looking for. For all us digitally-dating princesses out there, this means having to kiss one heck of a lot fewer toads.
Registration & Profile

Just click on your intention, and you can have your own account in minutes through email or Facebook. Upload a pic in real-time from your phone if you are looking good or find your best pic on Facebook or Instagram.
Clover gives you an option of dating intentions in your registration form. These include looking for a chat, making new friends, and long-term match ups. You will be required to supply some necessary information such as age, orientation, ethnicity, occupation, and location. Don't worry; you may divulge as much or as little as you want about yourself. However, the more you share, the better the match.
You may view photos of your prospective match for no charge, and go ahead and click on your . Swipes are out, and the click is back on Clover. You have access to the physical stats of your match as well as basic information such as orientation, education, and location. Are you too shy to dive right into the dating pool? Clover allows you to play 20 questions, recommend a user to a friend, or view 'mixers' or chat rooms that someone is part of. Or, if you are brave, a double click can set you right up with a date.
Communication/Matches
To gain access to Clover members in your hood, you first need to verify your account. This can be done via SMS code or your app store account. Free messaging is only possible between users who like each other, so get that premium membership if you are planning to date that hottie out of your league. Alternatively, you can contact other users via 20 questions or go ahead and add them as a favorites list. In that case, they will receive a notification. Otherwise, aim high and ask straight up for a date, what have you got to lose?
How to Search For People On Clover?

Clover has a pretty advanced search system with plenty of various filters. However, only paying accounts will be able to unlock all of its impressive functionality. Free users will have to do with the basic filters, like age, location, gender, and a couple of other criteria. In most cases, this could be more than enough. But if you are really picky, you might want to pay for the advanced filters.
How to Delete Clover Account?
If you find your soulmate/BFF and want to remove yourself from the Clover app, simply cancel your account manually from my subscriptions in the app store, where you purchased it.
Members structure
In a 2020 article on CNET, Clover boasts a staggering 6 million users, 85 % of whom are between the ages of 18 to 30 years. But don't despair, their database's sheer numbers ensure that you will have a chance to find your match.
Sexual Preferences

Due to user privacy, Clover does not divulge percentages regarding sexual orientation, but an all-inclusive nature of this site ensures a diversity of potential connections. You have the option of divulging your orientation as you wish, but your personal information revealed remains private.
Race and Ethnicity
There are absolutely no restrictions concerning race or nationality on this app. Clover is most popular in the US and Canada, so its user database is as diverse as the melting pot the US is.
Religious Orientation
Clover has a profile graph for those who are willing to share their religion with others. However, this is still a mainstream dating platform, so denominations will vary greatly. Neither is this app tailored to any particular religious views.
Pricing Policies

Not the cheapest of the dating sites by a long shot, Clover prices are set to lure you into longer-term contracts. VIP contracts start at 29.99 USD/month, move to 20 USD/month for three months, and top off with a six-month contract for 15 USD/month. Boost packs set you back from 1.99USD for one credit to 1.99 for ten. Payment is easy, straight from your mobile phone.
Free Membership
If the hefty price tag puts you off, Clover allows you free services such as:
Free chats with users who like you
Free browsing in Mixers or creating your own
Viewing user photos and profiles
Date requests on the dating on-demand feature
Access to the 20 Questions feature
Clover also provides access to services on your free account:
Free messages to your user of choice
Access to receipts
Prospect list based on personalized criteria
Boosts at no charge
Paid Membership

Premium members can enjoy Clover's full multimedia chats with the ability to incorporate both audio and video into their communication. Mixers chatrooms provide the opportunity to connect with several like-minded individuals instead of being tied down to just one user.
The enhanced filters in the premium membership features ensure that unnecessary mismatches are weeded out, and your personalized match search has a greater chance of being fulfilled. Premium members can access previous receipts of messages, send gifts, and enjoy multimedia chats.
Premium members can message users who did not show up in their matches, which is simply fine. Variety is the spice of life.
How to Cancel Clover Paid Subscription?
Clover subscription can be deactivated by clicking the three-line icon at the bottom tab labeled "deactivate."
Is Clover Safe?

Clover makes use of the Secure Sockets Layer protocol, which protects personal information sent via the app. This means you may not only keep your location private but also block or report other users at any stage of your interaction. So, everything is fair and square from the tech aspect.
Quality of Profiles
When it comes to profile authenticity, we have strong reason to believe most accounts on Clover are genuine. A quick look at their profile database will show you that most accounts are linked to FB; no wonder here — this is the quickest registration option. Of course, some scammers may sneak in, but their accounts are few on Clover.
Website Design and Usability
Clover is renowned for its ease of use. Its user interface is geared towards smoothness and functionality. It is user friendly but has the capacity for more in-depth communication. The interface is neat and comprehensive, while the layout is clean and unobtrusive.
How does Clover Work?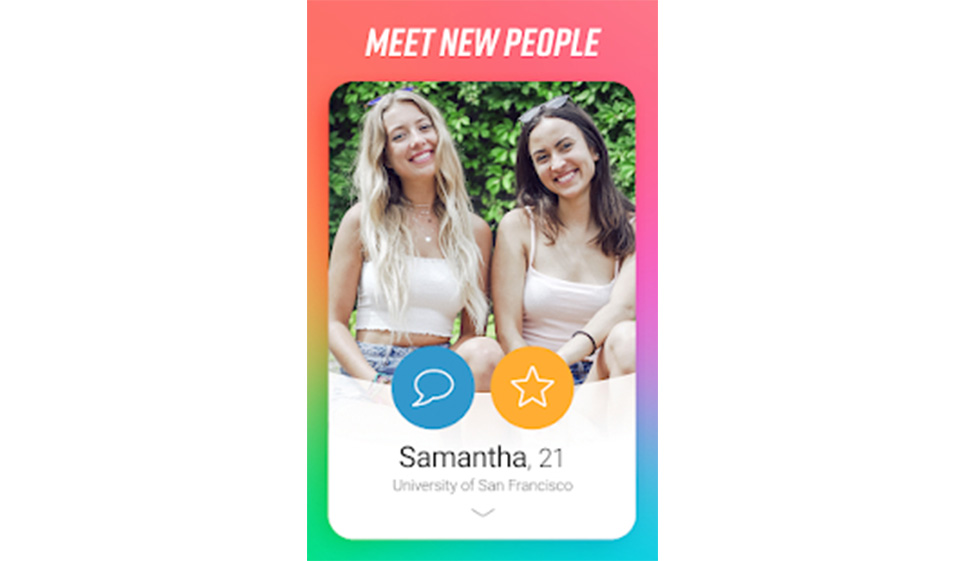 Clover's on-demand dating really put this dating app on the map. Clover works well to eliminate browsers who merely scroll through user profiles and pics without any real intention of connecting. Clover takes some of the awkward guesswork out of approaching another person for a date by creating a visible option of whether another user is interested in dating or not. So, all that you need to do is suggest a time and place; keep those love poems in your pocket, please!
If you want to know what your prospects are in terms of potential dates, look no further than the match queue. Free users can either click the red x or the yellow star. The red x is the "thanks but no thanks" version of a swipe left, old school style. The happy yellow star will add your hottie to your favorites, and they will receive a notification that you like them. From there, if he or she likes you in return, you can get down to some business. Premium subscribers don't have to go through all this rigmarole and tap the blue thought bubble and get the ball rolling with an instant message.
Next is the most popular feature of Clover's app, the "On-demand Dating" where you can clearly see all the peeps who want to date. You can wave your wand and tap "I'm interested" or "No Thanks" according to your whim. If you are interested, you could provide a custom location or make use of the pull-down location tab, which gives you local options to seal the deal. Just tap on Send, and your chosen user will let you know if they are up for it.
If you are eager to spread the invites around, you can keep track of your unconfirmed dates in the "Pending section," and your sure deals in the "Confirmed" section.
Mixers chatrooms also take a lot of the awkward preambles out of finding your kindred spirit. A relaxed atmosphere among folks who share your same interests is a great way to meet people. You can search mixers by keyword or use filters such as what rooms are trending, who is attending, comments times, and location. Mixers have a great variety, and you can join in for no cost. Once in a mixer, you can invite who you want.

Alternatively, if you have a niche interest that you would like to share with others, you may create your own mixer group for free. Just tap the blue + icon at the top right and fill in your details, then post.
The 20 questions feature is a great way to break the ice with a potential partner. You get to choose which personality trait you identify with out of two contrasting card options. For example, are you spontaneous or predictable? Intelligent or good looking? Answering the 20 questions can even earn you the "open book" badge. You can also display other badges on your profile, such as "celebrity" and "Desirable" and various other badges that can be earned by being liked by a certain number of users or even making five people laugh in a mixer.
Your answers will be visible to the other users on Clover, and they will be able to peruse your answers at their leisure. This is a clever way of finding out more about your potential partner/friend without having to go through lengthy conversations. The questions are not the same on every turn, and you can continue changing your questions when the urge takes you.
Clover allows you a six-hundred-mile radius to find your matches, but you are free to decide how far you are willing to travel for a special someone. Like Tinder's Passport feature, you can peruse matches in a city of your choice, but Clover will display your distance from prospective matches.
Clover App

Clover makes it uber easy to see your matches, including profile pics and the 20-question answer sheet alongside your own. Users can easily ask for a date with all the information neatly provided or signal a thumbs down or thumbs up. Clover even provides a choice of nearby venues, price, and distance. It could not be easier to take the plunge and get out there.
In the mixer section, you have three options to either explore a room, invite a user, or attend a chat. You may explore the plethora of different mixers to browse and join. Clover allows you to see who is attending, the date and time as well a glimpse of comments associated with the mixer. Joining a group of like-minded individuals gives you a greater opportunity to meet your potential partner.
Clover set out to eliminate common complaints in other dating apps, such as an overemphasized focus on text platforms that rarely helped people meet face to face. Clover's ease of the two-tap date platform seems to have helped in that regard.
Alternatives of Clover
OKCupid, Match, and Tinder are Clover's biggest competitors. Tinder clearly has the database numbers advantage, but Tinder lacks the "intention" designation that works so well on Clover. Askmen review site gives Clover an outstanding 8/10. Tinder functions very well as a hookup vehicle but falls short of the more in-depth communication possibilities of Clover, even though lasting matches are possible. OKCupid has 30 million active users and the best free subscription of all the top sites and is consistently chosen as one of the top dating sites.
Conclusion

It is no surprise that SimilarWeb, the traffic statistics, and market intelligence website rates Clover 4.5 stars based on 9315 votes. Clover steps up with unique and personalized features without losing any ease of handling. The app has sleek and modern lines, and the features and functions are easy to navigate. Unfortunately, this brings us to the downside. Clover has not only set themselves above their competitors in function and form, but they have also priced themselves above other apps.
Even compared to its arch-nemesis and number one competitor, Tinder Gold, Clover's price tag is high. Although the premium features are good, they do compensate for such a price tag. Their On-Demand dating is reason enough to consider this app.
Clover also allows you to initiate chat without being a match, sort your matches and send multimedia messages, which Tinder does not provide. Clover also has advanced search filters that Tinder has yet cannot supply their uses.
Clover CEO Isaac Riachyk promised that his subscribers would be able to find a date as easy as a pizza or a cab. We are not entirely sure about the similes, but as many successful and happy users attest, Clover is one slick meeting machine. It is refreshing though not too limited with superficial swipe yes or no but allows a greater opportunity. You can add a little discretion and find out more about people without making hasty decisions and even restore someone you may have passed over who may be a closer match than you suspected.
Otherwise, you can tap away for quick hookups, with Clover it is ultimately up to you. You can search for that long-term relationship or go for that one-night stand; either way, Clover's tagline is "Get lucky," and how you interpret that is your choice.

Company: Clover Inc
Address: 1725 Avenue Rd. PO Box 70059 Toronto, Ontario M5M
Phone: n/a
Email: support@clover.co