What you think first of LatinAmericanCupid is the abundance of users from Latin America. And the name does speak for itself! Indeed, this dating site was initially created for singles with this cultural background. But today, everyone has access to the platform and can enjoy using it. It makes LatinAmericanCupid a community of open-minded people who cherish Latin culture and want to meet their soulmates. This site has a lot of free and paid features aimed at quality matchmaking, which is why more users join it every day. Keep reading to find out whether LatinAmericanCupid is worth it and what features it offers.
When Was LatinAmericanCupid Founded?
LatinAmericanCupid was founded in 2003, and started growing their audience among Hispanic singles, and later worldwide.
Who Owns LatinAmericanCupid?
LatinAmericanCupid is owned by Cupid Media Ltd. This company is well-known in the world of online dating, as it has a Cupid website almost for everyone. It also owns a myriad of niche platforms, such as BlackCupid, IndianCupid, etc.

Registration & Profile
The process of registration and profile creation is easy and quick. It takes less than five minutes to join LatinAmericanCupid. You can complete the registration via email, without even verifying it. Alternatively, you can turn to the Facebook authorization to create an account.
The whole process is done in two steps. First, you will need to provide details about yourself, such as name, birthday, country, etc. Then, you will be switched to your profile page. There, you'll be asked to upload photos and make your profile look complete. Note that full profiles with photos and all the necessary information increase the chances of being noticed and receiving messages.
As it is a part of their site security system, LatinAmericanCupid will approve your photos. It will take them around twelve hours and prove that you haven't joined the site with a fake Facebook account or a fake email. You may, but nobody will be sending you emails except for the owner of the photos you used.
Besides, LatinAmericanCupid offers an optional verification. You can pass it by submitting a copy of an identification document. It can be a driver's license, a passport, etc. The document will verify the following information:
name,
gender,
photo,
and date of birth.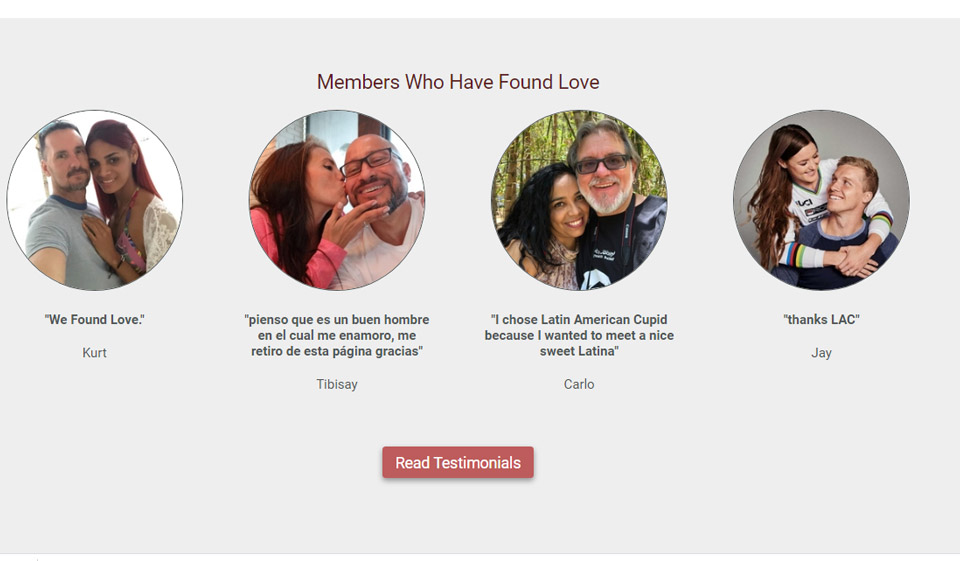 The profile owners who have passed the process of identity verification receive the status of verified users, which can be seen to other members. In that way, LatinAmericanCupid tries to handle online scams, including catfishing.
LatinAmericanCupid assures of not using any personal information and passing it to any third party. It is only required for verifying an account. So, you shouldn't worry about providing such data to the website.
As a bonus, LatinAmericanCupid shares some tips to make your profile stand out. To start with, mention as much information as possible about yourself. Tell about your appearance, hobbies, and interests, attitude to pets, and personality. Describe your plans for the future and what kind of partner you are looking for. That will help your prospective partner see if the two of you can match in real life and raise your chance of finding true love a lot.
After everything is done, and you have finished editing your profile, it's time to search for a match. This can be the love of your life, a partner, or a friend, depending on your goal on LatinAmericanCupid. Remember that you can always update your profile from the member menu, and it will be approved in 24 hours.
Communication/Matches
There are many ways you can contact other members or show your interest in them.
Note that, as a free member, you will not be able to send messages to those who also use a free version of LatinAmericanCupid. In other words, messaging between Standard (free) users is disabled. However, you can contact paid users for free, and you will have an unlimited number of messages for that.
Every user can express interest by liking other members' profiles and access a message filter. Besides, everyone can view all other members' profiles and profile information, no matter whether they use a free or paid version of the platform.
Your matches are automatically generated by the website and shown in a convenient layout for you to choose from. Unfortunately, you can't delete any of those, because it is an automated process. However, you can block other members if you want to stop receiving messages from them.
At last, you can see if a user has read your messages and who views your profile. These LatinAmericanCupid features are more important than many of its users think first. You may likely get curious why another member is not answering your messages. So, this way, you will at least know about their unserious intentions or lost interest.

How to Search for People on LatinAmericanCupid?
Search for other LatinAmericanCupid users to establish communication with no effort. Fortunately, you have more than a few search tools. The narrowest search for people is performed by their Member ID. You can see it when you check someone's profile. If this person has caught your eye, you can write down their ID number and search for them later.
Using keywords is another way of searching for people. Maybe you would like your future partner to be a doctor. Then, type 'doctor' in your search tab. Everyone who has that exact keyword on their profiles will be displayed.
A basic search is the most popular option to find someone perfectly suited for you. Search by the following criteria: gender, age, location, only profiles with photos, last active date (meaning that users who visited the site recently).
For an advanced search, you can add such options as ethnicity, religion, height, weight, online members, new members, most popular members, in my area, latest photos, etc.
As you see, there are a lot of ways you may choose to search for people. Even though you will see all the profiles according to your criteria, you will be able to message only those with a paid subscription if you are a free user. Upgrading your account lets you send messages to anyone.
How to Delete LatinAmericanCupid Account?
If you want to stop being a member of LatinAmericanCupid, you can easily do it in the Settings of your account. When you go to Profile Settings, opt to switch off your profile. Afterward, you will be asked to choose a reason for your decision, and upon giving it, you can leave.
Your account will be closed, but you will be able to reactivate it and turn back to online dating on LatinAmericanCupid whenever you have a change of heart.

Members Structure
LatinAmericanCupid is not as popular as eHarmony or Match. However, it still has an impressive audience. The recent numbers show that over 3 million users visit LatinAmericanCupid these days. The website was initially designed for people from Latin American countries. And a considerable number of its members come from Mexico, Brazil, Colombia, Venezuela, Argentina, and others. But the purpose of this platform is to help members search for Latin matches. So, everyone willing to mingle or even tie the knot with a Latina or a Latino is welcome to register.
Approximately 40% of LatinAmericanCupid uses come from the countries outside Latin America, including almost a million from the USA, but are looking for someone who lives there. In turn, a high percentage of Latin users join this website with the hope of foreign marriage and the opportunity to move to another country. That is why they are looking for a foreigner who shares or appreciates their background, culture, and language to avoid possible cultural shock.
Regarding the gender proportion, the site is used by nearly 20% of females and 80% of males. It means that four men account for one woman. Since the number of men prevails hugely, finding a couple takes them longer, which is a massive disadvantage of LatinAmericanCupid.
Finally, this website is available in many languages, though the leading ones are English and Spanish. Besides, Platinum members have access to a MessageTranslation Tool, which we'll discuss in detail in the Paid Subscriptions section.
Sexual Preferences
LatinAmericanCupid doesn't reveal the information about its users' sexual preferences unless they mention those details on their profiles. There is also no option to search for members based on their sexual preferences. Automatically, female users can look for males and vice versa.
Race and Ethnicity
The site is not only popular with Latin Americans. So, you are likely to meet people of different races and ethnicity. But the largest part of users is Hispanic, and the most used language is Spanish. In the advanced search, you will be able to search for people based on their ethnicity.
Religious Orientation
Most Latinos are Roman Catholic, which predetermines the religious backgrounds of many users here. But everyone can join LatinAmericanCupid and search for other users based on their religion.

Pricing Policies
The prices for paid memberships of LatinAmericanCupid are not higher than on other websites. Moreover, they can get even cheaper if you choose a long-term subscription, for instance, for 12 months.
There are two types of paid membership, and each includes three subscription durations. So, the prices vary. Check out more details on the prices in the Paid Membership section.
Free Membership
LatinAmericanCupid offers three membership options: Standard, Gold, and Platinum. Standard membership is free and has a lot of useful features. But it won't allow you to use 100% of communication. For free, you can create an account, add up to 5 photos, see who is online (advanced search), view other members' profiles, and communicate with all the upgraded profiles. Furthermore, you can add profiles to your Favorites and show interest. Plus, LatinAmericanCupid offers an automatic translation of the users' profiles for all members for free.
Paid Membership
The site has Gold and Platinum paid subscriptions. Gold members can send messages to all the members of LatinAmericanCupid, even to those using a free version. Besides, they can upload more than five photos to their profile.
As mentioned above, Platinum members have access to the Translation Tool. It delivers automatic translation of messages one gets and is available in many languages. The tool translates messages from English to Arabic, Chinese, Indonesian, French, German, Italian, Spanish, Russian, Ukrainian, Japanese, and more. The whole list of languages is available on the website support desk.
Upon upgrading to the Platinum paid subscription, you will be able to:
communicate with any member on this site,
have live chats via a messenger,
see no ads,
hide your profile,
search on the website anonymously,
have a VIP icon,
and access an advanced matching system.
The prices for Gold and Platinum memberships are as follows. Gold membership will cost you 29.98 USD , 59.99 USD, and 119.98 USD for 1-month, 3-month, and 12-month subscriptions. The Platinum membership prices are 34.99 USD, 69.98 USD, and 149.99 USD, respectively.
You can pay for your membership with a credit or debit card, PayPal, Bank Transfer, Vouchers, and even cash in some countries.
How to Cancel LatinAmericanCupid Paid Subscription?
If you don't cancel your paid subscription on LatinAmericanCupid, it will renew automatically. So, to cancel auto re-billing, you should go to the Settings menu and then to the Billing section. There, you should slide to your membership auto-renewal and change it from 'On' to 'Off.' Don't forget to confirm your decision after that.
You should do that in the last 48 hours before your subscription expires, as the site needs time to process that change. In case you don't see that option in your Billing tab, it means that your subscription will not be auto-renewed.

Is LatinAmericanCupid Safe?
There is a possibility of coming across scammers here, as on other dating sites. LatinAmericanCupid gives you an opportunity to block and report other users if you find their behavior inappropriate or threatening.
Moreover, LatinAmericanCupid encourages its users to verify their accounts. So, you can see which accounts are real for sure.
Still, you should beware of red flags and follow online dating tips, like to avoid sharing your personal information or sending money to strangers, give too much personal information, etc.
Quality of Profiles
LatinAmericanCupid provides its users with exceptional profile quality. You can view all profiles for free, and they are more detailed and informative than, for example, on Tinder. However, completion of a profile is optional, and users can omit filling in certain information.
Website Design and Usability
The website design is very bright and has red as the main color, the color of love. Most members presented on ads are Latinos and Latinas, obviously, as that is the main target audience.
This website is easy to use, as everything is displayed on the screen at a glance. You can make any changes in your profile, adjust your features in the Setting, and upgrade your Billing anytime, following simplified navigation.
How Does LatinAmericanCupid Work?
After having registered on LatinAmericanCupid and having your photos approved, you are ready to use the platform. You will be able to search and message all the members if you have a paid subscription. But if you have joined for free, you can only reach out to those who have a paid membership.
Here is where all the fun starts. Search for other members with basic or advanced search options, send messages, and send interests to other members. Immerse yourself in online dating life and be ready to meet your future partner here.

LatinAmericanCupid App
LatinAmericanCupid has its own app that you can download for free. It is available for Android, but not for iOS. This may be why it is less popular than its online desktop version.
Alternatives of LatinAmericanCupid
Surprisingly, there aren't too many websites catering primarily to the Hispanic audience. We should definitely name LatinoPeopleMeet, which is the major LatinAmericanCupid's competition. Other websites on this list are international platforms with massive sections for Latinos: eHarmony and Match.com. They go even higher in rates than LatinAmericanCupid, though they are not as targeted.
Conclusion
LatinAmericanCupid is a renowned online dating website for those who are interested in mingling with Latinos or Latinas. It is equally great for Latin Americans wishing to find a match sharing their origin and culture and those seeking an international marriage. And, of course, it is perfect for foreigners dreaming of a hot Latin date.
Even a free version of LatinAmericanCupid allows you to interact with a high percentage of users. As for the paid subscription, it lets you use the site for full and enjoy every minute of it immensely.

Company: Cupid Media Ltd
Address: Cupid Media Pty Ltd, Level 5, 2502 / 5 Lawson Street, Southport QLD 4215, Australia (office), Cupid Media Pty Ltd, PO Box 9304, Gold Coast MC QLD 9726, Australia (postal)
Phone: Australia: (07) 4847 6777
United States / Canada: 1-844-462-9005
International: +61 7 4847 6777
Email: team@LatinAmericanCupid.com