Every English-speaking country knows about the PoF dating app and website. It's one of the most influential and spoken-about platforms to find love, fun, sex, and other relationships. The service was launched in 2003, so it's fair to call it reliable and trustworthy. Happy endings aren't rare for the service, as well as broken hearts. All you need to know is that PoF isn't a site where you stand still. It's never boring and silent. The site never sleeps since it connects users from various time zones.
When Was PoF Founded?

The site was founded in 2003 and it has been quite successful for ages. Although the competition is growing, its core values have been attracting users worldwide non-stop. The founders based the headquarters in Canada.
Who Owns PoF?
The founder is Markus Frind but the ownership of the site belongs to Plentyoffish Media holding. It has about 100 employees who are working on improvements and maintenance of the service.
Registration & Profile

To start scrolling through profiles of potential dates you need to go through a swift registration process. Some basic data are needed. The very profile contains a lot more information. Not all users need to go through verification. Hence, the procedure of becoming a registered user isn't long. It's possible to change the info later but if the user indicates the wrong age category, the potential matches won't be suitable for them. So, the site recommends being accurate with the description of yourself.
You'll need some time for a personality quiz. To define what your temperament is, the site asks some questions. As a pro, you don't need to pay for the submission of the quiz and getting results. Signing up doesn't require you to submit your profiles on other social networks. It's a bonus for those who don't want to meet familiar faces on dating sites. PoF doesn't post any posts on your behalf. There are no hidden tricks they use to notify everyone about your registration.
Communication/Matches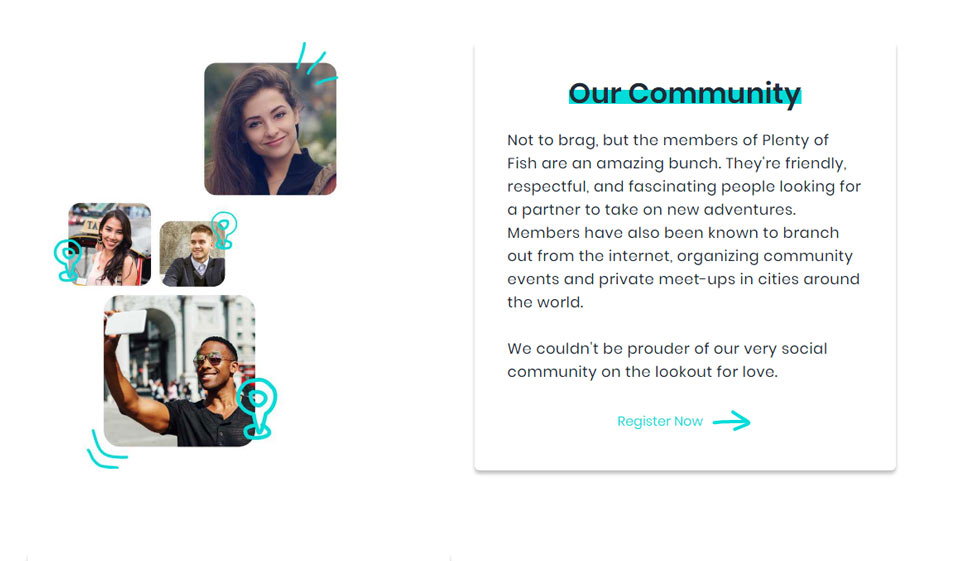 PoF ways of connecting people depend on the user's choice. There is no limit as to how many messages you send per day if you aren't a free user. Paying for a subscription opens up a world of unlimited opportunities. Besides, users can communicate via email and even get phone calls. To match people the site created the algorithm based on the quiz filled in on the stage of registration. Matches that are sent by default to every user correspond to the answers in the quiz. They usually contain up to 5 options. To start a conversation with a match the user can send a message or email. Messaging is free. If you get a subscription there will never be an issue with messaging any user. Without purchasing a paid plan some users might limit your access to their profiles. The average user gets a lot of messages. Even with the regular PoF profile that doesn't seem to stand out, the user gets contacted. For that reason, the site has an option to lift your message. In case you want an immediate reply you can get a special feature that brings your message in priority for the receiver.
How to Search for People on PoF?
When it comes to looking for dates, nothing new has been introduced in ages. The user needs to select parameters in the filters. They include age, gender, nationality, sexuality, eye color, hair color, body type, and other standard things. Besides, the user has to select a location. Luckily the site is advertised and used internationally, so the users can find locals and foreigners there.
PoF also takes responsibility for keeping the users busy all the time. For that reason, you receive PoF selected matches that correspond to the preferences you indicated. At times these matches will not seem valid for you. Some people indicate the wrong information in the profile and have no pictures. If you get a match like that at PoF, you may want to decline it. PoF offers some features that improve your searching experience. They include the 'Meet me' option and 'Nearby'. These are the sections found on your profile menu. With their help, you can get involved in these kinds of games. People who are actively looking for matches and want instant options offered usually use these games to speed up the traditional searches.
How to Delete PoF Account?
Numerous users find their happiness on dating apps. However, it is not a reason to leave the service for good. There are a couple of options you can use to stop active dating online. One of them is to hide your profile from searches, and the other one is to freeze your account. Finally, if you are sure that dating online is not for you, you can delete the account forever. If you want to be sure and need proof it was deleted you can contact the support of the site. Traditionally the user who selected the option delete profile in the 'Profile settings' section, gets it done within a couple of seconds. As soon as the profile is deleted, the data is erased. So you will need to register from scratch and take the quiz again if you decide to continue dating online with PoF.
Members Structure

PoF was started as a small project for Canadians. The founder and developers aimed at satisfying the local market. However, the project took off instantly. At present, the user base of PoF contains millions of users. For sure not all of them are active daily. Some profiles are temporarily disabled or frozen by users and some are not very active. But if we talk about the active membership base it still has millions of representatives from all English-speaking countries. Plus, people living in other countries but wishing to find an English-speaking foreigner register there.
Sexual Preferences
PoF gender policy is liberal. It does not limit you to certain options. Every gender and sexuality representative is welcomed. If there is no default option to select your gender, the site offers you to include this information in the profile description. The main benefit is that the site does not ban such descriptions and allows freedom of speech.
Race And Ethnicity

Since PoF is all-inclusive, all races are represented in abundance. Most white users are coming from North America and countries like New Zealand and Australia. European countries are less represented on the site. Yet, nationalities vary. Ethnicity is equally represented. The users from the Black, Latino and Asian categories can easily find matches. Race and nationality are indicated on the stage of registration, so every user has this information on the profile.
Religious Orientation
PoF is not a website for religious dating specifically. There is no emphasis on Christianity, Islam, etc but all religious trends are represented and allowed on the site. If it is a critical demand for a person to find a match of the same religious belief, one needs to use the search filters.
Pricing Policies

PoF costs are medium. The site allows free navigation and the use of basic functions. To get a taste of the whole range of features the users are required to get a subscription plan. It can be long or short-term. After a certain time of free service use, the subscription offers to come in the form of a pop-up window and email. The conversations are stored but when the time of free subscription runs out, they get locked temporarily. After selecting the desired membership plan, the user can continue the same chats and email chains.
Free Membership
The benefits of a PoF free account include standard things like signing up and navigating on the site. Some search filters will be locked, but the ones available are more than enough. With the free account, the user can open the site, log in to the account, open the main page with the list of users and active users in particular. There is a mark next to all online people. Some premium accounts will be locked for view, and some accounts will not open all the photos in the gallery. It is a setting selected by premium users. Another interesting feature available is forum participation. This section has some topics where people lead discussions. It is a way to get to know the users and see who is the most active. If the user is interesting to you, it is possible to save that profile into your favorites. Free use of PoF is not long-lasting, so the user needs to decide on the subscription plan as soon as possible.
Paid Membership
The memberships that cost money are designed for users who want a more exclusive experience. They also get you in touch with other users of the same category, hence it is a smaller community of like-minded people. PoF offers special features for users who are willing to commit to a subscription of any kind. With the plan, you can send more than a regular message, but a gift and a voice message.
PoF subscription varies depending on price and duration. It is self-renewing which means that the same subscription will continue extending unless you pause it. Your credit card or electronic wallet can be attached to the profile for convenience. The starting package lasts two months and costs approximately $20 (depending on the currency you are paying with). Luckily, PoF is an international platform and accepts all types of cards and converts from any currency. If you are willing to give yourself four months at the site, it will cost you about $13 for each month. The last but not least convenient plan is for eight months and it saves you a lot each month. The price of a month with this subscription is about $10. For the whole period of eight months, you will pay about $80.
How to Cancel PoF Paid Subscription?
A cancellation policy is a must for every online service and PoF has a standard procedure. The user needs to cancel the plan before it starts. So, if the plan starts on the 20th of June, you need to cancel it 24 hours before. Even if you detach the card it does not mean that the subscription is canceled. For that, you need to go to your profile settings and find the corresponding section. Then, click on the button 'Cancel Subscription' and read the further instructions. The follow-up letter about cancellation comes to your email from the PoF support team. It is an automatic email that confirms your actions.
Is PoF Safe?

One of the privileges of PoF is the absence of weird verification procedures. There is no need to upload your documents and provide your real phone number. All the information that you want to keep in secret can be hidden from the profile. If someone contacts you with violent or assaulting requests you have a right to complain via a special button. The users get blocked for cyberbullying and scamming on PoF.
Quality Of Profiles
The quality of PoF profiles is medium. The standard questionnaire that PoF makes you fill in is well-designed but not all users answer it correctly. Some pay attention to details and choose to fill in the profile properly and some are negligent and do not provide enough information. It creates difficulties for the matching algorithm on the site. A very important drawback is the lack of obligatory photo verification. It happens that a user has a photo of a celebrity on their profile. PoF moderators are working on eliminating such profiles, but with the number of users, it is not possible to handle all of them.
Website Design And Usability

The list of features on PoF is impressive but the design has not been updated for a while. It has been in its original state since 2003. For obvious reasons, it needs proper updates. Nevertheless, it is a user-friendly platform since there isn't a single confusing feature or button. PoF platform is suitable for all age categories.
How does PoF Work?
The platform is designed to connect people for different purposes. It uses algorithms to connect profiles and gives them multiple communication features to interact with each other. A profile is a crucial thing for every user of the site. If the profile is not properly presented, the users are not reacting to it well. Hence, the site encourages users to upload as many photos as possible and be present. If the user status is offline for too long, the site freezes the account.
PoF App
The application developed for PoF is popular among younger generations. It is multi-functional and convenient. Its compatibility is great, so a user of any operating system can download and use it. All the information from the website is included in the app, so there is no difference between usage of site and app.
Alternatives of PoF

Tinder has always been a competitor of all dating platforms. It is an app that aims at connecting people for quick dates. Some users take it to the next level and go through the swiping process to find their forever partners. The app was founded approximately at the same time as PoF but remains its strong competitor.
OkCupid is a huge network that includes dating options for people of all age categories, races, and preferences. Its main advantage is the existence of separate websites for specific purposes. In general, it is a platform for long-term relationships search.
Conclusion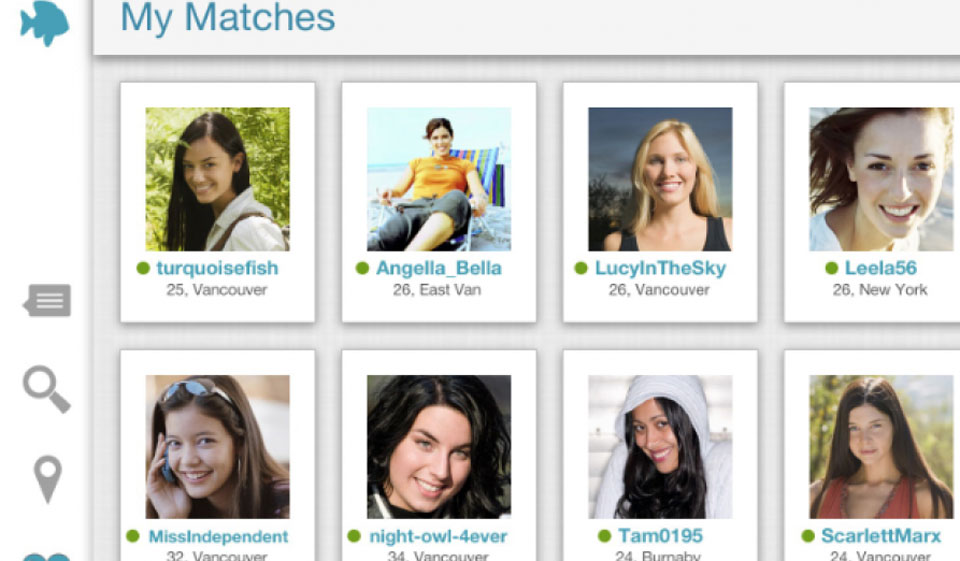 With the variety of dating platforms, one might experience confusion. PoF is one of the platforms that users trust blindly due to its reputation on the market. Despite some controversies, the site has been afloat and blossoming. It is an affordable option to use if you are need a date or a simple conversation with someone who'd understand you. PoF is a choice of old and young, monogamous and polygamous. It is proof that the membership of the site is diverse. Choosing PoF does not mean you will end up marrying someone but it guarantees fun times for a cheap price. PoF offers flexible subscription plans and nice communication features. It is rated well on most independent assessment platforms as well. If you are willing to try, PoF free plan is available to everyone.
Company: PlentyOfFish Media ULC
Address: Canada, Vancouver, West Hastings 142
Phone: + 1 604 692 2542
E-mail: csr@pof.com