EliteSingles is a dating site for professional singles who are interested in long-term, serious relationships. With over 83 percent of this website holding university degrees, one could look at it as the intellectual's answer to Tinder, seeking other minds rather than bodies, in search of a serious match. Available in more than 20 countries, they boast a successful match every 8 minutes. It is not bad odds.
EliteSingles has been slated for being an elitist load of intellectual hogwash where people are more interested in income and degrees than finding romance. It is partly true, but why should a professional person not seek someone who shares similar interests and lifestyles?
This site has been compared to eHarmony for less conservative and younger match seekers. Using what the site calls "intelligent matchmaking," it is uniquely designed to streamline users into the relationship process.
After completing a pretty exhaustive questionnaire in a Myers-Briggs type personality test, this site pretty much shuts down on a free user. The "I consider myself to" style questions can get pretty exhausting, and let's face it: Who wants to be entirely honest about yourself when trying to impress a future partner? Do I get angry, how important is it to be kind? These seem a bit open to tweaking if you are on a dating site.
The depth of questioning is impressive, however, considering that this is a dating site, and it seems to lead you past the usual superficial crap that websites tend to ask. Feelings towards family, what lifestyle you envision for yourself, or whether you see children in the picture are certainly important considerations when seeking a long-term match. How many relationships fail on those particularly important goals because these questions only fully emerge later in the dating process?
When was EliteSingles Founded?

EliteSingles was founded in 2008 by David Khalil under the banner of Affinitas. This site was launched in 2013 in the UK and is now available in over 19 countries.
Who Owns EliteSingles?
EliteSingles is owned by a global dating company called Spark Networks SE. It was founded in 1997 in Beverly Hills, California, by Joe Y. Shapira. The Spark Network, based in Berlin, has an impressive portfolio, owning major dating brands such as Zoosk, SiloverSingles, eDarling, and Jdate, just to name a few.
Registration & Profile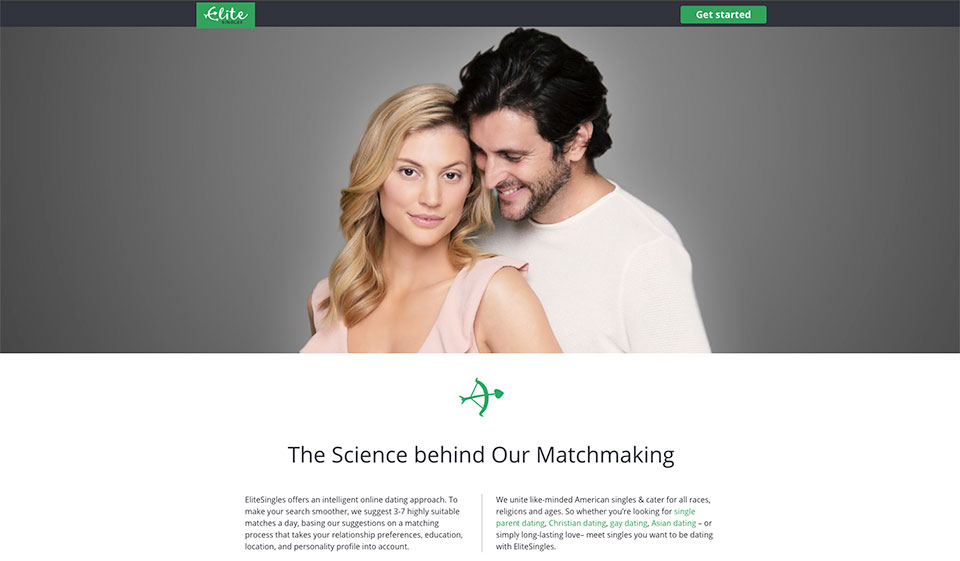 Although registration can seem difficult, you can get through it in about 20 minutes without too much deep thinking and prevaricating. After the generic age, DOB, and physical characteristics, profile building starts.
Most questions are asked on a sliding scale of how important aspects of your future match are to you, from physical attributes and race, all the way up to education and income. You are then prompted to reveal more about yourself, still on a sliding scale of importance, and yes, you will be asked how you rate yourself. Some awkward moments there, though.
Then, you will be asked to describe yourself from lists of adjectives best; after that, you will provide your answers to profound questions such as "What three things are you thankful for?" You then get questions about hobbies, smoking, drinking, and the dreaded baby question.
Once this soul probing process is over, your information is processed and auto-filled into your profile, ready for you to move forward in finding your soul mate. You have a chance to fill in a bio and other such information as you please and view your personality profile.
This survey takes the form of a personality type quiz and consists of a hundred or so straightforward and more abstract type questions. It is a tedious but essential part of building up a composite of your wants, traits, and needs that will help you find someone who is compatible, not only physically, but who shares your core beliefs and visions of the future.
Unfortunately for Uber Choosy, you will be provided with only 30 matches a day, but for most of us, this is more than enough.
There have been some problems in this app's sign up process due in part to the lengthy and text-heavy personality survey on registration. So, it is advisable to register on a desktop version and then use the app on the go.

Communication/Matches
Communication is non-existent on EliteSingles unless you are a paid subscriber. The advanced algorithm-based matchmaking on this site is one of the most in-depth and efficient features out there. The lengthy signup questionnaire generates highly personalized search tools that link you to specialized matches. You are presented with 20 or so matches a day, unlike other sites that bombard you with options. It creates a more personal and intuitive experience in seeking a long-term mate.
You can send a smile to see if someone responds, or play five questions you can choose from a list of 50, ranging from what you prefer to do in the evenings to what you would pack for a summer vacation in the Mediterranean. It is a great icebreaker.
How to Search for People on EliteSingles
Just click the heart icon on the lower left side of the screen, and you will be presented with a single section of this site. These are divided into three columns of "Favourites," "Matches, and "Visitors."
Once you click on one of your listed matches, you will have access to his full profile & gallery (sadly, for free users, all these photos are blurred until you cough up some cash for a paid membership). The traits that you and your match share in the chosen profile will be highlighted in purple with a funky green heart. You have the option of liking various areas of your match's profile, which will be recorded in your message area.
If you are keen, send a smile by clicking a smiley emoticon, or click a star icon to add them to your favorites. Once again, you need to spend cash, as free members can't message without a membership. Paid members may also find out who has been liking their profile on the visitor's column and check out the potential of their favored matches in the favorite's column.
Alternatively, you can make use of the "Wild Card" feature via the Cupid's Arrow icon on the bottom menu bar. You get to see users' profiles and their highlighted similarities on a profile pic without a gallery option. Be warned though, once you swipe, that particular user will not be shown to you again, so think hard when you scan your matches. Swipe right and you have the option of messaging.
How to Delete your EliteSingles Account
Deleting your account on EliteSingles is easy. Once you have logged into your profile, navigate to My Account via the Membership tab, select the cancellation link, cancellation reason, and tap Continue. Enter your password and click Confirm. After that, you will receive a cancellation confirmation in your email from the EliteSingles team.
Members Structure

EliteSingles boasts an impressive 5,000,000 members just from the USA alone and up to 900,000 active weekly members. Unlike many dating sites where men predominate, the sex ratio here is 50% – women and 50% – men. With millions of users worldwide, the main user base is hail from the USA, Canada, and the UK. This site's general age is thirty and above, which makes sense as it is a place for long-term relationship seekers.
Sexual Preference
EliteSingles cater to those on the LGBT scene who are tired of hooking up and want to find a serious partner. Many LGBT singles spend time in typical LGBT sites where connection hinges on quick responses and photo quality. EliteSingles aims to filter incompatible matches by an intuitive, in-depth algorithm-based match that is specifically focused upon forming more profound relationships.
Race and Ethnicity
The ubiquitous race question does come up pretty early in your site registration. You are offered a blocked grid with most ethnicities listed from which you can choose one, several, or opt-out. This site regards this questioning as being pertinent to individual match choices and has no discrimination according to race and ethnicity.
Religious Orientation
EliteSingles has no discrimination against any religious affiliates but does ask their users, again, on a grid-like choice board that religious affiliates expect in a match, with a chance to remain open to all.
Pricing Policies

Elite Singles comes in somewhere on the higher end of the price spectrum for dating sites, rivaling such giants as eHarmony & Mtach.com with their amazing user success rates and large user base. Some people seem to believe that the high price tag is attached to finding out the lowdown on a future partner's education and income.
Free Membership
You don't seem to get much out of EliteSingles without purchasing a membership, but heck, if most users hold degrees, they should be able to afford it. Free membership gets you:
Membership signup
Personality test & results
Profile pics
A daily selection of matches
You may send smiles & likes
Paid Membership
Detailed analysis of personality test
Be able to view "visitors" on your profile
Send messages & receive replies
View other users' photos
Their payment structure goes as follows:
Light membership/3 months 57.85 USD/Month Total 173.85USD
Classic Membership/6 months 44.95 USD/Month Total 269.70 USD
Comfort Membership/12 Months 31.95 USD/Month Total 383.40 USD
How to Cancel EliteSingles Paid Membership
When you choose to delete your EliteSingles account for good, your personal information and all your matches and messages, simply navigate to "My Account" via the menu and Membership, select cancellation link, provide your reason for the cancellation and tap "Confirm." A confirmation email will be sent to your registration email.
Is EliteSingles Safe?

At EliteSingles, only a select and professionally trained set of personnel are allowed access to your personal information, and even then, only in some instances. The only information that is processed and used is the information willingly offered up upon registration.
All user's data is transmitted in encrypted form and is not accessible to third parties. All photos and profile information are checked before they are placed on this site, and no personal information is offered up to third parties. EliteSingles even has an inhouse fraud team to monitor site activity and protect its users from possible scams.
COMODO and SSL secure EliteSingles secured for sensitive information such as credit card information. This site provides filters to safeguard against offensive or harmful messages, and there are allocated support staff available to address any reports of suspicious or abusive user behavior.
Quality of Profiles
Due to EliteSingles' advanced algorithm-based matchmaking tools, developed with psychologists' help, the quality of user-profiles stands out from other dating sites. This in-depth and personalized profile creation enables users, in a streamlined way, to engage in a more meaningful manner and lends itself perfectly to longer-term connections.
All the lengthy personal questions at registration prove their worth when you are presented with an at a glance profile where common traits and interests, as well as personality types, are highlighted when viewing potential matches.

Website Design and Usability
The desktop site is user-friendly and shows how to access your info, such as your inbox, profile, and matches. Unfortunately, the customer care is only available through email template, but issues are usually addressed promptly. Be aware that your subscription must be canceled 24hrs before it expires, or it auto-renews.
How does EliteSingles Work?
EliteSingles is an intense algorithm-based dating site catering to educated professionals seeking long-term partnerships. As for the rest, it is not that different from any other dating site.
EliteSingles App

EliteSingles app is available in both iOS and Android and can be downloaded for free from both App Store and Google Play. It is easy to navigate and use on the move with all the features you can find on the desktop version. The EliteSingles app is compatible with most devices, but users have said that the desktop is far easier to use on registration than the app.
Alternatives of EliteSingles
EliteSingles' main competitors are eHarmony, Match, OkCupid, and Zoosk. However, while Match.com and eHarmony might have a section of their users after a hookup, the high prices and focus on educated users tend to weed out those who are not serious about forming relationships.
Conclusion
Although EliteSingles has been given flak about being an elitist money matching type racket, with over 12 million members worldwide, it seems there is a need for it. A lot of 30-something professionals want to find partners with similar education and income, and why shouldn't they? The signup process and personal questions seem to be copy-pasted from a psychology textbook are irritating, but they put you in a better position to find your match.
The EliteSingles membership is not teeming with fake profiles and horny posers on the make, and that counts for something. This site takes verification seriously but begs the question: Why do degrees and qualifications not be vetted?
EliteSingles has also raised the bar when it comes to using in-house surveys to promote their brand as well as a dedicated magazine called by the same name, which gives tips on online dating and relationship advice, dinner, and date ideas. At the same time, they promote their own featured success stories of relationships facilitated by their site, which can help other singles with finding their love match (and it doesn't harm the site rep either).
A website with an excellent standard of an educated and professional look is not the worst place to look for love, even if the price is a little high.

Company: Spark Network
Address: Kohlfurter Strasse 41/43, 10999 Berlin, Germany
Telephone: +49 1805 102 147
Email: support@elitesingles.sg