iHookup is an adult dating site that promises its users quick hookups for casual encounters. Unlike other dating platforms that usually hide the nature of their business with obscure names, iHookup is proud to let you know what happens on its platform instantly. It serves its clients, who are mostly singles looking for non-committal dating experiences, with such opportunities.
If you want to get back in the dating game but aren't keen on starting anything serious, iHookup can connect you to singles in your area who are looking for similar experiences, that is the no-strings-attached casual relationship.
Even though the iHookup.com service is quite popular with singles online, it has been tainted with negative reviews exposing a few problems. The question to ask; therefore, is iHookup platform a useful adult dating site for no-strings-attached hookups, or is it just scammy?
Read our review to find out.
How it works

There are many adult dating sites online promising glorious and steamy casual encounters for interested singles, and iHookup.com is one of the industry's big players.
The website is not on par with the standards set by most premium dating sites. It is very lame compared to other sites of the same nature. But don't let the seemingly conservative appearance fool you; there is more nudity and raunchy snaps on this platform than you'll ever find even on the hottest porn site. Yes, iHookup.com is as NSFW as they come.

Don't expect to see well-dressed women on this platform, because you will be shocked at all the NSFW images flooding the site. If you aren't into nudity and all the steamy stuff that goes with it, you'll find it embarrassing to log on to the platform. But the site targets any single people who are looking for one-night-stand relationships, so the graphics on it are understandable.
The registration process is not a complex one. It's straightforward to register on the iHookup platform. It will take you less time to register on iHookup than it would take you to drink a glass of water. The only delay you will experience with registration is on receiving the confirmation email. Once you are done with registration, you'll be directed to the subscription page, where you'll be asked to purchase a paid membership. Even though you don't need to pay for submission as you can always use a free account, but you will not access most of the features available on the platform. You will miss out on a lot by using a free account.
Who Can You Find There?

After submitting your payment and are now a full member, you will expect to find many seductive profiles of women wanting to go out with you for some steamy one-night stand session. However, even though you will find some women with similar interests as yours, many women on the platform want long-term relationships. This is contrary to what iHookup.com claims to offer its users.
Furthermore, some profiles are obviously fake and not real. Not all the pictures you find here will be from real people. The employees of iHookup.com create some, and this is a strategy that many scammy websites use to fake their popularity. It seems iHookup.com is applying the same techniques here.
We also noticed that once you set up your profile on the iHookup.com platform, you will start receiving loads of flirty messages at an unprecedented rate. Moreover, the messages seem to come from bots or fake accounts.
Prices

As we've already mentioned, you won't do much on the platform using a free account, unless it is just checking out women's profiles. Therefore, if you want to see available hot MILFs in your area, you have to fork out your credit card and part with some dollars. And it is not cheap!
There are three packages offered if you want to subscribe to iHookup.com. You can pay the monthly package, costing $34.99, or go for the 3-month package on which you will be charged a reduced fee of $22.99 per month. If you want full membership, then the annual package is available, costing only $9.99 per month. Mind you that, without paying for a membership, you will not have access to messages, and won't be able to communicate with women who tickle your fancy.
Before you give out your card details to make a payment, it is best first to review the fine print provided in the terms and conditions. You will come across some very important details, informing you in CAPS that iHookup reserves the right to change the fees, billing methods, as well as the addition of supplemental charges. This should be a big concern to anyone who values their money. It means iHookup.com can decide to increase subscription charges without informing you of the same.
Safety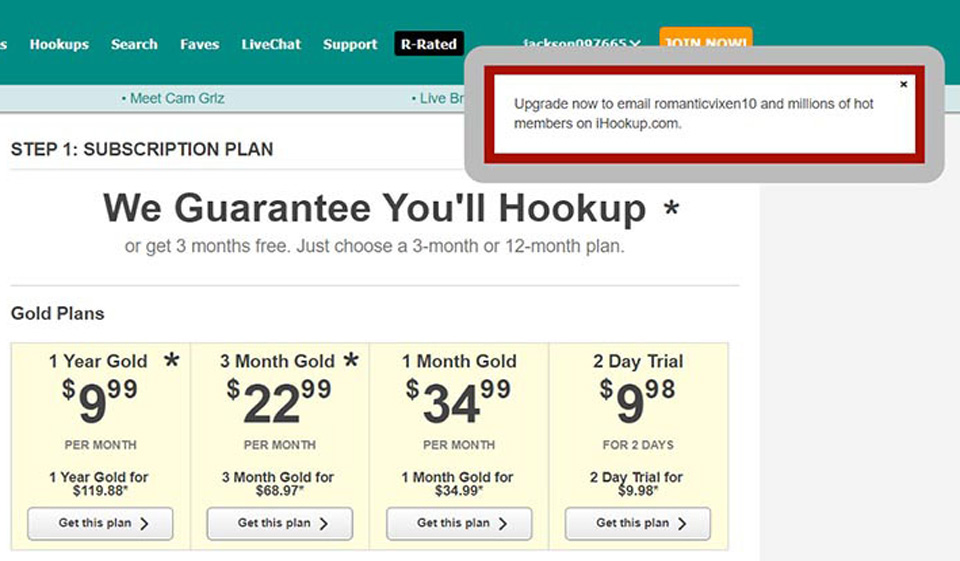 Many singles hunt for partners online, and majorly what they need is just a fling and nothing serious. It seems iHookup.com is well aware of this fact, and that is why they have done commendable job advertising for precisely that: an opportunity to connect you with like-minded people who are interested in a non-committal affair. However, there are a number of issues that point to the site being a big safety concern.
iHookup is aggressive with requesting you to get paid membership. Many of the features on the site are hidden behind a pay wall. You won't get to enjoy essential features of the site unless you get paid membership, which is more like holding you hostage until you pay for ransom. It would be better if the platform focused more on providing hookup services, instead of being laser-focused on getting you to buy paid membership.
Another suspicious behavior of iHookup is that of hidden charges. We found that, according to its terms and conditions, iHookup reserves the right to change prices and supplemental charges at will, which means iHookup can extort more money from unsuspecting members.
From our review, we've pointed out some suspicious behavior coming from the iHookup adult dating platform. These practices compromise the trustworthiness of iHookup adult dating platform, and as such, we cannot recommend it to our users.