Chatrandom is not a new service, but it is still different from most dating apps and sites. Online dating has become quite well-known nowadays to the point that there is at least one provider that suits your needs. There is always one regardless of your sexuality or kink. That much is certain.
However, they all follow certain design choices, such as the inevitable account registration and verification process. In the online dating world, where seconds could be the difference between getting matched or not, this can be a big deal. Many people would rather skip past the boring account creation and profile crafting stage and get to the fun bits.
If you are one of those people, then look no further because Chatrandom will satisfy your speed dating needs. If you already know Omegle, then Chatrandom will feel very familiar because they share many functions. The only difference is that Chatrandom is catered toward users who want to find hookups or casual dating quickly.
When Was Chatrandom Founded?
Chatrandom was founded back in 2011, which means that it has plenty of experience in the online dating industry. We will soon see how that amount of experience translates into their website design and features.
Who Owns Chatrandom?
Chatrandom is owned by DBF Group Limited.

Registration & Profile
This is where things get interesting on Chatrandom. Creating an account there is free, but you don't even have to do that. Everyone can just hop onto Chatrandom and start chatting with other users without signing up. You will only need that if you plan to purchase a premium membership, which we will talk about later.
If you only want to chat and do not plan on upgrading, then you don't even need an account. Just hop on and chat to your heart's content.
You would have some benefits over other non-registered users if you create an account and get a premium membership. Users have two options when creating their account. They can either provide an email and password or link their account with FB or Google+.
The first is self-explanatory. You provide your email and password. Chatrandom will send an email with a link users must click on to verify their account. Once that is done, you can start using Chatrandom immediately. There is no need to tinker with your profile or anything. All you should do is verify and start using Chatrandom immediately.
Alternatively, you can link your Google+ or Facebook account and skip the verification process entirely. However, we do not recommend that. That is not to say that Chatrandom is not secure (more on that later), but it is a good practice not to link your account unless you have to. The anonymous nature of this website could be compromised if you do that.
Communication/Matches
So how do you get connected with other users? Because of the nature of this website, all communication features revolve around the chat system. The good news is that there are many of them. Let's go through them one by one.
First, we have a random chat. As its name suggests, this is where you can chat with strangers one-on-one. The matchmaking system is very hands-off because you are randomly matched with other users. Members of Chatrandom have very little control over who they meet.
There is also the chatroom feature. It does what it says on the tin. This is where you can chat with more than one user. There are many rooms you can join, and some of them are specifically labeled. That way, you know what kind of chat you are joining. For instance, if you want to chat with singles, there is a chatroom for that. There are also chatrooms for gays, college students, girls only, and for those who only want to pass the time. Chatrooms can either be text-only or video-based. So have a webcam and microphone ready.
Finally, there is the Cam4 video chat system. Think of this as a smaller webcam chatroom combined with random chat. You can video chat up to 4 strangers who are selected at random. This is for those who want to chat with more than one person at once.
Because there is no way to "bookmark" certain users that you want to contact later, we recommend you take it to another platform such as Facebook. That way, you can remain in touch and perhaps meet up in person.

How to Search for People on Chatrandom?
Unfortunately, Chatrandom does not have a search function. They do have gender and location filters, but these features are only available for premium users. Even so, the filters do not help much if you want to find a specific user. It just narrows down the search range a bit, nothing more.
How to Delete Chatrandom Account?
You can permanently delete your account from your account settings. You will receive a verification email from Chatrandom to verify your decision. Keep in mind that if you do delete your account, you will need to register again in the future if you want a premium membership later.
Members Structure
Everyone should know what they are getting into before committing to a dating platform. What should you expect from users on Chatrandom? First, they have well over 5 million registered accounts worldwide. Among those users, there are 35,000 daily logins on average and 100,000 at its peak. While we have no data on gender distribution, it is safe to assume that the ratio is more or less equal. With such a large userbase, you should find someone to chat with.

Sexual Preferences
While we do not have a figure on sexual orientations on Chatrandom, we do know that they have a different chat for the LGBT+ community. As such, we can assume that they welcome all users regardless of their sexuality.
Race and Ethnicity
Concerning race and ethnicity, Chatrandom is very diverse because they have many users around the world. Regardless of where you are, you can find users living in the same country, if not in the same city.
Religious Orientation
Finally, religion. It is the same story here. Everyone is welcomed regardless of their religious orientation.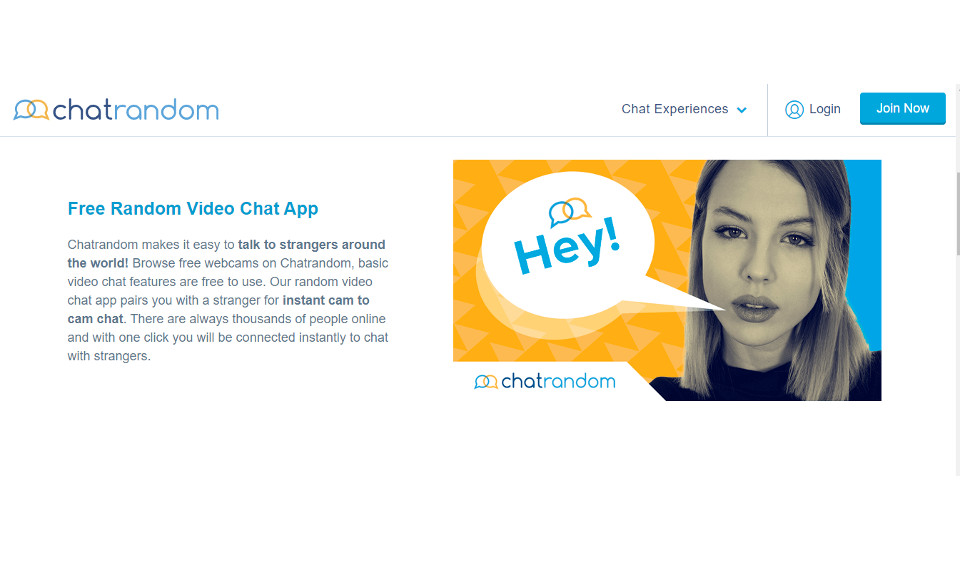 Pricing Policies
So how much does it cost to use Chatrandom? The price for premium membership is on the slightly expensive side, but let's look at what you get as a free member first.
Free Membership
Upon registration on Chatrandom, you will be granted a standard (free) membership. This will open up the following features:
Chat with random strangers
Join chatrooms
Video chat
Report
Keep in mind that non-registered users can also access these features. Considering that most of these perks are often locked behind a paywall, Chatrandom provides a lot for its users. Technically, you can find casual dates on Chatrandom without paying a single penny.
However, the only downside is that users must deal with third-party ads. We understand that ads can be distracting, but this is the price free users have to pay to access all of the above features. As you soon will see, the ads are not even that bad.
Paid Membership
If you do upgrade to a premium membership, you will gain access to the following:
Join girls only chatroom
Gender matchmaking filter
Location filters
Undo – reconnect you with a previous user
VIP badge
No ads
What is their asking price? There is only one plan with two different durations. You have the 1-week plan that will cost you $5 or the 1-month plan that costs $18 a month. It is worth pointing out that payments are automatically renewed at the end of every billing cycle.
The best value is the 1-month plan that costs $18. You can pay via credit card only. But if you want to see what Chatrandom has to offer for premium members before you commit, the 1-week plan is a safer option.
Now, some consider the asking price to be a bit steep. We beg to differ. We believe that this is a great value considering all the features you get, especially the removal of the ads.
How to Cancel Chatrandom Paid Subscription?
You can cancel your membership in the same Settings menu as the account deletion page. However, you will not get a refund for your remaining time, so keep that in mind. Still, you can at least enjoy your premium membership until the next billing cycle. By then, your membership will be changed back to standard.
Based on their terms of service, they are willing to provide a refund under very few conditions. The problem is that they do not provide clear explanations for those conditions. So we assume that whether a customer gets their refund or not is at Chatrandom's discretion.

Is Chatrandom Safe?
Since Chatrandom is all about speed dating and anonymity, how well does it protect its users? They did a good job at it.
First of all, all users' connection to their website is encrypted. That means all users are protected against hijacking attacks. For those who are not tech-savvy, allow us to explain. Hackers can hijack the data you are sending over an unencrypted connection. They can see what data you are sending, such as pictures, videos, texts, and credentials. That means they can potentially steal your data. With encryption in place, you can rest easy that your connection is well-protected.
When it comes to privacy protection, there is not much to talk about. Chatrandom provides adequate protection, and they will not share your information with a third party without your permission.
Scammers will also have a hard time on Chatrandom since most users know very well how to identify and deal with one. For one, users learn to not commit to anything without knowing the other person well at first. Moreover, users on Chatrandom prefer to talk to users who verified their accounts.
But what if you encounter people who behave inappropriately? You can report them. Chatrandom has a moderation team on standby who will take appropriate measures against whoever misbehaves.
Overall, the protection of Chatrandom is excellent, so there is nothing to worry about.
Quality of Profiles
Because Chatrandom is a dating platform that requires very little verification and no profile crafting process, you won't see much from other users. The most you can see is their gender and their location. This helps protect the user's anonymity. You won't know about the other user's personal information unless they tell you about it.
Website Design and Usability
Next, let's talk about the overall design and aesthetics. How well do they do in this aspect? Chatrandom strives to be as easy to use as possible, and they have succeeded. We can say that even those who are not experienced using dating sites can easily use this one.
Even though it is a dating platform, they chose not to go with the black and red combination that we are all familiar with. Instead, they selected to go with the blue and white, which makes the site look very clean and professional. The fonts are large and very easy to read as well. Overall, it looks very pleasing to the eyes.
The user interface is minimalistic and simple. There is no clutter whatsoever, and every single button is conveniently placed so that users do not have to look far to find that one setting they need to tinker with.
There is one more thing we need to point out. You see, Chatrandom hosts third-party ads that are only shown to free users. While this can be bothersome to many people, you have nothing to worry about in this case. They are not placed at every vacant space on the website. Instead, you will find that the ads are not intrusive and do not take your attention away from the things that matter. Given enough time, you might not even notice that the ads are there at all.
We also want to point out that Chatrandom has a little help section located at the bottom of the landing page. This shows that the team is very considerate of their users. If you ever run into any problems while using Chatrandom, you can consult this section first before reaching out to customer support. They also provide some safety tips to combat scammers. We recommend you give it a read, especially if you are new to the online dating world.

How Does Chatrandom Work?
As mentioned before, Chatrandom works like Omegle. All users are randomly matched. After, they can remain and talk to each other or move on to the next user. Users have very little control over who they can talk to. That means everyone you are matched with is purely by chance.
Chatrandom App
Of course, you might want to stay in your room to enjoy the best that Chatrandom has to offer. However, if you do not have a computer at home or want to continue using Chatrandom, then they also have a mobile app for that. The app is available for both Android and iOS users, so you won't miss out on anything. But even if you do not want to use the app, Chatrandom also provides a mobile-friendly website.
Other than the smaller screen, you won't miss out on anything with a mobile app. Design and aesthetics-wise, they are identical to their desktop counterpart, so everything should look and feel familiar to you.
Alternatives of Chatrandom
But what if you do not like what Chatrandom has to offer? What if you want something at the same level? Here are some suggestions:
Shagle: Similarly random matchmaking dating platform for hot singles
Flingster: A fellow Omegle dating platform for quick, casual dating
Eris: 100% free dating platform for people who want long-term relationships
OkCupid: Also a free dating platform from a very famous company; it uses complex matchmaking algorithms and focuses on commitment
Badoo: A hybrid platform of social media and dating platform

Conclusion
With all that said, do we recommend Chatrandom? Absolutely. It lacks a search feature found on many other casual dating sites out there. In exchange, you get access to the chat systems for 0 dollars, and it is hard to beat such a low price. The matchmaking and chat systems work similarly to Omegle. Security and design are excellent. Plus, they even have a mobile app for Apple and Android users. We had a great time with this dating platform, and we recommend you check it out. After all, you won't need to spend a single penny to use it anyway. So, you might as well take it for a spin and see if this is something you are looking for.
Company: DBF Group Limited
Address: 0 N Gould STE 9000 Sheridan, WY 82801
Phone: N/A
Email: info@Chatrandom.com