Shagle is not the only platform of its kind, but it is still different from most others. Most dating ventures are now taken to cyberspace where people can talk to each other from the comfort of their own homes. With countless dating sites out there, you can be sure that you can find one that suits your needs. They vary from international dating and hookups to long-term commitments. The list goes on. But only a few chose a certain niche, and that is speed dating. Shagle is one such dating platform.
Technically, Shagle is not a speed dating platform in a traditional sense. What it offers is a way to quickly connect with various users across the globe while maintaining anonymity. Shagle is a feature-rich dating platform that offers a very competitive price for the quality of service they provide. How does it square up to other dating websites? Let us find out.

When Was Shagle Founded?
Shagle was launched back in 2017, meaning that it has less than five years of experience in this industry. As we will soon discuss, their lack of experience did not hinder their ability to craft an excellent dating site at all.
Who Owns Shagle?
Cogroup Limited, known for its experience designing sites that target quick dates or hookups, owns Shagle.
Registration And Profile
Shagle keeps its registration process simple. It should take less than 5 minutes of your time. Users have two registration options.
First, they can provide their email and password to get started.
The second option is linking either your Google+ or Facebook account. For security purposes, we do not recommend you link your Facebook account. That's not to say that Shagle has poor security. It is just common practice that you should not do so if you plan to use a dating site that guarantees anonymity. If you do link your account, Shagle will go through your Facebook profile and extract basic information such as username and email and import it to Shagle.
Regardless of which method you use, you still must verify your identity through the verification email. So check your inbox and click on the link inside the mail to complete the registration process. If you do not see it in your inbox, try checking the spam folder.

Communication/Matches
Perhaps the best thing about Shagle is that its messaging feature is free. Many dating websites we have seen in the past usually put this behind a paywall, which forces their users to pay for their essential services. Shagle does not do that and makes premium membership completely optional, which is what we love about them.
For connecting with other Shagle users, you only need a computer or a phone and an Internet connection. Shagle has various features that facilitate communication, as well.
The most basic form of communication is text chat, which allows chatting with other users. The same goes for video chat, but this requires you to have a functioning webcam and a microphone. Shagle will ask for permission to use these devices when you first start a video chat.
Another neat feature is called "chat filters." They are the information that is presented to the other users when they are matched with you. Here, you can write a short introduction, trying to capture the other user's attention before they click off.
Gender helps the other user identify what your gender is. Since Shagle focuses on text communication, users do not know what gender you are unless you tell them. Sometimes, you may see couples on Shagle who are just looking for a good time as well.
The tag is yet another feature under chat filters. This is used to indicate your interest, and you can choose from love, flirt, hookups, date, chat, fun, etc. Again, this is also something that most random chat sites have.
Face filter is an anonymity tool for those who are shy. There will be times when you encounter users who do not have their webcam on or hide their faces somehow. If you have your webcam on but have face filters activated, your face will be blurred out on the other person's screen. Users can leave their webcam on while browsing Shagle without worrying that other users can see their faces.
Face connect circumvents the above problem by only connecting you to users who have their webcam on and that their face is visible.
Users can connect with other members by clicking the right arrow. Then, the system will do another search and connect you with another user based on your settings. If you accidentally click on the right arrow, you can go back if you are a premium user. If not, then you cannot go back.

How To Search For People On Shagle?
Shagle offers only random user connections. There is no way to narrow down your search so that you can chat with peculiar people. However, that does not mean your dating experience here relies on pure random chance. Users are given three main filters to help them find people they want to chat with. These filters include gender filter, location filter, and chat filters. The gender filter is a premium-exclusive feature.
How to Delete Shagle Account?
Shagle keeps its account deletion process simple. All you have to do is to go into your account settings and click on "delete my account." When you need to use Shagle again in the future, you will need to register, so think carefully before you permanently delete your account.
Members Structure
Let's take a look at Shagle. After all, it is worth knowing what you are getting yourself into before joining any site. Shagle claims that there are at least 2.5 million users worldwide, and 237,000 come from the United States alone. With around 14,000 daily logins, we can safely say that Shagle has a huge and active community.
Among that large userbase, 68% of them are male, and 32% are female. While this ratio is skewed toward the female population, you should have no trouble finding them thanks to this website's nature.
When it comes to age distribution, it is pretty leveled across the board, with more users around the age of 25 to 35. There are quite a few members, both male and female, who are well above 55 years old.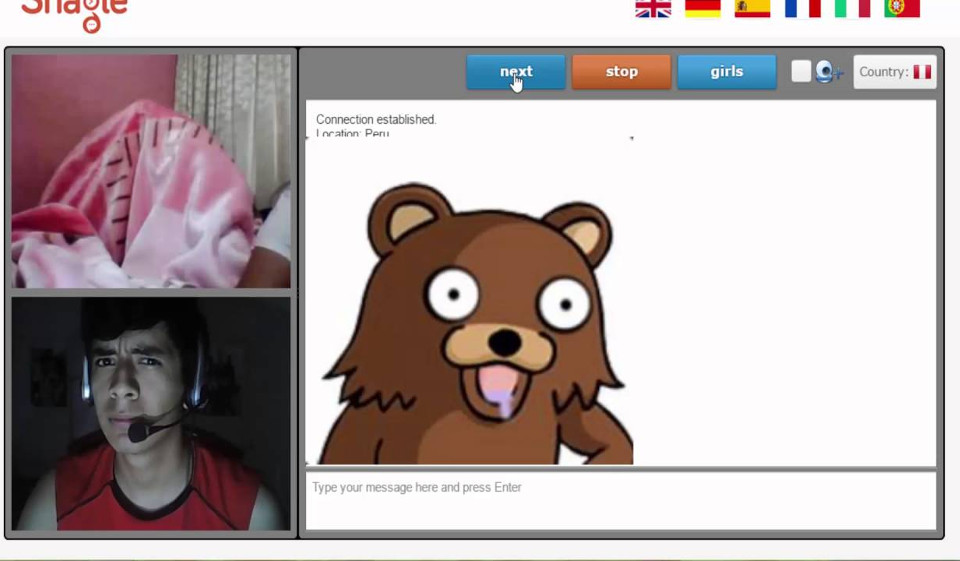 Sexual Preferences
It is the same story for sexuality. It is not a factor that prevents your registration, nor does it influence your experience on Shagle.
Race And Ethnicity
Shagle is available in about 200 countries, so you should remain connected wherever you go. And, of course, anyone can meet people of different races here.
Religious Orientation
Religion-wise, anyone can join, even though we would not call Shagle a faith-based platform.
Pricing Policies
That said, how much do you have to spend to enjoy the best that Shagle has to offer? This might be the thing that drives some people away because the price is a bit high.
Free Membership
Everyone starts as a standard member on Shagle, and the following features are accessible:
Account creation
Text and video chat
Location and chat filters
Switching to the next user
With these features, you can connect and chat with other users without paying a single penny. Thanks to Shagle's design, premium membership is completely optional. This is a surprising move considering that many dating sites out there put such features behind a paywall and restrict their users so much that they have to pay to get far.
This is because "free membership" is nothing more than a free trial to explore this site. Many websites only want their users to see what they could offer but ask them to pay if they want to use some of the most useful features.
Shagle does not do that, though. They provide what we consider the authentic free user experience by giving them enough features to communicate but locking some of the flashier features behind the paywall. That way, users who love Shagle are more willing to spend money to access.
However, having access to these features comes at a cost. Free users have to contend with third-party ads. We understand that this can be annoying to some people. We can understand why Shagle put ads for free users considering all the features free users can access. The ads are completely justified since they won't bother people that much anyway.

Paid Membership
To make the most of what Shagle has to offer, we recommend you get a premium membership. With it, you can access the following:
Gender filter
Send gifts
Verified badge
Location filter to 200 countries
Reconnected with previous users
No ads
Shagle keeps their subscription plans very simple. They only offer one premium plan with two durations. If you are unsure and want to try the Shagle premium plan, you can go for the 1-week plan, which will cost you $7 per week, so $1 per day. That way, you can get a feel for this site and see if you like it. If you do, you can upgrade to their 1-month plan, which costs $20 a month.
Keep in mind that payment is automatic and is done at the end of every billing cycle. You can pay via credit card.
Some users consider the asking price to be a bit high. With all the features you have access to, we consider this to be a fair price. You do not often see a dating site that offers so much but asks for so little.
How To Cancel Shagle Paid Subscription?
If you are unhappy about Shagle, you can cancel your subscription by going into your account settings and click on "Cancel membership." You may not get a refund from Shagle for your remaining time, but you can still enjoy your premium privilege until the next billing cycle. By then, your membership would be reverted to a standard one.
Is Shagle Safe?
When it comes to security, you have nothing to worry about. Shagle is perhaps one of the most secure dating platforms in the industry. For one, your connection to Shagle is encrypted with 256-Bit SSL encryption. Encryption protects you from hijacking attacks from a third party, which is a big problem when you are sharing a video with another user. The hacker could see your face and could steal that footage or other personal information. Encryption protects you from such an attack.
Another level of protection comes from the community, who generally avoid talking to users who have not verified their accounts. While completely optional, verification tells the other user that you are a real person. So we recommend you do that and avoid people who have not verified their accounts as they could be hackers or scammers.
If you ever see users who misbehave, you can report them to the Shagle moderation team, who will take appropriate actions against said users. This could mean temporary or permanent account suspension.

Quality Of Profiles
What about the profile quality? Well, it is a dating platform that allows users to chat with each other while remaining anonymous. As such, you will not get much information from other users, except maybe for their genders. The only thing other users can use to identify you is your face, which you can also hide for complete anonymity.
Website Design And Usability
What about the UI and design front? How well does Shagle do? It is much better than we expected. Aesthetic-wise, it looks very pleasing to the eye. Instead of the overused red and black looks, they go with the friendlier combination of white and orange, which is gentler and easier on the eye.
The overall design and language are tame throughout. It does not promise you that you will find hot singles in your area. It does not say that you will find hookups within 15 minutes of signing up. It does not overpromise and underdeliver.
On the landing page, you will see the option to log in or sign up. Scrolling down the landing page reveals more information about Shagle, such as what they do and the services they provide. At the site footer, things get even more interesting. Other than the terms of service and privacy policy pages, there is the Rules and FAQ section.
The Rules section is self-explanatory. They only ask you to behave and tell you what constitutes a violation and potential consequences. So long as you behave normally, you should be fine while browsing Shagle. They only want to keep their dating environment positive and let everyone have a good time, nothing more.
The FAQ or frequently asked questions section is also interesting because it highlights all the common problems users may run into. So if you have any issues while using Shagle, we recommend you consult the FAQ before reaching out to customer support. That way, you are saving yourself some time and frustration. It is a nice little gesture that is useful yet often overlooked. They provide a detailed explanation of how to solve the problems so that even inexperienced users can quickly resolve their issues in time.
Another thing we want to point out is that you may see ads while using Shagle. All free users see third-party ads, but they are often placed so that they are not intrusive. They are considerate enough to not spam ads on every empty spot they have on their website. They are either placed to the side or at places where you won't notice. That way, you can still focus on talking without being bothered by the ads.

How Does Shagle Work?
As we have mentioned before, Shagle works similarly to Omegle and ChatRandom. Users have very little control over the matchmaking system, making it a dice roll every time you click on the right arrow button. While some consider this to be a drawback, we believe this to be an exciting way to connect with other people. You never know what kind of people you will meet here.
Shagle App
Unfortunately, this is where Shagle falls a bit behind. However, considering the nature of this website, we believe this to be a good thing. Many users on this site want quick hookups or even some pure fun right there, via webcam. As such, they may appear half or naked or wear revealing clothing. For this reason, you do not want to use Shagle in public.
Since you would be staying inside your home whenever you use Shagle anyway, there is no need to have a mobile app. The only good thing about having a mobile app is that it allows users to chat on the go. But when you need to video chat with other users, having a large computer screen enhances your experience drastically.
That being said, those who do not have a computer do not have to feel left out. Shagle does have a mobile-friendly website that you can browse via their laptop or phone browsers. Performance and feature-wise, the mobile site is identical to its desktop counterpart, so it is very well optimized.
Alternatives Of Shagle
But what if you do not like Shagle? Here are a few suggestions from the same niche:
Flingster: A fellow Omegle-esque dating platform, 100% free
Eris: A dating/social media platform that is 100% free
Badoo: A dating platform for people who want long-term relationships
Squirt: A dating platform for gay or bisexual men
Conclusion
In the end, do we recommend using Shagle? If you want something that works like Chatrandom but more dating oriented, then Shagle is your best bet. They have lots of intuitive features, and their security is top-notch. With everything they provide, their price is very competitive. The design is simple, modest, yet pleasing to the eye. Considering that it costs zero dollars to use Shagle, we see no reason why you should not give this site a go.
Company: Cogroup Limited
Address: Office 3, Unit R, Imperial Way, Penfold Works, Watford, United Kingdom, WD24 4YY
Phone: N/A
Email: info@shagle.com