Uniform Dating was created to people who work in a military or any other field that requires a uniform, and their admirers. Usually, people with such professions do not have much time for their personal life, so this dating website came to help them. Nowadays, online dating experience helps many individuals to discover new matches and open up to like-minded people. Uniform Dating takes it to the new level, connecting uniformed professionals that struggle to find a partner quickly and effectively. You can find a soulmate that works in the same field as you do or experiment and find a match in a different uniform. You can find hot soldiers and firefighters, beautiful nurses and air hostesses, and many more professionals.
If you are wondering if it is possible to find real and long-lasting relationships on this website, the following review will help you to decide whether you should join Uniform Dating.
When Was Uniform Dating Founded?
The Uniform Dating website was founded around 2004, and it quickly gained popularity among the uniformed professionals. Since then, it became one of the most popular niches dating sites on the market and still keeps the rank.
Who Owns Uniform Dating?
Currently, the website is owned by Cupid company, which also has a couple of more popular dating websites. That is why the Uniform Dating website is always keeping high quality and attracting even more members.

Registration & Profile
The Uniform Dating account creation procedure is straightforward and will not take you much time. It is pretty fast and effortless to register from the website or the mobile app, as there are only a couple of steps to go through.
Firstly, you will have to provide some necessary information about your gender and sexual orientation, age (you must be at least 18 years old), and a valid email. You will receive a confirmation code on your mail, so the website will make sure that you are not fake.
Then, you will be asked to fill some personal details, including your name and profession. You can choose your profession from a drop-down list among available uniform jobs. There is also an option to select a non-uniform choice, so you will find the right option that suits you. Also, you can reveal some details about your appearance, such as eye color, height, and weight. Moreover, it is possible to indicate your education and income, but it is not necessary.
More personal questions include indicating things that you are interested in your hobbies and preferences. It is better to provide as much information as possible, especially in your profile bio, where you can indicate what you are looking for on this website. This way, other people will pay more attention to you and will have an introduction to your personality.
Then, you can upload a profile picture and add up to 20 photos to your album, but they will be reviewed by the moderation team first. It is also possible to upload the data from Facebook, which will save you some time.
Communication/Matches
Several ways allow you to contact other members on the Uniform Dating website. If you find a user that you like, you can let them know about your interest in them by sending a flirt. You can do that by pressing a heart icon near the user's profile, and it will send them a notification that they have caught your eye.
Then, if you want to be more straightforward, you can write a message to your match. You can either participate in a live chat or send an email to another member. While addressing a message, you can select its type, if you want to send a regular text, an icebreaker, or some alerts.
There is also an option to communicate in a group chat, so you can exchange texts with several people. This way, you can share your interests with a couple of like-minded people and become friends.
If you really like the person that you have met online, you can compliment them with a gift. You can choose a gift option on the Uniform Dating website and send it to the person that you like. Standard presents include some sweet things, like candies, flowers, or teddy bears.
The main disadvantage is that the messaging option is only available to premium users. You cannot write or read the message if you use a free account, as it is only possible to send flirts and gifts in a free website version.

How to Search for People on Uniform Dating?
When it comes to searching for other users, you can either use the search option or benefit from the Uniform Dating matching system.
The website matching algorithm will select the most compatible people based on your interests and preferences. Then, a list of match recommendations will be presented to you, and you can view these profiles and communicate with members straight away. There is also an option to swipe through the pictures of other members and decide if you like them.
Moreover, it is possible to look for other people via the search engine, as this functionality is not limited to all members. All you need to do is to click Start Searching green button and filter out the members that you are interested in. You can select various filters, such as location, age, and some individual preferences. It is also possible to look for people using keywords, so you can find an exact person or specific information.
How to Delete Uniform Dating Account?
If you want to remove your profile, you should log in to the Uniform Dating website first. Then, you will have to go to the Menu settings, select My Account tab, and find Delete My Account bottom at the bottom of the page. It is also possible to request the account deletion by writing an email to the customer support team.
Members Structure
Most of the Uniform Dating users are located in the US and the UK, but this website hosts thousands of members from Australia and Canada. Almost all users belong to the uniformed profession; for instance, soldiers, police officers, firefighters, doctors, pilots, marines, and more. Some people do not wear a uniform but want to find a significant other that does. However, you should be aware that the vast majority of people on the website do not have lots of spare time because of their work. Moreover, some of the people have dangerous jobs. Nevertheless, uniformed professionals are great couples as they are in great shape, well-organized, and respectful.
Anyone can join Uniform Dating if they are more than 18 years old. Most of the members are in their late twentieth or mid-thirties, but you can easily find younger or older matches. As the website hosts thousands of users daily, you will not be disappointed by the number of choices.

Sexual Preferences
Uniform Dating is friendly to both straight and gay relationships, which is a nice plus. The first step of the registration procedure is to indicate your gender and the gender of the person you are looking for. Therefore, on this website, you can find a soulmate of any gender and sexuality that you prefer.
Race and Ethnicity
People of any race can join the Uniform Dating website, as there are no limitations on ethnicity or person's origin. That is why you can find a person of any ethnic group and match them on the site.
Religious Orientation
Uniform Dating does not restrict members by their religious preferences. You can indicate the information about your religion in your profile if it matters to you the most, and look for members with the same view.
Pricing Policies
Uniform Dating has two subscription options, like the other popular dating apps. You can use the website for free; however, to unlock all the essential features, you will have to upgrade your account. If you decide to try out the premium option, Uniform Dating offers a three days trial for around 8 US dollars. After that, you can determine whether you want to purchase a paid membership, the cost of which differs depending on duration. You should expect to pay about 35 US dollars for the minimal subscription of one month. More extended memberships will cost you less; for example, you will pay about 20 US dollars per month if you have a three-month option. The most cost-efficient subscription is the one for a half a year, as the cost per month is around 16 US dollars. The website sometimes offers some discounts on membership prices, so you can benefit even more.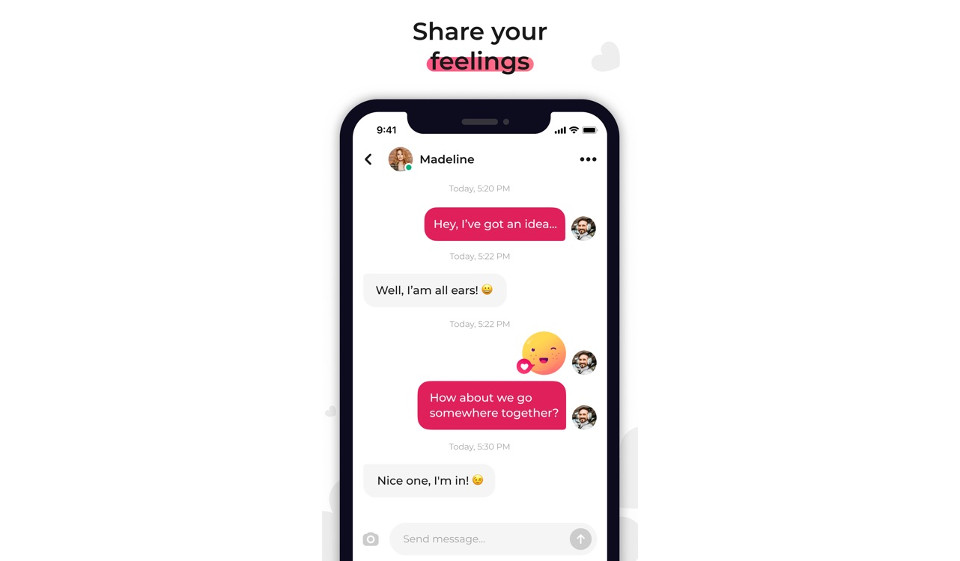 Free Membership
It is possible to create an account on Uniform Dating for free and start searching for the members. The search engine is available for free members, so you can see compatible people and use search filters or keywords. You can also view the user's profile information and their pictures. Furthermore, you can get some gifts and send them to another member. However, the major limitation of a free account is that only a flirt feature is available among all communication options. You will not be able to message anyone or see the texts that you have received. You will get the message notifications in case if someone contacts you, but you will not be able to see the text itself.
Therefore, it only makes sense to get free membership to get acquainted with the website features and members. If you want to get the full capacity of the Uniform Dating functionality and find a partner there, you will have to try out the premium subscription.
Paid Membership
The premium membership option gives you access to all features of the Uniform Dating Website. You will have the ability to contact other people via live chat, write them offline messages, or even participate in group chats. The paid subscription also gives you extra search filters and the possibility to highlight your profile in search. Therefore, other people will pay attention to your profile more frequently. If you are curious about all benefits of a premium account, you can get the three days trial and take a look at all the available features.
How to Cancel Uniform Dating Paid Subscription?
Note that if you purchase a premium membership, it will automatically upgrade in the end. To cancel this option, you should go to the Menu, find My Account settings, and disable your subscription. After the premium membership is canceled, you can still enjoy its benefits by its due date.

Is Uniform Dating Safe?
Uniform Dating website does not share your details, and you can find out more about this in a Privacy Policy. New profiles should pass the email verification, so the chance of fake profiles to join the website is less. Also, as a premium subscription is required to get in touch with other members, you can be sure that you message a real person. Nevertheless, if you see that someone is acting weirdly or breaking the community rules, you should block them and report a profile so that it will be suspended. Also, to be safe, it is better not to send any money to other members, but rather buy them gifts on the site.
Quality Of Profiles
While viewing other profiles, you can always see some necessary information, like a member's photo, age, gender, and location. If there is not enough information that you want to know about, there is a button where you can request some specific details for a user to add. Some members do not add lots of information about their preferences or profile description. However, most of the presented information is enough to understand how compatible you are with another person and start chatting.
Website Design and Usability
Uniform Dating website design looks beautiful, and the navigation is understandable and user-friendly. You can quickly figure out how does the website work, even if you are new to dating services. The website's major inconvenience is that it has some advertisements popping up, but it will not annoy you much.
How Does Uniform Dating Work?
Uniform Dating connects uniformed professionals and people who want to meet them to create a healthy relationship or make new friends. This app helps people who are busy at work to find a significant other who will understand and support them. All you have to do to join the community is register on the website and look for matches. It is very intuitive to use the site, so you can easily find another person and start getting to know each other better.

Uniform Dating App
Currently, you can get the Uniform Dating mobile application only to your iOS device. It is free to download and is easy to use everywhere you go. The app combines all the useful features of the website in a more convenient way. Also, the app will send you new message notifications, so you will always be up to date.
Alternatives of Uniform Dating
Uniform Dating is a niche dating site, connecting uniform professionals and those who are interested in them. It is the best and most developed site in this niche sphere, but you may also hear about some alternatives. For example, Elite Singles site connects professionals from all fields, where you can also find the right uniform match. However, the amount of uniform professionals is less, comparing to the Uniform Dating site.
Military Mix is an application that allows you to chat and meet another person for a hookup. It is mostly not focused on serious relationships and only allows military professionals to join in.
Uniform Dating seems to be the most appropriate place where you can meet a uniform professional for Dating or just friendship.
Conclusion
To summarize, Uniform Dating is an excellent place for people with military or other uniformed professions. This website understands the struggle of professionals in meeting new people or going on a date. Therefore, here you can find like-minded members and get in touch with them quickly and easily. You can find matches in several ways and communicate with them via chats or emails. It is also possible to find just friends who share your interests and hobbies. You will likely meet a compatible match on this website and even start a strong relationship with them. If you want to find a soulmate in a uniform, consider joining the Uniform Dating website.

Company: Cupid plc
Address: 2, Angel Square, London, EC1V 1NY, England, United Kingdom
Phone:
Email: support@uniformdating.com