AsianDate is an online dating site where men are looking for Asian women; they can communicate and date with them on this platform. Even though the site allows women to register, only Asian females can do it. Unlike many international dating platforms that you are used to, where you should pay for a monthly or an annual subscription, here users should buy prepaid credits that are kind of currency for paid features.
AsianDate allows users to chat and have video calls faster than other sites, making a real-time conversation possible. According to the website, only here can a man meet the most beautiful and awesome Asian women. If you are a man who wants to find an Asian partner, then AsianDate is an option worth checking out.
When was AsianDate Founded?
AsianDate was founded in 1993, and now over 20 years, AsianDate connects Western singles with Asian beauties.
Who Owns AsianDate?
AsianDate is a part of AnastasiaDate, the site where men are looking for Russian beauties. Currently, the owner of these two sites is David Besuden.

Registration & Profile
The first step of the registration is to choose your gender, type the name, email, and create a password. Even though the site allows registration for women, only Asian women having a contract with an agency can do that.
All the members are said to be checked by AsianDate, and all the accounts have to be approved by the site's staff, but, in fact, there have been some complaints about women's identity reported.
The registration takes a few minutes. Users can sign up with a Google account, yet they will need to verify your email. After completing the registration, newcomers are taken to the dashboard where all the women's profiles are displayed. From there, men can directly chat and call women after buying credits.
On women's profiles, gentlemen will see their photos, names, and age, and that's all.

Communication/Matches
As this site is basically for men who are looking for Asian women, all the further explanation will be for males. Communication on AsianDate lies through emails and live chats. Every first message to a new woman is free. After that, men are asked to pay with credits. It usually takes 2-3 days for a woman to reply to an email. Live chats allow men to experience a real-time conversation with women that could be similar to face-to-face communication. Live chat is one of the best features of AsianDate as it is already available on the site, and there is no need for further software.
To try live chatting, you can check who is online now by searching for female members that are online and click on 'Live Chat' on a member's profile. Live chat is a paid feature, as there is no usual plan, users will be charged for every minute, and the time starts when a chat window is open. One minute of Live Chat costs one credit. The same, men will stop being charged when they finish a live chat.
Moreover, AsianDate allows its members to have live phone calls and video calls with women. When you want to hear the voice of a lady, you should make a phone reservation 24 hours before and deposit 100 credits that allow you to talk for 10 minutes; even more, one extra minute costs 10 credits. Besides, a video call feature has some strange aspects, for example, you are a man calling a woman, you will be able to see her, but she will not see you. So, it is a kind of one-way video call. The member who calls pays and can see a woman, but in fact, women never call. They don't even see you, and it raises a lot of doubts about whether those women are really interested in meeting a partner. Video calls also cost one credit per minute. You will be able to see your match and have a chat, but an interpreter will also be present during your call. So it can be considered as a 3-side call. You can never have a call without an interpreter.
Another exclusive chat service is called CamShare, and it is available only for those who have a webcam. You can open a CamShare session and chat with a user.
Unlike other platforms, AsianDate allows you to send virtual presents like a sign of your admiration. Usually, men use these tricks to show interest in the desired woman.
So, as you can see, AsianDate has a lot of interesting and amazing features to contact women, but they all are paid.

How to Search for People on AsianDate?
There are a few options on how you can search for people on AsianDate. You can try a simple way to set age and country. As AsianDate is an international platform, there are matches from almost all countries in Asia. Moreover, you can search for people who are online or have profile videos. On the advanced search, you can choose the appearance, including height, weight, hair and eye colors, smoking and drinking habits, etc.
You can also look for matches based on their interests like sport, family, reading. And the easiest search option is by Member ID. If you have seen someone before, you can find them again.
How to Delete AsianDate Account?
If you want to delete your account on AsianDate, you have two ways to do that. The first one is to go to your Account Settings and find the option to delete your account. Simply click on that button and confirm your action. The second way is to write to the customer support and ask them to delete your account.
Then, it takes up to 48 hours till you receive a confirmation email about your account being deleted. Remember, if you delete your account, all your information, inbox, etc., will be gone. Moreover, if you have any credits left, you will not be able to use them after creating a new account. Also, you will not get a refund.

Members Structure
AsianDate doesn't reveal an exact number of users. However, most of the registered men are from the USA. According to the site, AsianDate connects over 1.5 million people every day.
As this site is for men looking for Asian women, most users are females. In proportion, it is 75% of women and 25% of men.
Women are of different ages, and the statistics are as follows:
18-24 years old – 14%
25-34 years old –22%
35-44 years old – 14%
45-54 years old – 11%
55+ years old – 14%
Regarding men who join AsianDate, the biggest number of men is aged 25-34 and 55+ years old:
18-24 years old – 4%
25-34 years old –7%
35-44 years old – 4%
45-54 years old – 4%
55+ years old – 7%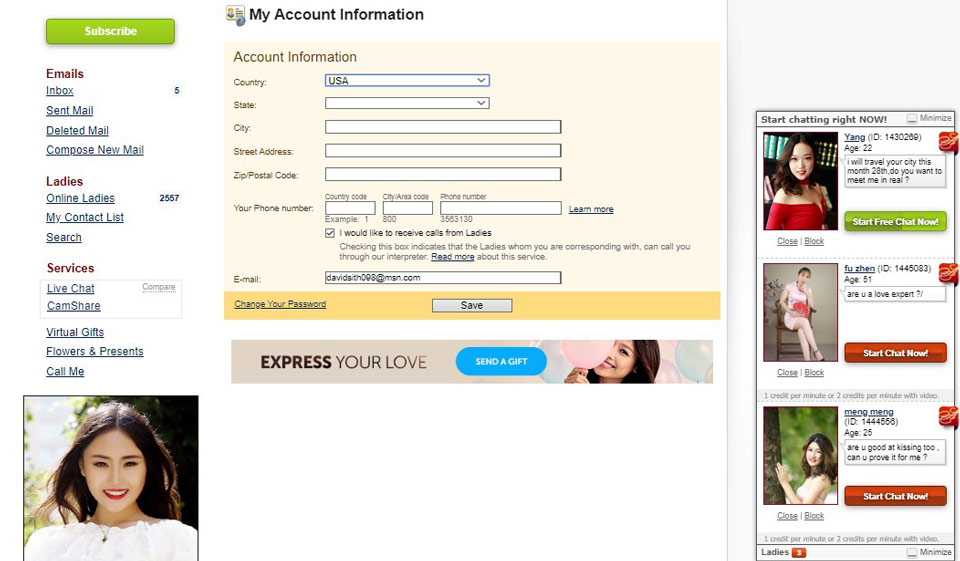 Sexual Preferences
While creating an account on AsianDate, you have only two options to choose. You can be a man seeking a woman, or you can be a woman seeking a man, meaning that AsianDate supports only heterosexual couples. However, only men who want to find an Asian woman can register outside of Asia.
Race and Ethnicity
Women who have accounts on this site are all Asian. They come from different Asian countries, though. So, technically, users get a bit of diversity here, since Chinese and Vietnamese brides are different ethnicities. India, Japan, Korea, and other countries top this list. Men can join AsianDate from any country and be of any ethnic group.
Religious Orientation
Females from AsianDate are from Asia; that is why their religious orientation might vary from Christianity, Buddhism, Islam, Jainism, and others. Western men can also have different denominations.

Pricing Policies
AsianDate offers credits in exchange for money. These credits you can use to communicate with women by sending them emails, having real-time chats and video calls, or sending them presents. The more credits you buy at once, the cheaper you pay in total. Usually, the price per credit varies from $0.40 to $0.80.
Free Membership
Registration and creation of an account on AsianDate is completely free and doesn't oblige you for further actions. You can also search and view female profiles with no charge.
Among communication features, only a love note is free. You can send a love note clicking on the icon on a woman's account. This kind of attention can be used once to any woman you have never talked with.
Besides, your inbox will receive a lot of emails from different women every day, and you can open and read them for free. Replying to them is a paid feature. However, if you find a woman you like, your first email to her is free.
Paid Membership
AsianDate doesn't offer a paid membership like other websites. Instead, men can buy credits which they can use to purchase minutes of calls, video calls, or live chats. You can also send flowers and presents to any woman, but these presents can be quite pricey. After a present is delivered, you will receive a photo of a woman with your gift. Some of costs are:
Sending a letter costs 10 credits.
One minute of a call costs 1 credit.
One minute of CamShare call costs 6 credits.
The prices for credits are following:
20 Credits $15.99
160 Credits $96.00
1,000 Credits $399.00
You can pay for credits by credit and debit cards or PayPal. Banks outside the US can charge additional fees up to 3%.
How to Cancel AsianDate Paid Subscription?
You don't have to cancel an AsianDate subscription because AsianDate doesn't have subscriptions. What it does, it sells you credits with which you pay for communication with women. Once you purchase credits, you cannot refund your money. There are three amounts of credits you can buy, 20, 160, and 1,000, and all of them are not refundable. On the bright side, credit packages are not auto-renewed, so you do not have to worry about any recurring payments.

Is AsianDate Safe?
AsianDate claims that its members are protected and provided with safety by the Safety and Security System of the online dating industry. Another important thing is that all the accounts are said to be individually approved by the staff. However, AsianDate has a bad reputation online. A lot of men claimed that they received bot messages where only their names were inserted. Some men said that women answered them with a prepared template, and their answers didn't coincide with their questions. Therefore, it is proof that a high number of AsianDate female accounts are fake, and the only aim of the agencies is to make you send more messages, have more chats and video calls because they simply get a commission from that.
Still, AsianDate shares some tips with newbies on the site that may help prevent online scams. They are aware of fraud situations and are not hiding that fact, so they want their male users to beware. For instance, you should never send money to any woman on the site; you should discuss your future plans and intentions to avoid misunderstandings; finally, you should not exchange any contact information.
Besides, the site reveals some of the typical scams like when an agency uses a lady's profile to interact with men, a woman can request expensive gifts, and a woman lies or forgets about the information she has already mentioned to you.
You should know that it is possible that a woman may use some dating agencies' services, including translator services, but they always mention this detail during conversations.
Quality of Profiles
Viewing female profiles is free. You can see their photos, personal info, and some introduction that every woman writes to describe her interests, hobbies, and a goal on the site. Women can also view your profile, and you also can edit personal account info later.
The quality of profiles is high, as women upload high-quality and professional photos. Those photo sessions are organized by agencies as a rule.

Website Design and Usability
AsianDate provides its users with a clear interface. On the site, you will clearly see all the bars and buttons, where you should click to chat, message, or have a video call with women. On the right side, you will see a list of ladies who are online and available for chat. Moreover, you are likely to get distracted by the ads of another dating site with Russian women, AnastasiaDate, as this is another website within this chain.
Next, you will see many notifications asking you to buy credits or text a woman, which is really annoying and distracting.
How does AsianDate Work?
AsianDate helps Western men find true love with Asian descent. The site works with thousands of agencies located in Asia that are mediators between men and women. After the registration, you can search for women based on different criteria for free. When you want to contact a woman, you should get credits that you buy in advance.
AsianDate offers a lot of contact features such as live chats, calls, video calls, and sending gifts. A minute of a chat or a call is worth one credit. You can book a call with the desired woman so that you are sure that she will log in and answer you. When you like a woman, and she likes you, it is the agency's work to help you arrange a meeting with her, which is also likely to be paid.

AsianDate App
AsianDate created an app that makes users even closer and available 24/7 because people don't always have access to a laptop, but our phones are with us all the time. Hundreds of women can contact you every day so that you are asked to pay credits to answer them back.
Furthermore, the app is free to download in Google Play Store, so it is available only for Android users. The site and the app offer the same features for communication. So, you still need to purchase credits to communicate with matches or reply to their messages.
Alternatives of AsianDate
AsianDate is one of those sites based on prepaid credits but not a subscription. In fact, there are a few other websites that are considered better than AsianDate, and these are Elite Singles, eHarmony, and Adultfriendfinder. There you can also search for Asian women as these three sites are international. Besides, these websites require a subscription to access advanced features, including texting. So, maybe it is better to pay once and talk without limits than pay and count every minute of communication.

Conclusion
Unfortunately, you never know who is behind a screen and how well the site's staff check women who join its platform. All paid calls, chats, and presents will make any man tired of online dating. Moreover, knowing the reputation of the site being full of frauds and scams, you would not want to waste your money chatting with women who may not even be real. If you are a man looking for a serious relationship, you should better try other websites that charge for a monthly membership. In this way, you will be allowed to send and receive unlimited messages and would not be charged per minute or text.
Company: Venta Solutions PTE. LTD
Address: 10 Anson Road, 05-17, International Plaza, Singapore 079903
Phone: n/a
Email: You can contact Asian Date via the website 'Contact Us' form