The GuySpy is a "He" only online gay dating website and mobile dating app service provider with its users worldwide. Homosexuality is a taboo in most parts of the world, and homosexual people often have to face hatred, abuse, and disgust of society. Homosexual people cannot talk about their sexual orientation openly, nor can they express their feelings for the same gender person without the fear of being judged for their choices. GuySpy decided to ease the dilemma of male homosexuals and provided them with a platform where they could look for a loving partner.
The only goal of the GuySpy is to provide an online dating platform to gay men all around the globe. They can openly embrace their sexuality without being judged by society, find like-minded gay members, and satisfy the needs of a gay partner. The website and app aim to provide a safe and secure dating ambiance to its gay users where they can feel confident about themselves and their sexual orientation.
When Was GuySpy Founded?
GuySpy started catering to the dating needs of the gay community almost 20 years ago in the year 2000 by launching the website. However, the mobile application was founded in 2010 and launched in the year 2011.
Who Owns GuySpy?
The website was launched in the year 2000 and was owned by GuySpy itself. However, the app was founded and owned by Stark Mobile, but Pink Triangle Press purchased the same in the year 2017, making them the present owner of GuySpy.

Registration and Profile
If you are a man who is into men, then GuySpy is the place meant only for you. To join, you have to go to the website and click on Join GuySpy. On the next page, you will have to provide your necessary information such as email address, your city, gender, orientation, etc. On proceeding further, you will be asked to verify your email address; after that, you will be redirected on a new page where you will have to upload a profile picture. This profile picture will begin to display on your profile only after getting verified by GuySpy. You can add more details about yourself by filling in the questionnaire when creating the profile; these questionnaires consist of questions about your partner preferences and lifestyle choices. The details provided through surveys are used by the website to match you with a profile whose interests and favorites match yours. However, they recently disabled the sign-up feature through the web platform and allowed users to join via mobile applications only.
To join GuySpy using the mobile application, you need to download the app, which is available at the Play Store and App Store. Install the app, upon opening the app you will automatically prompt to the registration page where you will have to:
Upload profile picture
Create a username
Create & confirm profile password
Provide & confirm the email address
Provide your date of birth
Confirm whether you are above 18 years or older.
Next, tap on the join now and fill in the mandatory fields marked with an asterisk (*). Mandatory fields are Height, Weight, Ethnicity, Role, and Looking-for; besides this, you can also fill in optional data, including "Profile Headline" and "About Me." You can also add voice greetings in your voice for your profile.

Communication/Matches
GuySpy shows the profiles matching your provided preferences on your dashboard in a grid formation; from here, you can access the profile of the users you find attractive and exciting. They also offer a wide range of options to its gay users to communicate with each other. The communication options available to free members are minimal as compared to those of premium users.
Communication options available to free members:
Send a chat message. You can send a message to a user you find attractive and exciting using a free member's account without even adding them to your buddies or favorites. Very few online dating platforms provide this feature for free of cost.
Add to favorites. You can browse the profile of a user, and like their profile, this will automatically add them to your favorites' list.
Add users to buddies. Apart from adding profiles to your favorites, you can also send the buddy requests to other users. And if the other user accepts your buddy request, you will become GuySpy buddies. This is a great way to let a user know that you are into them.
The premium members, in addition to the free communication options, can access the following premium communication options:
See who checked you out. Subscribing to a premium membership plan will allow you to see who visited your profile and go through their profile if you find them interesting.
See who likes your photos. Another perk of premium membership is that you can check out who liked your profile picture.
Check out who added you to favorites. While a free membership account allows you to add a member's profile to your preferences, you also get to check who added your profile to their favorites under a premium membership account.
Incognito mode. This premium feature allows you to check out and like the profile of a user without revealing your profile id to them.
>

How to Search for People on GuySpy?
GuySpy is a location-based social network, i.e., it uses demographics as its primary parameter to find a gay, bisexual, curious-men match for you using location-based services like GPS. You can also search for a user by setting up the following search parameters:
Username
Age
Weight
Height
Ethnicity
Role
Looking for
Profiles with photos or without photos
Online status
Location
Distance
The search and filters of GuySpy work very accurately and provide you with the most relevant search results within your location's 100-mile area.
How to Delete the GuySpy Account?
If you want to delete your GuySpy account, you can simply go to "Menu" scroll down to "Settings" and click on it. On the next page, find "Account Settings" and locate the "Deactivate Account" option. On the next page, you will be presented with two options too, either Deactivate Account or Delete account. You can deactivate your account if you feel like you need a break from dating and meeting new guys, however, at any point, you can come back to reactivate & reuse your account from where you left it, all your messages and buddies will remain intact. But deleting your account will delete all your data, including your username, password, images, buddies, messages, etc.

Members Structure
Although GuySpy provides dating services to tens of millions of gay members worldwide, most of its users are from the United States of America, Canada, the United Kingdom, and Germany. The average user age is in the range of 25 to 40 years.
Sexual Preferences
GuySpy is not a generalized dating platform for all; instead, it provides gay-only oriented dating services on its Android, iOS, and web-based platforms. As such, it is strictly for gay, bisexual & curious men only. Therefore, it is evident that users prefer males only as their dating and relationship partners.
Race and Ethnicity
GuySpy is for all the gay, bisexual, and bi-curious men all around the world, any man interested in a man, regardless of race and ethnicity, can join GuySpy. But since most of the users are from countries like UK, Germany, the US, Canada, etc., the majority of the user base comprises European, Caucasian, and Native American men.
Religious Orientation
GuySpy is not designed & framed around any specific religion, but it is framed around the idea of gay dating regardless of which religion the men belong too. Any man of any faith is independent to join GuySpy, provided that he is interested in dating another man interests him.

Pricing Policies
GuySpy has priced its premium plans flexibly and pocket-friendly, and you can become a prime member by paying as little as $ 4.99 per week! That's right; the premium plans are super cheap and affordable. If you are planning to purchase a premium plan, you can choose from following available plans:
One week: If you want to try out the premium features before investing in a long-term plan, you can opt for the premium membership plan for $ 4.99 per week. This will help you make an informed decision regarding whether you indeed need a premium membership plan or a free account will be enough to yield the desired result.
One month: To avail premium features for a month, you have to make a one-time payment of $ 9.99.
Three months: The three-month premium membership plan at $ 8.33 will cost you $ 24.99, the payment has to be made at once.
Six months: At $ 6.67 per month, a six-month plan costs $ 39.99 with payment of lump-sum fee at once.
One year: You can access all the premium features for the whole one year at $ 4.99 per month. The one-year plan costs $ 59.99, and the payment for the complete package has to be made at once.
The premium plans of GuySpy are called GuySpy+, and the pricing policy of these plans is very economical as compared to many other online dating service providers. However, there is an issue with canceling a premium subscription; if you do not cancel the premium subscription well in advance from your billing date, your subscription gets automatically renewed without seeking consent from you. It is therefore recommended to put in a request for cancellation of premium subscription at least a week before the billing date.

Free Membership
Under the free membership plan, you get:
Messaging: You can send and receive messages without subscribing to a premium plan
Photos: You can add multiple pictures to your profile.
Buddy Requests: You can send, receive, and accept buddy requests using a free account.
Exchange Pictures-Videos: You can share pictures and videos with other users in chat.
Voice Greeting: You can add personal voice greeting to your profile since GuySpy believes that when trying to impress someone, your voice also matters as much as your looks.
Paid Membership
More Photos. As a premium member, you get to add more pictures to your profile than a free one.
Private Photos. Users can add private pictures to their profiles, which can be accessed by other users only after obtaining your consent.
Advanced search filters. To access advanced search filters, you will have to upgrade to premium.
VIP access. With the VIP access, you get the priority over free members to reach & contact the new guys.
No advertising. With the premium membership, you get an uninterrupted ad-free gay dating experience on the GuySpy.
How to Cancel GuySpy Paid Subscription?
To cancel a subscription using the app, you have to go to "Menu" on the Play Store, followed by locating and selecting "Subscription." On the next page, you will find all the subscriptions you are availing next to the name of applications, now find "GuySpy" and tap on "Cancel Subscription." You are advised to initiate the cancellation request well in advance from your billing date because GuySpy overlooks your cancellation request submitted near the billing date and auto-renews your subscription.

Is GuySpy Safe?
"No Risk Issues" are involved with GuySpy as per the Google Safe Browsing and Siteadvisor ratings. As per their Privacy Policy, GuySpy follows all the necessary protocols to ensure user data safety and claims that they do not share information with third parties. They also allow you to block an unruly and abusive user.
Quality of Profiles
All the profiles on GuySpy are 100 % authentic and belong to real gay men. On the profile of a user, you can find their profile picture along with necessary details such as:
Their age
Their ethnicity
Their height
Their weight
Their role
What are they looking for on GuySpy
Languages they speak
Their location
Apart from the profile picture, you can also view the photos a user has added to his profile. Also, you can send a buddy request to a user, add him to your favorites, like his profile from the user profile page.

Website Design and Usability
The user interface of the website and applications of GuySpy is exceptionally appealing; browsing around the profiles and different sections of the website/ app are very convenient. A new user can quickly locate and use the functions and features, which are designed and placed very appropriately.
On the website, you can easily find the latest news, contests, and events from GuySpy. On the homepage, you can access the official blog from the site on different categories such as Events & Travel, Celebrities & Gossip, Gay Health & Fitness, Gay Dating, Gay Porn, etc.
How Does GuySpy Work?
The website, as well as the applications, are designed to work quickly and efficiently. To find you a match, GuySpy uses reverse matchmaking algorithms just like any other dating website. Your data is matched with the users' database on the site, and you are recommended with the most relevant user profiles.
GuySpy App
GuySpy has developed an application for its mobile phone user to access its services on the go. They have launched the app for Android & iOS phones and supports Android 4.4 and later & iOS 10 and then with a rating of 3 stars and 3.7 stars on respective stores. The app has been labeled for adults in both stores.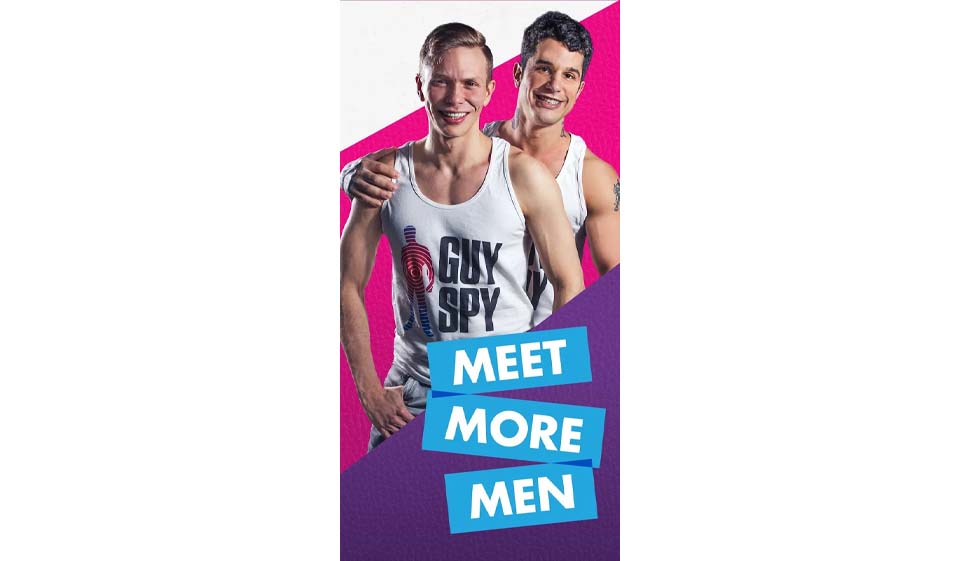 Alternatives of GuySpy
Gaycupid, Scruff, Hole, etc. are alternatives to GuySpy.
Conclusion
With millions of gay, bisexual, and bi-curious users around the world, GuySpy is the best platform to find a gay partner. The website and applications have a wide variety of exciting features and functions to keep their users engaged and entertained. Go and sign-up on GuySpy today.
Company Name: GuySpy
Address: Pink Triangle Press 2 Carlton Street, Suite 1600 Toronto, Ontario Canada M5B 1J3
E-mail: privacy@guyspy.com; info@guyspy.com