Facebook Dating is specially built for those who live in a day when our phones have an immense impact on our lives. Facebook has greatly changed the social media scene, and it seems to keep doing so with its Facebook Dating service. The latter is a subsection of Facebook, which has gained more and more terrain in online dating.
When Was Facebook Dating Founded?
While everyone enjoys Facebook since 2004, Facebook Dating has only been around since 2018, when it was announced at the F8 Developer Conference. It was officially launched in 2019 in the USA, and plans are to bring it to Europe the following year.
Who Owns Facebook Dating?
Quite logically, Facebook Dating is owned by Facebook, and thus by a more than famous young billionaire, Mark Zuckerberg.

Registration & Profile
Not like Facebook, you can only join Facebook Dating if you are 18 and above. You will log through the main Facebook app and check your location using your phone's location service. A profile you create on Facebook Dating will not be visible on your news feed. Given that you log in using your pre-existing Facebook account, getting started will only take a moment. From the beginning, you have to understand that these two accounts are not one and the same, and blocking one person on Facebook Dating will not block them on your main profile. Messaging and feeds are also kept separate. This ensures that using FB dating service is intentional and creates a more private environment. Your friends will not get notified about your Facebook Dating profile, so it's all very discreet.
Communication/Matches
Matches on Facebook Dating are only possible for people within 100 miles from each other. Users can also send a Secret Crush to find a match. Facebook will use the information it has on you to find people that you may find interesting and attractive. If you are not very outgoing, you can switch off matches with friends of friends. The key innovative concept of this dating service is that the main platform already has information about you. So, using that to find dates and matches makes for a fine-tuned matching algorithm. Users can narrow down the results even further by using filters, so they will only be shown matches with people who meet their different preferences, such as location or age.
A breath of fresh air is that there is no swiping game on Facebook Dating because the world might have had enough of those. Users can pick a question or select one of other people's photos to connect with members and ask them something. To interact again or see their profile, they must respond first, which ensures that people are not forced to interact with those they're not interested in. Users can also look for matches in groups or through events, and they will see people who are in that same group or have participated in that same event.

How to Search For People on Facebook Dating?
Once you've joined Facebook Dating, you can immediately start looking for nearby people who have done the same. Anyone can adjust their preference filter from the Settings section, according to gender, age, height, background, and many other options. FB daters can also try to get someone's attention by sending a Secret Crush and seeing if the recipients add them to their crush list. People can send up to 9 crushes at one time. If you are curious to see who has expressed interest in you, go to your Like section and respond with Like or No Thanks, a section you can also revisit with the Second Look feature.
How to Delete Facebook Dating Account?
You can delete your profile on Facebook Dating at any time, and all your data will be erased. All you need to do is go to your Dating Settings, tap on the Dating account and select Delete Profile, and then you're done. Needless to say, if you delete your main Facebook profile before, your dating profile will also be gone.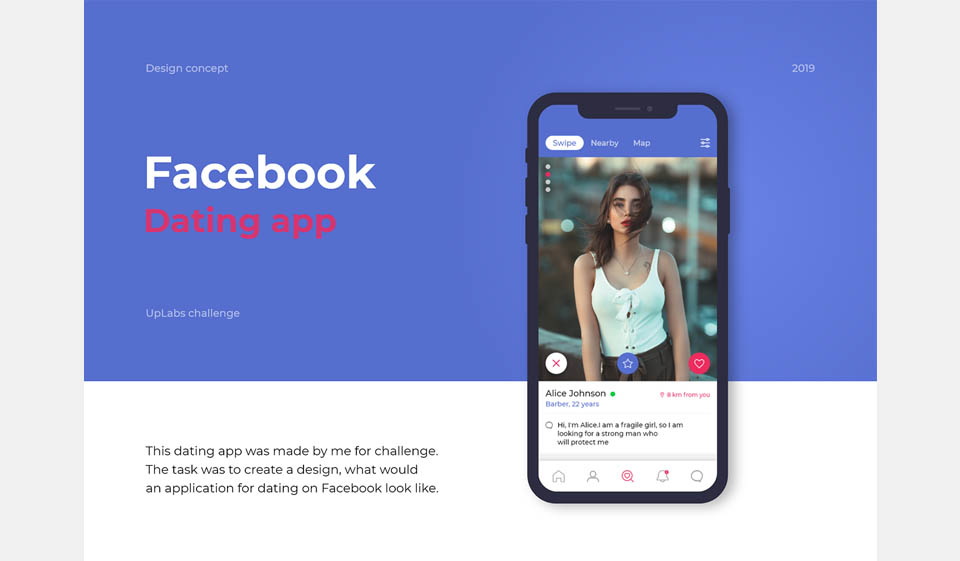 Members Structure
While the Facebook mother ship has billions of users, Facebook Dating is still quite new, and there aren't many who've tried it out yet, as this service is not even available worldwide. Facebook Dating can be enjoyed by people living in the USA, Canada, many countries in South America, and from other areas of the world, like the Philippines, Thailand, and Vietnam.
Sexual Preferences
As an addition to the Facebook family, it is only natural and expected that Facebook Dating would be just as inclusive when it comes to expressing one's sexual identity and preferences as the social network. So, this service is embracing all members of the LGBTQ+ community without any bias.
Race and Ethnicity
Again, since Facebook Dating starts with an already solid foundation created by the main platform, with billions of international users, all races are reunited. Still, there are some parts of the world where the service is not yet available, for instance, Europe and Russia.
Religious Orientation
Facebook Dating does require you to provide information about your religious orientation, but users can choose from a very extensive list. This does not come as a surprise, especially since the USA is a melting pot of many different beliefs and traditions.

Pricing Policies
The service is totally free, and there is no membership hierarchy in place. Also, no premium features can be bought. So truly, what you see is what you get!
Is Facebook Dating Safe?
The good news is that nobody from your main Facebook audience will see your activity on Facebook Dating. But, you can still send them a Secret Crush, which they will see only if and when they join the party. Also, all your messages will be kept separate from your main Facebook messenger. Your profiles are also independent of each other, and changes on either one will not be visible on the other. Annoying users can always be blocked, but notice that again, blocking someone on Facebook Dating does not mean that they're blocked on your main profile, only the other way around. A unique feature of Facebook Dating when it comes to security is the ability to share information about your date with a close friend or a family member to make you feel more at ease. You will be able to do this within a restricted time frame, which begins 15 minutes before your date's set time and ends within an hour.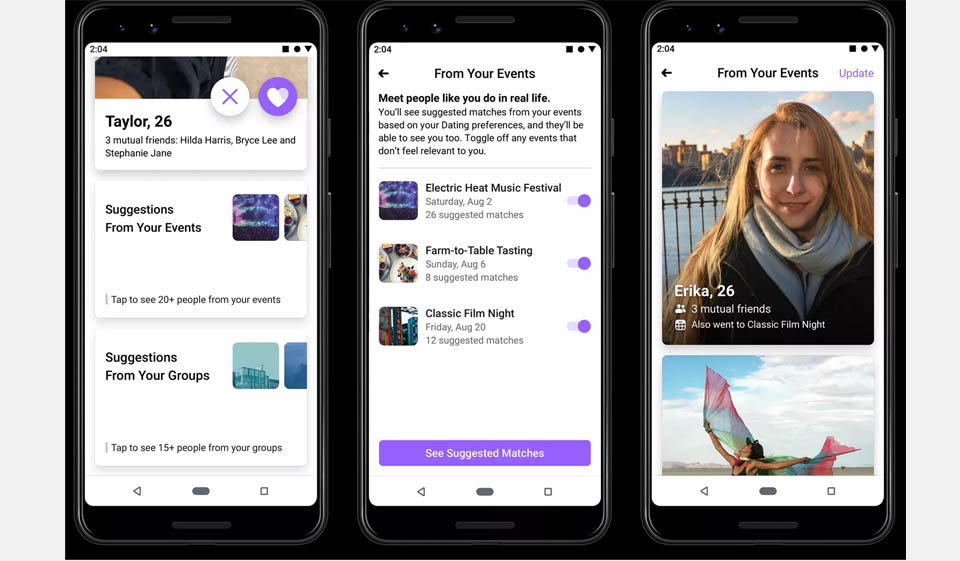 Quality of Profiles
There are a few things that you should know from the beginning. Your main Facebook profile and your Facebook Dating profile are two completely different entities, but you can upload pics that you have on your main account to your dating profile. All personal information that you may want to provide will have to be manually added to your profile. To create a complete profile, you can choose to answer up to 20 standard personality questions. So, since you already have your Facebook account, most of the work is done, and all you need to do is go from there.
Once you're all set up, you'll need to verify your location, which will also be kept private from your Facebook page. None of your Facebook friends will see or be notified if you have joined FB dating service. While you can sync profiles, you can definitely choose not to.
Anyone can manually add information regarding education, workplace, religion, and body type to a dating account. You can also go through the set of preset questions to let others know what you're all about! Most questions are made to get answers that reflect your personality, tastes, preferences, and things that might make you unique and desirable as a date. This is why most Facebook Dating profiles are complete and rather detailed.

Design and Usability
With all the experience that Facebook has, the design of its dating service couldn't have been bad. It looks quite good and is quite suitable for a dating app. On the top part, it showcases two people holding hands with a sunset on the background. The whole Facebook Dating experience seems to be built on the belief that love is what brings people together, and love is the only universal language. Not a bad motto, since this is all happening online, with people you haven't met yet. But Facebook Dating service's true usefulness is yet to be determined since it has only been recently launched.
How Does Facebook Dating Work?
There are many useful and fun features available for Facebook Dating users. But if you are a little tired of interacting with people online and feel intoxicated, Facebook Dating has thought of it and created the On Pause feature. You will be able to take a break from a dating service; yet still, be able to message users that you've been previously matched with. So, enjoy your break, without losing any of your data or possible dates.
The Second Look feature is also a thoughtful one since it will allow you to do exactly what it sounds like. You will be able to go through matches once again, even if you thought you weren't interested in some before.
The Preemptive Block List will enable you to keep things as private as you want them to be. It will also make sure that you don't get matched with people who aren't friends with you on Facebook or others that might not be suitable for you to interact with on Facebook Dating, such as family members or some who you haven't blocked but do not wish to interact with. This is really a cool feature if you think of all the unwanted attention you can get on a dating platform, or of how uncomfortable it might be to see a family member or an ex in your matches list.
Another way of interacting with users is by tapping on certain profile features, which will allow you to start the conversation. This can be anything, from attending one school to coming from the same town. This is yet another way in which Facebook Dating shows that it promotes relationships and connections of real quality over flings and casual encounters. So, feel free to use these features and take the first steps towards building a strong foundation for a possible future relationship.
You can also send Secret Crushes to users to express your interest. Another person will only get notified if this interest is mutual. So, no one will be bothered by stalkers or insistent and unwanted interactions.
Finally, Instagram integration feature lets you use your Instagram photos on Facebook Dating service. It is a nice feature because it lets you express yourself as you are, and choose from preexisting photos that you already know are popular and appreciated.

Facebook Dating App
Users have to understand that Facebook Dating is not an app in itself. It is simply an added feature to the main Facebook app. While available both for Android and iPhone users, it cannot be accessed from the desktop version. You will be able to locate the Facebook Dating feature by a heart-shaped icon that's available under your profile tab.
Alternatives of Facebook Dating
There are lots of alternatives to Facebook Dating, especially for those who still have not gained access to it due to their location. Most popular include Hinge, Tinder, Grindr, Match, Zoosk, and OkCupid. Match and OkCupid, for example, have very advanced software algorithms that analyze user compatibility before suggesting and match. Tinder already speaks for itself and works in most countries worldwide. Zoosk works like Tinder; in fact, it came from one of its creators. However, it ensures a better and safer place for women to date.

Conclusion
Facebook has changed the face of online media once, and it seems to be doing it again. If it was already an integral part of our lives, now it seems to dig even deeper. One of the advantages of how well Facebook knows us is that it also knows our interests. So, it can find some pretty good matches when setting up any person with their ideal partners. This quite a unique and even revolutionary idea and still quite fresh to most, but for those who have tried it, it seems to work very well. Everyone is so used to Facebook that Facebook Dating addition to their lives might not even need a period of transition or accommodation. After all, most work is already done through your main Facebook profile. They're now just coming to harvest the fruit of their long-term commitment to social media.

Company: Facebook
Address: 1 Hacker Way, Menlo Park, CA 94025, USA
Phone: 844-735-4595
Email: helpdesk@fb.com