Online dating is becoming so mainstream nowadays that its popularity is comparable to that of social media. We have seen many dating sites popping up even to this date, and they all aim for various niches. On mobile platforms alone, there are at least 300 dating apps to choose from, which is no small number. Suffice to say, it does not matter how sophisticated your tastes and needs are, there is always something for you out there.
But if you are a simple person and just want to chat with random strangers online, what do you do? There are also quite a few platforms for that. One of them is ChatKi. If you are familiar with Omegle, then ChatKi will feel very familiar. In fact, ChatKi advertised itself as the Omegle video chat alternative.
ChatKi is an online chat platform that matches you with random strangers online. Just like Omegle, ChatKi is completely free, and it has a very large and active userbase. Their focus is on making it as easy and simple as possible to connect with others so anyone can make the most out of their time chatting with others online.
When was ChatKi Founded?
ChatKi was founded back in 2013, which means that they have more than five years of experience. That is relatively young compared to other dating sites. Even so, their lack of experience does not stop them from providing excellent dating experience.
Who Owns ChatKi?
ChatKi is owned by Bridgestone International Group, Inc.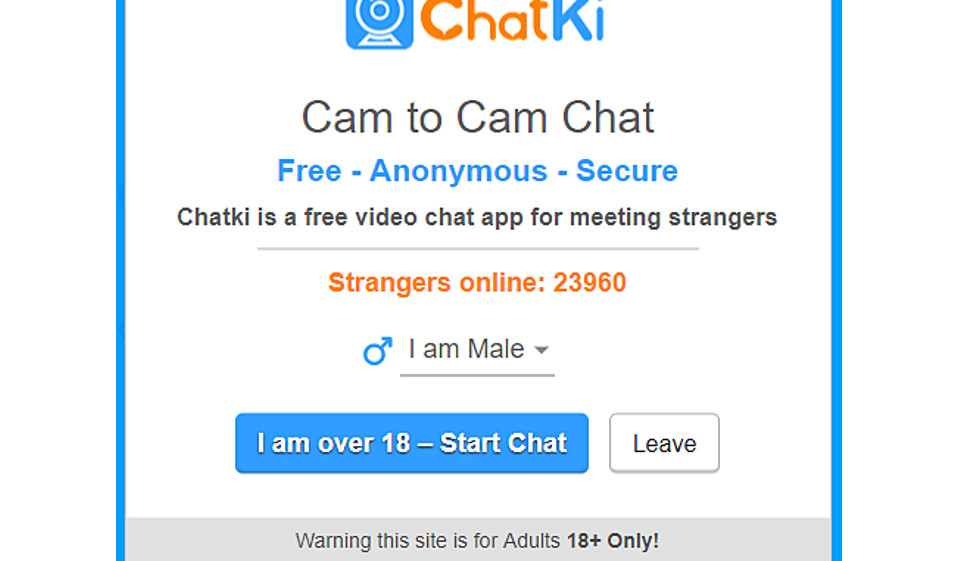 Registration & Profile
First, let's talk about how people can register on ChatKi. Actually, registration is not even obligatory. If you only need to chat with random strangers and do not care about accessing any more features, then you do not need to create an account.
But if you do, then the process is also simple. You just have to provide ChatKi with your email address, username, and password. ChatKi will send all newcomers a verification email. Inside is a link, click it to prove your identity. If you do not see the mail, try checking the spam folder. Many first-time emails end up in there as a way to protect users.
The entire process should take you only a few minutes. As a bonus, ChatKi gives its registered users additional features to help them find people they want to chat with.

Communication/Matches
The main communication system on ChatKi is found right on their landing page. You will spend most of your time here chatting with strangers. There are video, voice, and text messages that are accessible right at your fingertip.
Video chat is listed as two small panels to the left on the landing page. It takes up about 30% of the screen, but if you find that too small, you can resize it as well. To do so, simply click on three vertical dots at the edge of the screen and pull it to the right. You can resize it to 50% or even go full screen. Three chat systems are integrated into a simple interface, so you won't have to tinker with anything.
To start, simply log in and click on the big blue "Start" button at the top. ChatKi will match you with a random stranger who happens to be online at the same time. If you do not have an account and do not want to make one, then you need to provide your gender, agree to their terms of use, and click start. To stop, just click the grey "Stop" button. If you want to chat with girls, click on the pink "Girls" button. Keep in mind that the girls only features help you match with only female users. However, you will need to register on ChatKi and verify your age.
That said, you will need to provide ChatKi with permission to access your microphone and webcam. If you close your webcam, ChatKi also does not show your partner's stream. This is a simple protection mechanism to protect users' privacy. If you are shy, you can talk using voice-only or through the text until you are comfortable enough to activate your webcam. That way, you won't be forced into video chat when you do not feel like it.
The best part of this site is that all of its features are available for free. At most, you will just have to register to access it. This is amazing considering that most dating platforms would put such features behind a paywall, essentially forcing users to pay to use their platform. Their "free trial" is nothing more but a short preview of their websites. Unlike those sites, ChatKi gives users complete control, which is very nice to see.

How to Search for People on ChatKi?
Unfortunately, ChatKi has a subpar search system, although such is the nature of these random online chatting sites. The best you can get is a regional search and sort by gender, which is accessible on the top right corner. This is not much to work with, but that only makes dating on ChatKi even more exciting because you do not know what you will get. Every encounter is unknown because the matchmaking is very random.
How to Delete ChatKi Account?
You can delete your ChatKi account in account settings. If you use ChatKi without creating an account, you just need to close the ChatKi tab.
Members Structure

What about its userbase? How large is it? To date, there are over 5 million users, and the number increases daily. All members are above the age of 18. Already, we can tell that ChatKi has a very large and active userbase with a diverse background. Considering this platform's random nature, seeing so many active users come back means that ChatKi has lots to offer.
Sexual Preferences
While we have no data on gender distribution, we expect the balance to be more or less equal. Even if that is not the case, it should not affect your experience on ChatKi, given its nature. While there are only two genders to choose from, ChatKi does not ask for your sexuality. This means that anyone can join regardless.
Race and Ethnicity
As mentioned earlier, ChatKi has over 5 million users worldwide. That means that there are users across the globe, so you should find one who lives locally, if that is your intention.
Religious Orientation
Finally, ChatKi is not affiliated with any religion. Anyone can join no matter what their belief is.

Pricing Policies
This site does not sell subscriptions of any kind. While they could technically offer more advanced features for paying users, ChatKi decided to keep things 100% free.
Is ChatKi Safe?
Considering the nature of ChatKi, is it really safe to use? Absolutely. For one, users do not reveal any information about themselves other than their email upon registration. ChatKi also promises not to reveal any personal information without their users' consent. Also, while video chat is in its nature revealing, users can still opt to shut their webcam off and chat voice only. But for those who are uncomfortable, they can still talk via text chat, so the other person has no way of knowing who you are. Privacy-wise, ChatKi has airtight protection.
It does not stop there, however. They also provide encrypted connections for all users. While members do not reveal any information, the fact that video, voice, and text chats are available still poses a significant threat to users' security. So encryption is put in place to protect users.
For those who are not tech-savvy, encryption protects your connection from a third party. An unencrypted, unsecured connection would mean that anyone can find out what data you send to a website. If you are in an online shop, they can see your payment information as you are typing it. If you are using an online chat platform like this, they could get as much information as the person you are talking to.
This is why encryption is a very basic yet essential feature that all websites should have. ChatKi provides such protection, so you can breathe easily.
When it comes to scammer protection, there is not much to work with. The best you can do is practice vigilance and never commit to anything unless you know the other person. Never click on random links either. Practice a little internet vigilance, and you should be safe.
If you ever encounter users who behave inappropriately, you can report them to the moderation team. They will take action and investigate. If they find that the user indeed behaves badly, they can take appropriate action, which may result in permanent suspension.
Quality of Profiles
As expected, you will not get much information from other users' profiles unless they tell you about themselves. The most you will get is their username and gender, nothing more. This is because ChatKi asks nothing from their users except their gender and username when they sign up. Again, some people like it; others don't. It does give the user a high level of privacy, though.
That said, you can always spend some time talking to a random user. If you two hit it off, you can always take it to Facebook or other social media to reach out to them later.

Website Design and Usability
Let's talk about ChatKi design and usability. We will examine the landing page as you will spend most of your time here, and the rest of the site follows the same design anyway. If you have used Chatrandom in the past, then the layout will look very familiar to you. This is because ChatKi is powered by Chatrandom. Even more so, they follow the same color palette, which is white, blue, and orange. This gives the website a professional yet friendly look, which is the environment ChatKi is trying to cultivate.
The photos look very clear, which gives the impression that it was taken by a professional photographer. It is the little things that make ChatKi stand out from other websites. The fonts are large and contrast well with the background for readability. The buttons also contrast nicely and are properly labeled with large icons, so it is easy to see what you are doing at a glance.
Right at the landing page, you can scroll down and find more information about ChatKi, such as its features. But what is interesting is at the top of the landing page, specifically their FAQ, video, and study sections.
The study section simply gives you a study about why chatting with strangers online helps with your confidence, which is why there are so many users on ChatKi. The video section contains various funny and prank videos that you can watch to pass the time.
An extra feature that we like from ChatKi is that they added a little frequently asked questions (FAQ) section at the top of their page. If you ever have any problems using ChatKi, we recommend you check out the FAQ before you reach out to customer support. The answer to most of your problems should be found there. This is very helpful for those who are new to a social platform like ChatKi and need some help to get started.
But of course, all of the above would have been for naught if the platform is poorly optimized. That is not the case of ChatKi. After using it for a short time, we know that ChatKi put a lot of resources into perfecting their website and squashing bugs. The navigation is intuitive and user-friendly, so even those who have not used such a website can find their way around. Most of the options and buttons people need to press are a few clicks away at most. The loading time is very fast as well.
In short, we can say with confidence that ChatKi is very well put together.
How does ChatKi Work?
ChatKi works similarly to Omegle as it pairs you up with random online users. People have very little control over who they get to see here. You can use various chat systems to communicate and arrange dates.

ChatKi App
Unfortunately, ChatKi does not have a dedicated mobile application. Even so, that does not mean you cannot use it on your phone. They do have a mobile-friendly website that shares the same aesthetics and functions as its desktop counterpart. So, the only tradeoff is the smaller screen. That way, you won't miss out on anything.
Alternatives of ChatKi
What if you do not like ChatKi? What options do you have? We have some suggestions for you:
FaceFlow: Feature-rich
Chatib: Comes with online games to entertain yourself
FriendFinderX: For casual daters
Blendr: Comes with an extensive profile and search system
Shagle: For those who want quick hookups
Conclusion
In short, do we recommend you use ChatKi? That depends. If you just want to get on and talk to random strangers online, then ChatKi is your best bet. It certainly is not for everyone, especially those who want to have a long-term relationship. That kind of dating requires a more intricate search and profile system. Considering what features you have at your fingertip, in addition to the low price of zero dollars, ChatKi is one of the best online dating solutions out there. Since it is free, why don't you give it a go?

Company: Bridgestone International Group, Inc.
Address: Wickhams Cay 1 Road Town, Tortola, British Virgin Islands
Phone: N/A
Email: info@ChatKi.com