Victoria Milan is a product of Digisec Media Limited, a leading cheating dating platform for married people. It promises a confidential and safe dating experience for those who want to spice up their sexual life.
On a typical dating website, married people lie about their marital status fearing to be turned down by singles. However, in Victoria Milan, there is no need to be scared of getting identified. It has a tool called "AnonymousBlur" for blurring users' pictures. Members can discreetly browse through potential lovers without revealing their identity.
The platform also has a Panic button for emergency exit to another unsuspicious website.
Victoria Milan is powered by SSL Trust — Amazon web services — 256-bit encryption to secure your info and correspondence on the site.
Presently, the app has about six million users — committed, married, and singles. In subsequent sections, you can get acquainted with members, features, and other perks in detail.
When Was Victoria Milan Founded?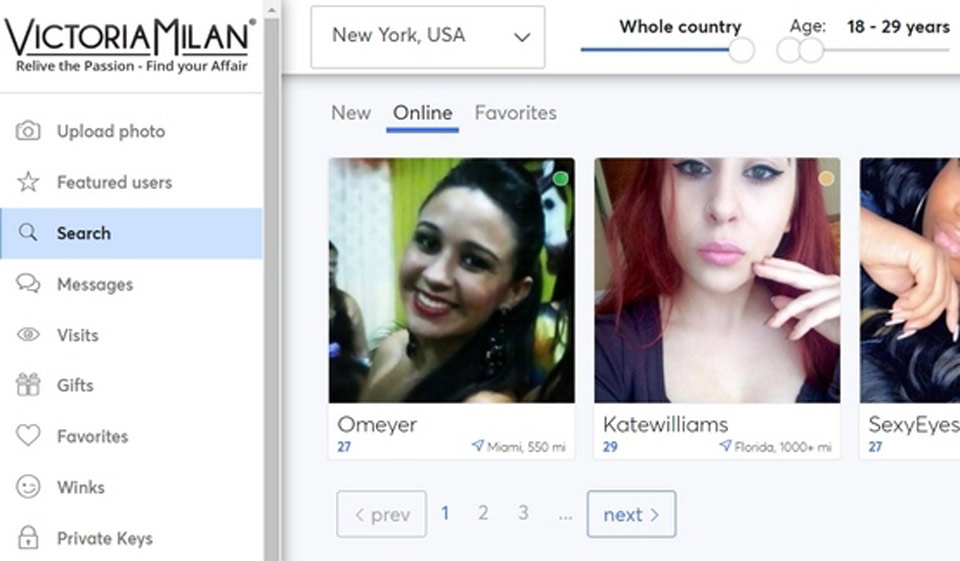 Victoria Milan was founded by Sigurd Vedal, an American-Norwegian entrepreneur, and CEO of Vedal Media Group. As a relationship coach, he decided to create a platform where anybody, but mostly married and attached individuals, can find a casual hookup.
Who Owns Victoria Milan?
Victoria Milan is a creation of Digisec Media Limited, a popular social media and dating service. Established in 2010, the company is actively present in over 34 countries with about 23 languages.
Registration & Profile
Setting up a Victoria Milan account is not only simple but also amazingly quick. Newcomers don't even have to enter all the details manually; suggestions about their interests, intentions, and personality are displayed in a drop-down menu. From this menu, users can select the best description of themselves. The complete registration form comprises six tabs, which will take about a few minutes to fill out.
The next step is to verify one's email address; other details like phone number and location don't need checking.
Due to the specifics of the signup tabs, most of the profiles have a similar format. However, some of them are pretty comprehensive, including details about the person's goal. All the info provided during the registration can be edited anytime while using the app.
Communication/Matches

A significant feature of any dating site is messaging. Unfortunately, only premium users can send and receive messages. Free members can browse profiles, use the search tool, add accounts to Favorites, but can neither communicate with others nor read the messages sent to them.
To view blurred images, one needs to get the permission of the owner. Pulling this off requires one to become a paying participant, chat with the owner for a while, and then hope they let you see their actual appearance. As disappointing as it may seem for a hookup site, the approach is necessary to achieve the platform's objective of keeping a person's identity hidden.
How to Search for People on Victoria Milan?
This tool is exclusive for finding members nearby. The search option lets you look for members based on specific parameters like interests, hobbies, age, and many more. It could be the quickest route to meeting a romantic partner.
The standard search has two filters: distance and age. The extended search has additional parameters like weight, hair color, body type, etc.
How to Delete Victoria Milan Account?

Take the following steps to delete a Victoria Milan account.
Go to Settings and scroll down until you see the button "Deactivate Profile."
To remove a page completely, hit the button "This Form" and click on "Send Request."
Members Structure
Victoria Milan is a popular and successful dating platform run by a reputable international company. It caters to people from across the globe. Considered to be among the best dating sites, it boasts members from Europe and several other parts of the world. When it comes to anonymous dating, Victoria is arguably the best. The exciting thing here is that a majority of the visitors are looking to have an affair outside of their current relationship.
Sexual Preferences
Victoria Milan allows members to state their sexual orientation. Heterosexuals have an abundance of options to choose from: single, attached, or married. However, for a gay, there is the only option of "woman seeking woman" or "man seeking man."
Race and Ethnicity
Victoria Milan is open to everyone, regardless of ethnicity or race. The idea behind the platform is to help committed individuals find hookups while staying anonymous.
Religious Orientation

While this website may not be appropriate for religious individuals as it goes against their beliefs and ethics, it welcomes everyone despite their religious affiliation.
Pricing Policies
In this section, you can check different membership options, their services and cost. You can browse either for free or upgrade your account to premium to avail of more perks.
Free Membership
As discussed earlier, there's not much to do with a Victoria Milan free account.
Free Services
set up a profile;
make use of search algorithms to look for compatible members;
browse profiles;
send interests;
add accounts to Favorites;
see who visited the page.
Paid Membership
Paying members can access a lot of tools that give a better user experience:
send and receive messages;
express one's feelings with virtual gifts;
see who sent gifts;
buy additional credits to buy more gifts.
The price for premium membership varies depending on the duration you would like to opt for. The longer it is, the less you pay.
Below is a breakdown of different Victoria Milan premium packs.
Three-month plan — $19.99 per month or $59.97 in total.
Six-month plan — $14.99 per month or $89.94 in total.
Twelve-month plan — $9.99 per month or $119.88 in total.
Payment System
Payment methods are limited. Members can only pay with their debit/credit cards.
Victoria Milan's packs automatically renew every three months. You will be charged instantly with the amount equivalent to three months of the subscription you selected.
How to Cancel Victoria Milan Paid Subscription?

Users can terminate their Premium Membership whenever they want, starting from the first payment period after the written notice of cancellation has been received. However, if to cancel the subscription in the initial signup period, one will be billed the total amount.
The cancellation will not delete your account.
Is Victoria Milan Safe?
Victoria Milan acts decisively when it comes to maintaining a safe environment for its community. Besides verifying profiles, the platform encrypts all conversations and ensures complete anonymous experience. Furthermore, members can blur their pictures to rest easy about acquaintances visiting their profiles. This tool mostly favors married individuals who want to start a secret affair or one-night stand.
Quality of Profiles
With the AnonymousBlur tool, Victoria Milan ensures that members can conceal their identity. It is the reason behind the numerous blurred profile photos on the platform. Members can also choose to blur their profile info for confidentiality.
One important trick to a secret affair seeker is the location. For this reason, Victoria Milan has allowed users to select any country for them to get matches. Meanwhile, residents of the specified country can find these members in their suggestions.
There is also an option for viewing the pages of people nearby. The profiles are quite comprehensive. Users need to include their best features, love nest, sex drive, and what turns them on.
Here are a few tips to have in mind while creating a page:
Members like to go through a profile quickly. It is better to be specific about your interests so that people can get your point.
Positive vibes attract visitors. It makes the owner of the Victoria Milan profile more likable.
Be Honest
Don't get too carried away when building your profile. While trying to create a positive vibe, be honest as well. Keep it simple and real.
Be Romantic
Learn how to level up words while expressing passion or love towards readers. Romantic words always touch many hearts and get more connections.
Website Design and Usability

Victoria Milan has a simple design and intuitive navigation. However, the appearance and features are not very different from those of a regular dating app.
The search tool lets you find what you are seeking. While the simple search has only two filters — distance and age, the advanced one boasts extra parameters like weight, body type, hair, relationship status, and so on.
The principal method of communication on the platform is through messages that are mostly available for paying users. Furthermore, members can send gifts to people they like. It is easy and straightforward.
Finally, "Your Activity" shows the statistics of users' actions on the site. This tool includes details about winks, people on the Favourites list, and profiles.
How Does Victoria Milan Work?
Victoria Milan offers single and married people the chance to pursue secret affairs. Here, the app matches visitors with similar interests without revealing their identity. Thanks to the Anonymizer feature, participants can hide their faces.
Here is the breakdown of how the platform works:
After registration, log into your account using sign-in details.
Create a detailed profile, including preferences, interests, and hobbies.
Victoria Milan presents users with matches based on their profiles.
Using the search options, members can look for compatible partners or hookups.
After finding someone special, the next step is to chat them up. Unfortunately, the messaging tool is only available to premium subscribers.
Victoria Milan App
Victoria Milan's mobile app is available for download both for Android and iOS devices. It has similar tools and functionalities as the web version. It also allows people to search for members who are online at any given time. However, this development is just a small improvement of the desktop version. It is important to note that some pages take more time to load on the mobile application. Much like the web version, the interface is appealing and simple, with a consistent theme.
Alternatives of Victoria Milan
The following are some of the alternatives to Victoria Milan.
Honey App
Honey App is a hookup and casual dating service that makes online dating simple. This is an avenue for meeting singles in a fun way using the slide game.
The features Honey App offers are:
Search nearby members;
Upload multiple pictures;
Extended search options;
Get sexy matches;
Push notifications.
Honey App has free software. However, to get the most out of the platform, users need to upgrade to premium membership.
There are weekly, monthly, two-month, three-month, six-month, and annual packs. Payments are billed directly to the iTunes account after the confirmation of purchase.
Subscription will automatically renew at the end of every billing cycle unless auto-renewal is disabled at least 24 hours before the end of the current period.
FriendFinder
FriendFinder is an integral part of the FriendFinder Network. It provides for a broader and more diverse audience than the other dating services run by the company. It has one of the world's largest online dating communities. The platform now has about two million active users worldwide and one million paying members.
FriendFinder blends the social networking site's functionalities with the thrilling matchmaking functions of a dating site. It's popular among those looking for casual flings and arrangements. If you need something serious, perhaps this isn't the best place to go. But if you're lucky, you can come across a few singles interested in committed relationships.
Because FriendFinder is like a social networking site, it's more open to people of different sexes and sexual preferences. The platform also provides more significant forms of partnerships than other dating services. It has several features that allow people to connect, providing a sense of belonging to each member of the FriendFinder group.
Passion
Passion is another website committed to helping users digitally or directly find sexy and steamy hookups. It is popular for casual sexual encounters, flings, and one-night stands. With a user base of more than 90,000,000 people, Passion is one of the leading hookup services, providing a lot of features to give visitors a fantastic user experience. Passion is focused on sexually empowering individuals and couples looking to indulge in casual pleasure.
Like most dating platforms, Passion is serious about maintaining a secure dating environment for its community.
iHookup
iHookup is an online dating website aimed at helping singles find hookups online. The process of signing up is easy here. Users are required to fill out a one-page form. The information to provide is sexual orientation (both your partner and yours), the purpose of joining the platform, location, and date of birth.
Conclusion

Victoria Milan is an avenue for seeking a discreet love affair. However, its user base is not very large; therefore, the options might be a little restricted.
This platform is best for married people who do not want others, especially their partners, to find out about their cheating. It is probably not the best option for singles with nothing to hide. They can look for other hookup services that do not blur the pictures of its members.
Premium subscription is necessary to communicate with others. It is not very pricey, but there is no one-month pack option. The shortest plan available at Victoria Milan is three months, and it has to be paid at once.
Victoria Milan offers a ton of unique features to help users hide their identities. In your pursuit of refueling what was once a passionate sex drive, this site may be a venue to try. Fewer worries on your part as you will be guided in keeping everything confidential.
Are you interested in spicing up your sex life with some stranger? Victoria Milan is the best platform for you.
Company:
Address:
Phone:
E-mail: