Setting the standards for online dating in its time, Plenty of Fish has been around for quite a while. One of the great things that distinguish this site from so many others is the abundance of features that its users get. Most services demand that people pay for memberships before they gain access to any of the worthwhile goodies. With Plenty of Fish, even free visitors get excellent search capabilities as well as interactive messaging. With detailed personality assessments and versatile matchmaking options, this site allows people to find a long-term lover or simply a one-time hookup.
When was Plenty of Fish Founded?

Plenty of Fish was established in 2003. As one of the first companies to get the ball rolling in the online dating game, it is still one of the big players in today's scene. For nearly 20 years, Plenty of Fish (or POF) has been developing and refining their skills as a dating service, and today they can boast a whopping 90 million users around the world.
Who Owns Plenty of Fish?
Markus Frind originally created this organization, but a few years ago, Match Group acquired Plenty of Fish for almost $600 million. POF began in Vancouver, Canada, and it is now used by millions of people all over the planet. Match Group also owns several other dating sites such as Tinder, OkCupid, and Match.com.
Registerin & Profile
Signing up is a simple process and shouldn't take more than 10 minutes. An anti-bot system is in place to prevent sign-ups from automated programs. Registration with this platform also won't cost you anything at all.
A lot of websites have a sign-up process that is designed to get you using their service as soon as possible. However, with Plenty of Fish, you'll be required to answer a fairly comprehensive set of questions right from the start.
Every question is non-optional, meaning that the pages you encounter are backed by a decent amount of information, providing a better overview of the user. A newcomer will be expected to declare their sex, what sort of relationship they're looking for, what languages they speak, what their goals might be, whether or not they'd like to have kids, along with some other questions. Although you'll be able to pull photos from your social media accounts to add to your Plenty of Fish profile, there is no requirement to connect other profiles, such as Facebook, for your registration to be a success.

Communication/Matches
Unlike many other similar websites, Plenty of Fish allows all users to use their messaging service. That's right! Even regular accounts have limitless access to it. When browsing amongst the buffet of POF members, you can use the tick or the cross to declare whether you would be interested in matching with a specific member. A measure of compatibility is established according to "Chemistry Predictor," which compares and calculates factors like how family-inclined a person might be, user practicality, and confidence levels. All this is formulated during the personality test you take upon sign-up.
Limitless communication through text is great, but you may lack that personal touch. So much information is lost in a sentence without the tone behind it. For example, it can get a little annoying having to state explicitly when you're sarcastic or ironic. With Plenty of Fish, you have the option of sending voice notes to other members, which can vastly improve the quality of conversation with one another.
Plenty of Fish also restricts certain unwanted messages, such as those containing offensive language, spam, solicitation attempts, and content, which appears to be of a pornographic nature.
How to Search for People on Plenty of Fish?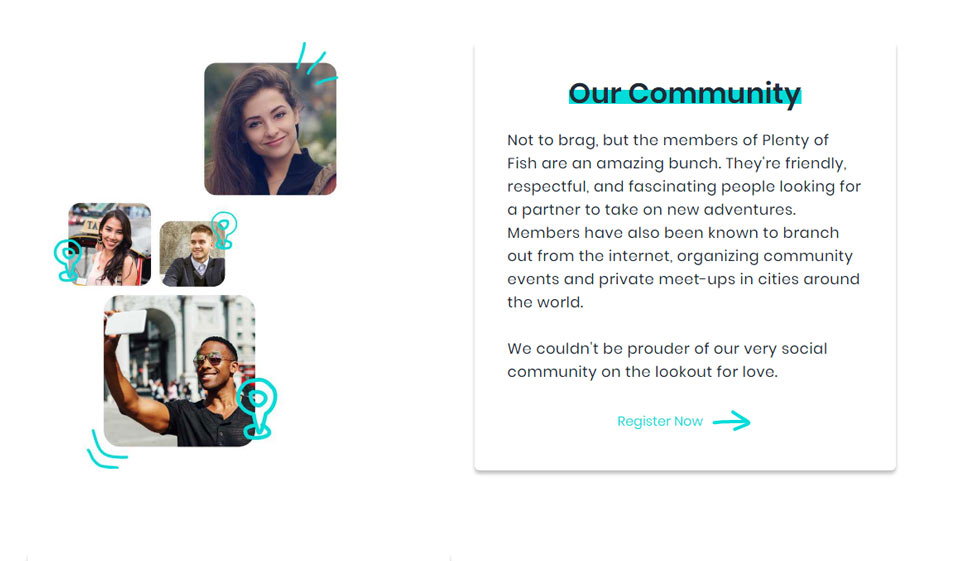 Three methods can help discover other POF members. The standard or basic search function lets you look for a specific kind of member depending on the qualities that you set up. The advanced search engine will allow you to refine your browsing even further based on any extra details you provide. If this isn't concise enough, you can also bring up a particular person by directly searching for their username.
How to Delete Plenty of Fish Account?
Removing your Plenty of Fish profile is very straightforward. All you need to do is locate the Help section, and in the list provided, you should be able to find the "Remove Profile" option. You will be required to enter some standard details to verify that it's your page. After you have successfully answered all the questions, your profile will be permanently deleted. Alternatively, if you're unsure if you want to get rid of your account, you can choose to have a break from Plenty of Fish community for a while by selecting the "Hide Your Profile From Others" option in the "Edit Profile" menu. When activating this feature, people won't be able to search for you or match with you until you choose the opposite.
Members Structure

Members from all around the world are making use of the services that Plenty of Fish has to offer. Roughly 78 million out of 90 million users come from the United States. The average age you're likely to find here is between 25 and 34 years old, but of course, there are many members from other age groups as well. Plenty of Fish has a relatively fair balance of visitors when it comes to gender. Whereas most sites are dominated by males, just 60% of POF members are men.
Sexual Preferences
Plenty of Fish may have been around for almost two decades, but while some aspects have been kept up to date, it falls behind when it comes to sexual orientation. It seems that POF is targeted more specifically towards opposite-sex relationships. There isn't anything tailored to the lesbian, gay, bisexual, or transgender community. When setting up your profile, you'll notice that you only have the traditional gender options available. However, you can, of course, explicitly specify your preferences when filling out your profile details. If you're same-sex inclined, you can always make it known using the editable catchphrase on your page.
Race and Ethnicity

All races and cultures are welcome to join and peruse through POF's massive database of diverse users. It doesn't matter where you're from or what your ethnicity might be, Plenty of Fish doesn't discriminate.
Religious Orientation
Again, any religion, creed, or belief you may subscribe to is your prerogative, and it won't affect your access or treatment on Plenty of Fish. Whether you're an Atheist, Christian, Hindu, Buddhist, Taoist, or anything else in between, POF believes that you have the right to find a romantic connection suitable for you.
Pricing Policies

When weighed against the prices of other dating services, subscription packages at Plenty of Fish are pretty standard. There's a 2-month contract, which goes for $19.35 per month; a 4-month package, which is a bit cheaper at just $12.75 a month; and then an 8-month option that will cost you $10.18 per month. For your financial convenience, paying for your subscription can be achieved through your mobile phone, credit card, or PayPal.
Free Membership
Creating your account with Plenty of Fish is free and will allow you to enjoy a number of free services. As a free member, you can use the Chemistry Predictor, endlessly send and receive messages and voice notes, engage in forums, find members in your area, view the basics of a user's profile, and create a list of all the accounts you like the most. Those who have a regular membership can add up to 8 profile pictures.
Paid Membership
If you're a paying member, you can enjoy full access to a user's complete page. You won't have to deal with annoying ads popping up and interrupting your experience. You'll be able to see whether a person has read your messages. You'll get to see all details about a participant when they're just browsing through your profile. Premium members also come up ahead of standard accounts in the search results. Upgraded profile holders can upload twice as many pictures as regular visitors.
How to Cancel Plenty of Fish Paid Subscription?
Are you done with online dating? Or perhaps Plenty of Fish just isn't the site for you? Well, subscriptions get reinstated automatically, so you'll have to head over the "My Account" section and deselect the automatic renewal feature. Be sure to do this well in advance before your contract comes to an end so that you don't get caught with an unwanted bill. Keep the expiration date of your membership in mind if you're planning on bailing.
Is Plenty of Fish Safe?

Due to a sheer amount of dating sites that are running these days, it can be difficult to know which ones can be trusted. Since Plenty of Fish has been around for such a long time, it has had ample opportunity to earn its good name. Security measures are constantly updated to keep their customers protected. Users also have the option to report profiles that are abusing the rules or operating suspiciously.
Forums are also closely monitored for inappropriate content such as offensive language, self-promotion, and spam. Accounts are approved via SMS to make sure that fake profiles and malicious users are kept off Plenty of Fish. People also can specify what type of members are allowed to get in touch with them. "Mail Settings" in the "Edit Profile" section lets you decide who can interact with you according to their sex, location, age, profile photo, or the contents of the messages they might be trying to send you.
Quality of Profiles
You can go beyond the basic personal details when setting up your Plenty of Fish profile and add all the little spicy extras that distinguish you from the crowd. You can explain the kind of activities you engage in most often, what type of friends you normally hang out with, and your favorite hobbies that keep you entertained in your spare time. You'll be able to specify whether you're out to find the future mother or father for your children, or if you're simply hoping to have a bit of fun with someone interesting. Profile matches are generally quite accurate, provided that you answer as many questions as possible with honesty.
The profile setup on Plenty of Fish is more extensive than on an average dating site you're likely to find on the market. The questions don't just aim to describe who you are; they broaden out to include the kind of details that are usually overlooked, such as information about your parents, whether or not you have any brothers or sisters, and the duration of your longest lasting relationship. All these minor factors end up forming a bigger picture that helps to create better quality and quantity of matches.
As a result, it becomes pretty clear which POF profiles are real and which are not. And, it looks like most of them are authentic, with a few exceptions, of course.
Website Design and Usability

The layout of Plenty of Fish might appear complicated upon your initial visit, but finding your way around it shouldn't prove to be too difficult once you've got the hang of things. Most menus and tabs should be pretty self-explanatory. This is likely to make navigation easy for all kinds of members, whether you're experienced with online dating platforms or not so much.
How does Plenty of Fish Work?
Plenty of Fish acts as an intimate dating platform, as well as a matchmaking site. Users have the freedom to go scouting for whichever profiles tickle their fancy, or they can make use of this site's matching techniques to improve their chances of finding a compatible mate. Sifting through data of millions and millions of members isn't easy. That's why Plenty of Fish employs their "Chemistry Predictor" to compare the attributes of each person and calculate which match-ups make the most sense.
Plenty of Fish uses many of the same tactics that you'll find on a lot of other, more recently established dating platforms. In addition to a "thumbs up" or "thumbs down" approach (a tick or a cross), participants can also discover profiles based on their location. It doesn't do much good making a match with someone who lives 400 miles away. Searching for suitable partners in areas nearest to you greatly increases your chances of finding a hookup or developing a relationship with someone special. There is also the simplicity of the "Meet Me" feature where you can select 'yes' or 'no' when presented with a user's profile photo. If both parties select 'yes,' you'll make a match and can begin interacting with each other.
Another popular option is something called a "Super Yes," which shows members you like most that you have a particular interest in. Some of these types of features require the use of tokens, which will need to be purchased. A single token costs $1.99, 5 tokens go for $8.95, and 10 tokens will cost you $16.90. You can use them however you wish, but don't hoard them for too long; they expire six months after purchase.
Plenty of Fish App
With the POF app, you can manage your dating life on the go. The download won't cost you anything. This program is easy to use, and it comes with all the same features you'll find on the Plenty of Fish website. It is available on Google Play Store, Apple App Store, and Windows Store. The only real downside is that it doesn't provide an option to remove your account. If you want to delete it, you'll have to do so via the site.
Alternatives to Plenty of Fish

Plenty of Fish offers a lot, but if it doesn't feel like the right place for you, there are numerous other services you could try. In no particular order, here's a short list of other services you may want to check out:
Smoothie
OkCupid (also owned by Match Group)
Tinder (also owned by Match Group)
Feeld
MeetMe
Hinge
Match.com (also owned by Match Group)
Bumble
eHarmony
Meetwo
Fling Dating
Zodiac-Date.com
Zoosk
Loveflutter
Findmate
LOVOO
Oasis Active
Conclusion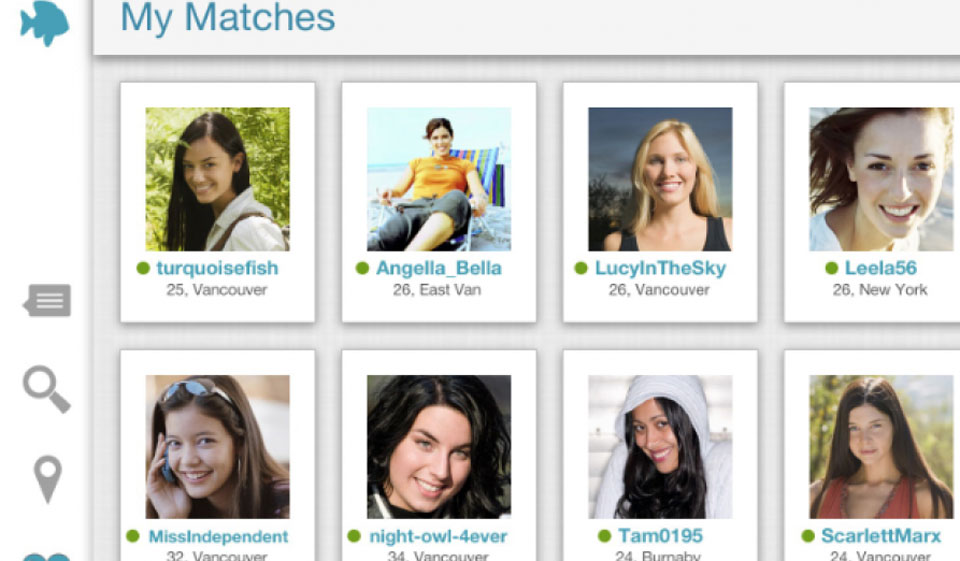 One of the reasons Plenty of Fish has so many members is because it is a relatively trusted site. Having been a well-known name in the dating game for many years, most people feel comfortable with the services POF has to offer. This platform sees a lot of activity on a daily basis. In-depth profiles make things easier for members who know what they're looking for.
Unrestricted messaging makes this place stand out over a range of other websites, which require you to have a premium subscription before you can contact your potential matches. All things considered, Plenty of Fish comes across as a pretty decent option for online dating.
If you have any queries or issues that need to be resolved, you can get in touch through phone, fax, or email.
Company: Plentyoffish Media ULC
Phone: +1 604 692 2542
Email: csr@pof.com
Fax Number: +1 604 676 2319
Address: 142-757 West Hastings. PMB 670, Vancouver, V6C 1A1