OurTime is a site dedicated to single people over 50 years old who are looking for companionship, be it just chatting, forging a relationship, or even a potential future marriage. It is basically an online dating version of Match.com for older citizens, and this becomes apparent as soon as a person enters the platform. From specially chosen daily matches to the design of the profiles that provide tailored information about each user, it really reminds us of the previously mentioned website.
The nice thing about OurTime is that it provides all sorts of options when it comes to communicating, depending on your preferences. It allows sending emails, chatting, or even taking things to the next level and exchanging phone numbers for text messages and phone calls. Also, it enables users to send digital gifts and flirts to each other, signaling their interest. OurTime helps users keep track of all their interactions as well as attention that others paid to you. So, you are never lost in tabs, windows, or profiles trying to remember who you talked to before or who sparked your interest last week. It's all there for you, at the distance of one simple click! OurTime encourages email exchanges more than anything else, as it has a dedicated feature called Message Ideas that helps users make the first step towards any person they have their eye on. This section is available on each profile, providing useful and creative ideas for initial questions that people might find suitable to ask during the first steps of their communication process.
When was OurTime Founded?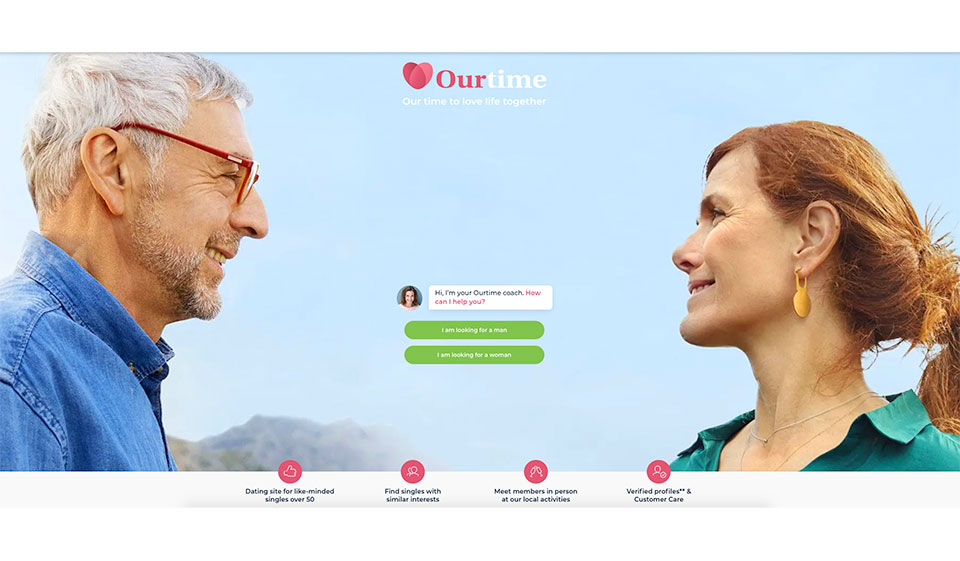 OurTime.com was founded in 2011 and is known for addressing the specific demographic of 50+ people. It gives its users the chance to interact with each other, no matter if they are located in the same area or not. People that access this platform can look for various forms of companionship, be it pen-pal, friendship, long-term relationship, or even marriage.
Who Owns OurTime?
OurTime is part of the OurTime Community family, owned by People Media. This company is known for creating senior dating sites, such as SeniorPeopleMeet and SeniorsMees. So, OurTime Community is not restricted only to members of each specific website, as every participant becomes a user of the other two platforms automatically as soon as they sign up. This is a real benefit of the Community, as it gives visitors more chances of meeting the right person for each other, selected from a larger pool of people.
Registration & Profile
The six-step registration process that is required before having a fully-fledged profile is pretty simple and self-explanatory, as it only takes about a minute or two to complete!
The first step is selecting your sexual orientation, such as "Man Seeking a Woman" or "Man Seeking a Man," etc. Then, newcomers should enter their zip or postal code, first name, date of birth, and email address. After users have created a password for their account, they will be asked to choose the ethnicity and the sort of relationship they are looking for. Possible options include "Marriage," "Pen Pals," and "Casual Relationships." New participants are asked three short questions about their personality and then add three different photos.
The last step will be selecting OurTime membership plan: free or paid, which will provide users with a few extra exclusive features. Newcomers don't necessarily need to complete this step, but this means that their communication will automatically be restricted within the term of free membership. However, if you choose to go the extra mile and get a paid plan, you will have access to more specific search and match options, and be allowed to see people who are interested in you, on top of some other communication options.
Once members gain access to the OurTime interface, they will have more customization possibilities! Users will see singles in their area, so anyone can start looking for a match right away! This is one clear advantage that any site which uses visitors' location gets the jump on the rivals.
When people customize their profiles, they have sixteen different points to choose from to showcase their personalities. Anyone can provide all sorts of information about themselves, such as smoking habits, their body type, family dynamics and structure, height, income, any pets they might have, political orientation, and so on. Basically, OurTime gives anyone the chance to find a like-minded individual based on the data they provide. Thus, the more you say about yourself, the more opportunities you will have to chat and meet someone you might find interesting!
The section "Personality Questions" allows customizing your experience even more by answering seven different questions about your entertainment preferences, punctuality, or romance levels of your personality. In the "Top Interests" section, you can select three of your favorite activities from a list, which includes games, photography, sports, books, reading, arts, news, politics, cooking, education, family, and friends.
Once you have a profile, the login process on OurTime is really easy. Just enter your email address and password, and then you're good to go! Using your email address instead of a username makes things much comfortable, and all that you need to remember is your password!
Communication/Matches

As expected, the star of the OurTime website is the Inbox, Connections, Who I like, and Search sections, each containing a few different features that are meant to help people find partners and communicate with them.
Another plus is how easy the homepage is to navigate. Everything is clear and very pleasurable to explore! On the main page, you will find feeds of possible admirers, and you can scroll through it like browsing through a gallery. Finding a match is even easier, with the large photos being displayed next to each suggested profile, along with information regarding username and location. You can send flirts and messages directly from there, which makes communication at OurTime very accessible. The suggested matches you see in your feed are tailored personally for you, based on your sexual orientation, age, and location preferences. Another cool feature is ConnectMe, which allows sending and receiving text messages securely. In the Connection section, you will see people who are interested in you, viewed your profile, selected you as a favorite, sent you flirts, and those who liked your photos.
The customized algorithm at OurTime will send you about ten suggested individuals every day, based on the details you mentioned while filling in your profile. Once you get a potential match, there are several different ways you can choose to interact with: act on it or pass. Once you find a person appealing to you, again, you have quite a few variants: send a flirt, an email, add the account to your Favorites, exchange text messages via ConnectMe, or utilize virtual gifts. Also, if you have a paid membership, you can use the 'NotifyMe me' feature for seven days to get informed each time a user has logged in.
Things are made even simpler and more understandable when using the Who I Like section. Thanks to it and its subsections, you can access a list of people you have liked, flirts sent, profiles marked as your Favorites, photos you liked, and pages you took a look at. You have the option to continue interacting with each person right from that section, or if you ever decide that you want to cut someone off from your list, you can easily delete them whenever you wish.
How to Search for People on OurTime?
OurTime allows people to search for others in a standard way but also in more fun, game-like version by swiping through profiles and deciding if they are "hot or not." There are a series of handy filters you can use to narrow down your results, such as age, location, and photos. Also, for even more tailored outcome, there are a few additional parameters you can take advantage of. For example, height, ethnicity, the kind of relationship people are interested in, smoker or non-smoker, body type, religion, whether they have children or not, and even their zodiac sign! Well, that's what we call advanced search options at OurTime! Once you find someone that catches your attention, you will see your search result displaying their profile photo, age, location, and if they are online or offline. Along with this information, you will also be able to see the rest of their profile pictures and when their birthday is. To access a user's full page, click on it, and then you will be able to show your interest in them by either sending an email, a flirt, a virtual gift, or by asking them to meet you via the ConnectMe or NotifyMe features.
How to Delete OurTime Account?

Getting rid of your OurTime account couldn't be any easier. Go to the 'My Account Settings' page and click on 'To suspend your profile, click here' in the lower area of the page. Then, press 'To delete your account and all your information permanently, click here.' After that, you are not required to do anything else; your page, along with all your data, will be deleted in the next 24 hours. If you are on a paid membership plan, you need to remember to cancel your subscription renewal before deleting your account!
Members Structure
Older people are often overlooked when it comes to dating services. And this is why OurTime is such a success! What other websites neglect, OurTime is dedicated to! It does an excellent job out of helping users over fifty to interact with each other in a safe and friendly environment, giving them a chance to find both companionship and love!
Sexual Preferences
OurTime is a very inclusive platform! Straight, gay, or somewhere in between, you have the same chance to find love here! All you need to do is list your sexual preferences, and then your search results will cater to that specific preference.
Race and Ethnicity
Also, being available all around the world, you can imagine that diversity will be a powerful characteristic of OurTime. If you want to search by criteria, you can filter results by race, from African American, Caucasian, Hispanic, and more.
Religious Views
If religion is important to you when searching for a life partner or a date, then you will be happy to see that OurTime took care of this, too. You can filter results and find someone like-minded, no matter if your belief is Christianity, Judaism, Hinduism, Islam, Buddhism, or other.
Pricing Policies

Standard subscription
1 Month costs 31.96 USD / Month
6 Months cost 15.96 USD / Month; 95.76 USD in total
Value Subscription
6 Months for 19.96 USD / Month; 119.76 USD in total
OurTime Tokens
55 Credits at 0.05 USD / Credit for 2.99 USD
110 Credits at 0.05 USD / Credit for 5.99 USD
280 Credits at 0.04 USD / Credit for 9.99 USD
Free Membership
Signing up with OurTime is completely free! You will be able to search for matches as soon as you joined and created your profile. If you stick with the free membership, you will be able to have your own page, send winks to other members, add them to your 'Favorites' list, and browse through the accounts.
Paid Membership
A paid membership will give you full access to the free features plus a lot more! This will allow you to use some advanced perks such as Promote Me, Notify Me, but also, you will be able to express your feelings by sending virtual gifts that you can buy using currency tokens.
How to Cancel OurTime Paid Subscription?
Whether you want to delete your account or just want to downgrade to the free version, all you need to do is go to 'My account settings' and click on 'To suspend your profile, click here' at the bottom of the page. Just to be clear, if you are downgrading to the free subscription, this will not affect your profile in any way!
Is OurTime Safe?

OurTime states that it takes all necessary measures to protect user data and privacy. It makes it secure to use your PayPal account for payments or all other main debit or credit cards.
Quality of Profiles
Profiles on OurTime cover a lot of information about you and other members, but they do it in an easy-to-explore way. What we are saying is that it provides you with all the details you need to know about someone before you start to interact through a simple and thought-through design. You can also access your recent activity with others. OurTime addresses an older demographic and still keeps things fun and fresh! So far, this platform seems to be one of the best out there!
Website Design and Usability
As we said, OurTime makes things easy without sacrificing functionality. You have navigation menus both on the top and on the side, to keep track of all your interactions. The layout is clean and well organized, which does its part given the fact that it addresses people over fifty years old.
How does OurTime Work?
Yes, it does tailor to users over 50. However, anyone over 18 years of age can sign up. This creates a whole different perspective, allowing younger people to look for older partners. That being said, OurTime is aware of some less laudable behavior concerning this option and does a good job of protecting its members. Also, if you feel your moves are a little shaky, OurTime gives you access to webinars on dating.
OurTime App

Yes, there is also an app! Who says that only because you are older, you don't need technology to keep track of your love life? Judging by the number of downloads since its launch, it seems that their target audience greatly appreciated the program! There are no extra features different than those on the OurTime website, but it does a great job by providing a user-friendly experience through visible fonts and menus.
Alternatives to OurTime
If OurTime is not your thing, there are a plethora of similar websites you can choose from, such as OkCupid, Feeld, Tinder, Plenty of Fish, MeetMe, Hot or Not, Blume and Smoothie.
Conclusion
Overall, OurTime is a friendly place where people over 50 can find companionship in a simple and also fun way!

Company: OurTime Community of People Media
Address: PO Box 25472, Dallas TX, 75225
Phone: (800) 952 – 5210
Email: via website's Contact Us section