Oasis Dating is the best dating site present today in the ever-growing market of extending dating sites. This platform provides you fantastic service and that too, free of cost. Yes! You heard that right Oasis Dating is a free dating site that provides you a wide variety of features that helps you find your true soul-mate. You can feel free to contact and text 11 million users that are growing enormously day by day. Its user-friendly interface and calming website design make it exciting and fun to surf the site for hours in search of true love. It provides you genuine profiles with whom you can chat and find their interests as well as yours.
When Was Oasis Dating Founded?
Oasis Dating was first launched in 2008 by the 3H Group Pty Ltd. It is currently available in seven different variants that are providing their services to seven different countries, such as the U.K., Australia, Spain, China, Japan, etc.
Who Owns Oasis Dating?
3H Group Proprietary Limited owns the whole Oasis Dating Network, which hosts in more than half a dozen variants, and this company nestles in Sydney, Australia.

Registration & Profile
The registration process of this website is quite similar to that of other dating sites like it has a straightforward format to create an account on this platform. There are no special requirements to prove your identity; just an email verification is enough. Let's begin with the sign-up process, first of all when you open the website, you will find an option where you have to select your preference and what are you looking for, e.g., there are four options:
I am a man interested in women.
I am a woman interested in men.
I am a man interested in men.
I am a woman interested in women.
After selecting your preference, you have to click on the 'Join Now' button. After clicking on that button, a dialogue box will appear, there the first box will ask you to enter a unique username is the company do not allow similar usernames. Next, they will ask you to set a password so that you can then login to your account without any complication. Then you have to enter your email address, your date of birth, and your city. After filling up this form, you have to click on 'CREATE MY PROFILE.' Your account is now active on the servers of the site, and you are ready to use it to find a perfect match for you.
That was a lengthy procedure for creating an account, and the shortest way is to sign up using Facebook. This option will pick up all your necessary details from Facebook and create your account within seconds.
Once you complete the sign-up process for an account, the website will lead you towards the page where you have to fill all the necessary details to set up your profile.
First of all, they will ask you to write a brief message about yourself, where you have to describe your personality interest and hobbies.
Next, you have to fill in your location, which will be predefined as you have entered your site while signing up for your profile. After that, you have to enter the details about your identity like your relationship status, nationality, first language, etc. You have to fill in some details about your appearance like your height, body type, ethnicity, eye color, and hair color.
After that, there will be a long list asking about your lifestyle and personality; I won't go too deep into this. Next to that, you can select the box that describes your interests.
And come into the bottom, they will ask you to fill in the details about the type of person you want to be your date. After filling in those details, all you have to do is click on the 'Finished' button.
Once you finish updating your profile, your profile will be visible to all people who seek interest in a person like you.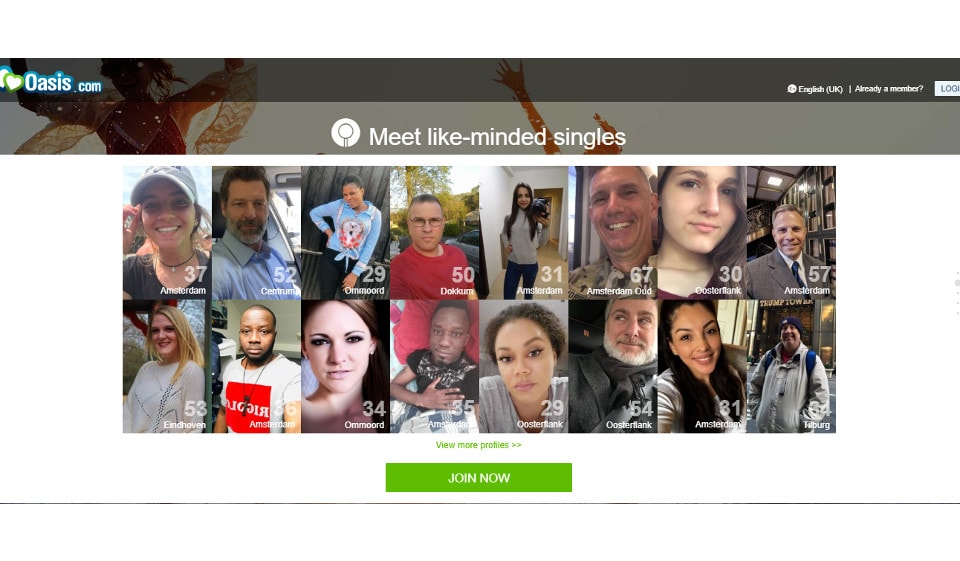 Communication/Matches
You can easily find a match for you by various methods such as the company provides, tick or cross option, and a profile gallery where you can like users that match your needs. If the other person liked you back, only then you can communicate with that particular profile. You can see plenty of profiles through the Matches bar available on the home screen of your profile.
How to Search for People on Oasis Dating?
The searching process of Oasis Dating is quite specific. You can add all the specific details that you are looking for in a partner in the search panel, and it makes the task easy for you due to its powerful search engine optimization. It provides precise results of your nearby users due to its excellent location searching feature. You can easily search for a member of your choice according to your needs and interests. You can search for a member according to his or her Age Range, Country, Identity, Appearance, Lifestyle, and Personality. The search engine also provides the filter to exclude the members you have had an interaction with earlier or the members who have specified themselves as Transgender. The site has not highlighted it, but you can search a person by his or her username, but this feature is available on the bottom of the screen.
How to Delete Oasis Dating Account?
If you ever find yourself unhappy with its services, there is always an option to deactivate your account. The process to deactivate your account is simple and straightforward; all you have to do is click on the 'My Profile' button on the top right corner of the screen. When a small dialogue box appears, click on Settings. It will take you to a new page, then on the left side of the screen, you will find an option to 'Deactivate Your Account' button, click on that, and a new page will appear on your screen. All you need to do is select a reason to deactivate your account and tap on 'Confirm.' Congratulations, your account is successfully deactivated or removed from this platform.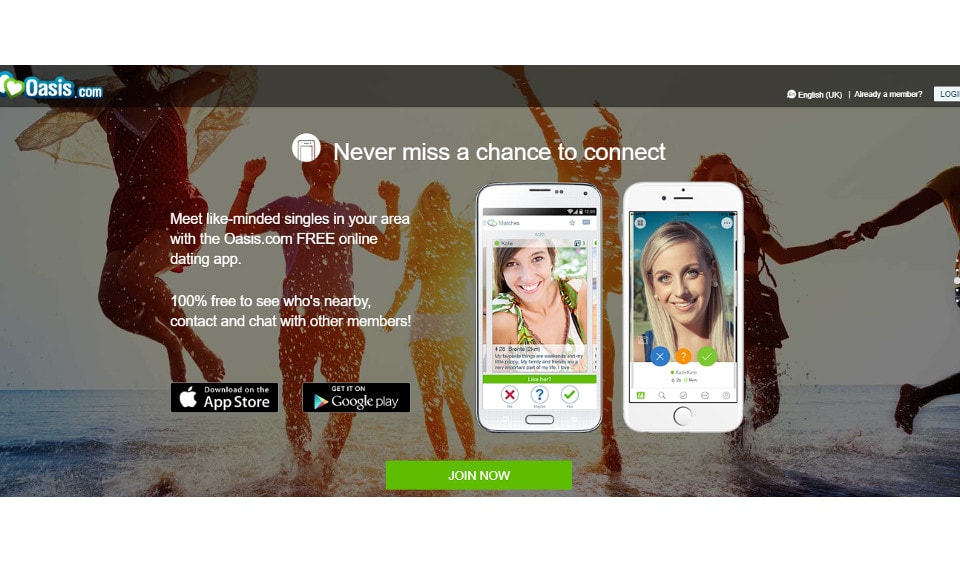 Members Structure
Oasis Dating offers you a large variety of people all over the world. This platform encourages people from every corner of the world to discover their needs and express them as freely as possible. Its 22.5 Million users found it to be a useful platform as the reason thousands of people join this platform every day. It has a sex ratio of 59 men over 41 women. That is why one feels no difficulty in finding his or her perfect match.
Sexual Preferences
Oasis Dating respects your sexual tendencies and offers three sorts of expressly arranged profiles: Gays, Lesbians, and Straight folks and females. The site also allows you to specify yourself as Transgender and keep this information hidden from other profiles.
Race and Ethnicity
This site covers a massive proportion of area and offers its hosting facilities all through the globe. It outfits you with profiles of various ethnicities, including Asian, African, Native American, White, Black, and many other options, to search for the best one for you.
Religious Orientation
Oasis Dating includes people over the globe who are of different religions and are permitted to pick their trust in their profile. This stage contains people of every certainty and each age pack that is 18+ as this is an adult site and requires the viewers' permission to view explicit pictures.

Pricing Policies
It might be somewhat stunning for you that unlike those well-known dating sites where you have to purchase a membership to use all the features on the platform. Oasis Dating permits you to utilize all the features without paying a solitary penny to the owners. This platform is power-packed with a ton of features that are free of cost but much of use.
Free Membership
One of the biggest highlights of this website is that it offers all its features free of cost. Some of those features are:
Paid Membership
Since the company provides everything free of cost and proves to be the best in it, but still, the company provides an extra feature that is known as 'Shout Out.' It deals with the promotion of your profile, all you have to do is click on the 'Shout Out' button, and from the very next page, you have to select a message that you want to be appeared in your promoting profile and pay a small amount of 2.99 USD. However, there is no usability of this feature and proves itself to be worthless.
How to Cancel Oasis Dating Paid Subscription?
There are no subscriptions on the Oasis Dating platform, so there is no reason to cancel any paid membership.

Is Oasis Dating Safe?
Oasis Dating provides you scam proof and safe quality of profiles. The dedicated staff of Oasis Dating that endeavors hard to keep your information sheltered and secure. A vast number of individuals use it and join to get their life accomplice, and the group guarantees you have a dread free condition. You can rapidly contact the customer support on the off chance that you feel any danger. However, if you are still any threat on this platform, there is always an option to delete your profile completely.
Quality of Profiles
It offers you genuine quality profiles. Discovering real dates on a dating site is significantly a tough thing. You won't locate a solitary clear profile, which is why you are bound to get a match than other dating sites. You will get the chance to see different eye enticing and better-than-average profiles that will immediately win your heart. You can visit other member photo galleries and view their profiles if you buy their premium membership.
Website Design and Usability
As explained earlier, this website has a simple but effective Web design and user-friendly interface. The site comes power-packed with various amazing features, transitions, and effects that make it appear so attractive. You will be able to see enormous amounts of smooth transitions that multiplies the beauty of the site. Everything is present in a perfect manner, and you do not have to trouble yourself searching and entangling yourself in chaos. In spite, every feature is easily displayed and accessible by people of every age.
How Does Oasis Dating Work?
In Oasis Dating, you can search for users based on their color, ethnicity, race, etc. Or you can tick or cross the users on your main page. You can like any member of your choice, and if another person also likes you back, you can start communicating with each other and can be a great date.
Oasis Dating App
3H Pty Limited offers you the Oasis Dating app both for your Android and iOS devices. The mobile app of this platform is excellent, as well as free to use. You would not find any such differences between the desktop and the mobile version. The mobile application is perfectly designed and well sorted. You will find everything placed in the proper position, and this app is not a mess, such as similar free dating sites. You will get to see large profiles on the main screen of the application and a feature to tick or cross the profile you like or dislike.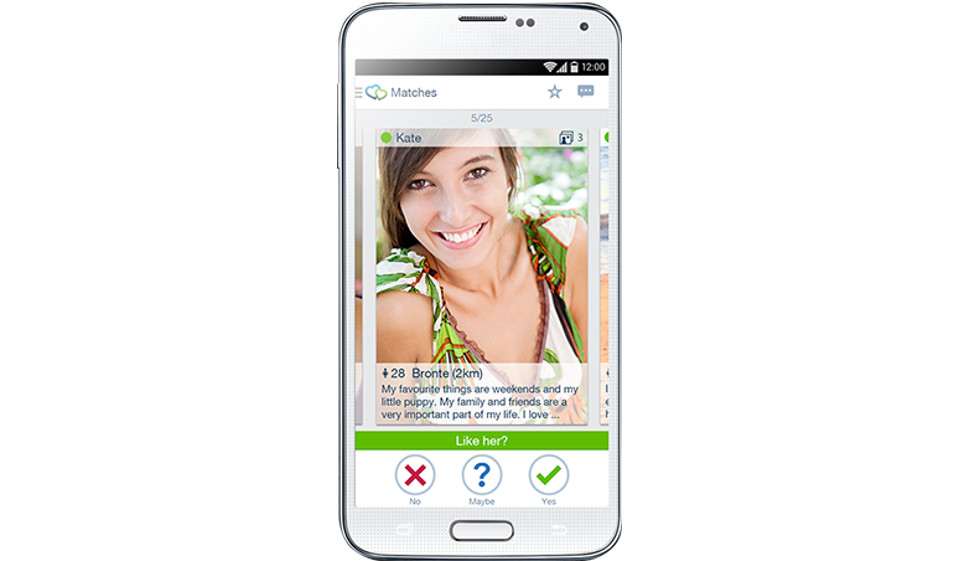 Alternatives of Oasis Dating
After reviewing this site, you can find Oasis Dating to be the best free dating, which offers you a ton of features, totally free of cost. It is the only platform that provides you such amazing services. You can switch the site if you still feel the need to change your dating host. It provides you some of the significant alternatives of Oasis Dating, and those are:
Zoosk.com
RSVP.com.au
Match.com
BeNaughty.com
Conclusion
After reviewing Oasis Dating, it is the best dating site of all time as it is free to use and allows you to explore everything on the site. You are free to search for unlimited usernames, like them, send chats, and converse with them. It is one of the finest dating sites available in the market today. You can find your perfect match here due to the presence of genuine profiles that are hand-picked by the staff itself. Also, it provides you a backup that; you can report and block any profile if you feel unsafe or find some suspicious activity related to that account. Overall, Oasis Dating is a thumbs up from our side.
Company: 3H Group Pty Ltd
Address: Privacy Officer 3H Group Pty Ltd Suite 310, 46-56 Kippax St Surry Hills NSW 2010 Australia
Phone: (61) 2 9192 3211
Email: privacyofficer@oasisactive.com