All Disney fans must be over the moon because they can connect with other people who adore Disney and cannot imagine their lives without animated movies. Mouse Mingle is a dating site created for guys and ladies who are big Disney fans. To some extent, the site is one-of-a-kind because the idea to search for matches solely among those who adore Disney world is brilliant. The site members have one shared interest that helps them unite and build relationships.
Some people may suggest that Mouse Mingle is the app strictly for ladies because a few men will confess that they adore Disney World. There is indeed some lack of male users on the platform, but guys are still present. The matter is that Mouse Mingle connects Star Wars and Marvel fans too. And who are the biggest admirers of Marvel comics? Men, of course! Generally speaking, the site has a great mission: to help creative, romantic, and single dreamers find partners among like-minded boys and girls.
The app welcomes people of all sexual orientations and ages, but the dominant role belongs to ladies 22-30 years old. The site administration forbids posting any explicit content or nude photos. It is understandable because Mouse Mingle is not an adult site for people searching for one-night hookups. It is more suitable for romantic dreamers who dream of finding true love like in the Disney movies.
When Was Mouse Mingle Founded?
The site dates back to 2011. Next year, it will celebrate its tenth anniversary since launch. The creation date relates to the period when Disney movies were on top of their popularity. At the same time, many eminent films based on the Marvel comics hit the world cinemas. No wonder that Mouse Mingle creators chose this particular period to give birth to this dating site.
Who Owns Mouse Mingle?
People often misinterpret Mouse Mingle roots: they think that the site belongs to the Walt Disney Company. It is not correct. This dating portal has no relation to Walt Disney or Disneyland. The site creators must be so tired of hearing these gossips, so they added a disclaimer that states that the site and application have no relation to Disney. The website operates under the MOUSE MINGLE commercial LTD domain; the head office is in Oregon, the United States.
Registration & Profile

Registration on Mouse Mingle is like a piece of cake. Nevertheless, newcomers will have to spend about 10 minutes to field in all the fields. The site asks to provide mainly the same information like all other dating platforms: username, email, password, the gender of you and your potential partner. But it is not all yet! After filling this information, newcomers need to answer a couple of questions like which park is nearest to you and others of this kind. Users can specify whether they give their permission to feature their photos on the site social media pages. The final step is downloading a photo and giving an agreement with the terms of use. New members must pass email verification by the moderating representatives, so make sure that you provided your valid email for registration.
How to create a profile
Profile creation on MouseMingle requires some effort and creativity. The site asks to fill a long list of questions from the candidates: personal and Disney-related. The personal-related category includes questions about your physical appearance, daily habits, lifestyle, and aim on this dating site. Disney-related subcategory covers all aspects related to the Disney theme, like choosing your favorite Disney character or Star Wars nerd level, etc. There is a question about your next trip to Disneyland. In general, filling the profile data takes around 20-30 minutes, depending on how much you love Disney or Marvel.
Users can add several photos to complete their profiles. The one condition is that photos should meet the policy standards of Mouse Mingle. When the profile creation stage is over, it is time to start searching for lovebirds.
Communication/Matches

Unregistered visitors cannot view the profiles of other members. They can see photos in the gallery, but the accounts become visible strictly after signing up. Communication on Mouse Mingle is a pleasant experience because the user base consists of friendly people who have the same passion – Disney or Marvel. The subscribers do not receive a daily list of potential partners, so they need to search for singles manually. Go to the search tab in the upper panel of the home page and set the filters. The portal welcomes men and ladies of all sexual orientations; the primary condition is their love of Disney or Star Wars.
How To Search For People On Mouse Mingle?
Users can search for singles by gender, online now, and profile with a photo. Advanced filters allow searching by location, meaning that you can look for a partner strictly in your region. The system automatically generates a matching list of members corresponding to your requirements. Now, it is time to start chatting. The best way to break the ice is to write a short greeting message to someone you like, but note that direct messaging is not a free option.
Unfortunately, there is no webcam chat option on MouseMingle, so the only way to connect other members is messaging. Subscribers can search for partners through the Photos section on the home page. It includes featured, most discussed, and top-rated photos. You can view the pictures, and if you find someone you like, click on the photo and view the profile of this person. One more reminder: only registered members have access to viewing the profiles.
How To Delete Mouse Mingle Account?
Members can always delete their accounts if they decide to leave Mouse Mingle. Go to My Account section and select Close. In this case, your account disappears from the site portfolio, and if you choose to return after a while, you will need to create a new account and fill in the profile data from the beginning.
There is another option to delete the account on Mouse Mingle: deactivation. By choosing this option, your current account will become invisible in the search results. If you want, you can reactivate it again, and all the personal data remains in the profile.
Members Structure

Mouse Mingle is not a typical dating site, and it has a unique member structure. The site user base consists of people of different ages, races, and sexual orientations, but the most active users are the US residents 22-30 years old. Females dominate over males on Mouse Mingle.
The essential condition for joining the site is your love of Disney and Marvel. A long list of Disney-related questions during the profile creation stage will quickly check whether you are a true Disney fan. These questions aim is to let other members find out more about your preferences and interests. If it appears that you have a lot in common, you can start messaging. If you are Aladdin dreaming of meeting Princess Jasmine, who knows, maybe you will meet her on this dating shelf.
Mouse Mingle is a platform suitable for singles looking for serious relationships but not one-night dates. It is a regular story when two persons start communicating as friends first, and after a while, their relationship transforms into something bigger. Mouse Mingle is a perfect background for it. Singles can visit a Disneyland or get to a Marvel movie together, and maybe their bond will grow into a beautiful feeling called love.
Sexual Preferences
The app welcomes singles of different sexual preferences. Lesbians and gay men can feel free to register on Mouse Mingle. They need to specify whom they are looking for to meet, for example, a woman searching for a woman, etc.
Race and Ethnicity
The dominant part of the site user base is white women 25-30 years old, but there are no race or ethnicity restrictions on Mouse Mingle. Users can select these options at the profile creation stage. The website is open to everyone with the only condition that they should love Disney or Star Wars.
Religious Orientation
Mouse Mingle is suitable for singles of different religions; users have to specify their faith while creating a profile. There are several options to select from, including spiritual by not religious.
Pricing Policies
Membership on MouseMingle is free; users can also download a free mobile application. But here is the regular story: free members cannot use supreme filters or share messages with other singles. Besides, the number of ads annoys a lot when using the site at no fee. Those who want to have the best from their Mouse Mingle experience can purchase a premium subscription. There are two options to pay for the subscription: every month or in advance for the entire year.
Pricing:
cost per month — $12;
cost per year — $120.
Free Membership
Free subscribers can search for partners on Mouse Mingle, but a lack of certain premium features can make this process a bit complicated. So, what are the free features available to all Disney and Marvel fans on this website?
Free features:
Free registration;
Manual search for partners;
Access to a photo gallery;
There is an option to rate photos of other members.
Paid Membership
Those who want to connect other members directly can upgrade their membership for an additional fee ($12 monthly or $120 annually). There are several more features available strictly for the premium Disney fans.
Paid features:
Advanced search filters;
Search by location;
Profile priority;
Absence of numerous ads;
There is a private chat.
The payment methods include credit cards and PayPal.
How To Cancel Mouse Mingle Paid Subscription?
Users cannot cancel their premium subscription on the site via email; there is only an option to do it offline. Thus, many subscribers prefer to buy a monthly subscription instead of an annual one not to have problems with its cancellation afterward.
Is Mouse Mingle Safe?

On the whole, Mouse Mingle creates a safe environment for its members. The users are mostly fun, pleasant, and intelligent persons who use this portal for connecting individuals with shared interests — Disney and Marvel. As for the technical side of protection, the administration takes some measures to protect their users from suspicious individuals. Newcomers must pass email verification to join the community of Disney lovers. Another good thing is that purely registered members can view or rate profiles. There is an option to block another member if you think that he/she violates your privacy.
Another benefit in favor of Mouse Mingle is its active promotion on different social networks. The site has its pages on Facebook, Twitter, and Instagram. Users can always go to the MouseMingle account on Facebook and check the comments of other subscribers. The site representatives often share some useful and interesting posts and photos on their pages. Besides, you can always write to them directly if you have some questions to the website team.
Quality Of Profiles

Security and profile quality are two significant factors that beginners should pay attention to when registering on a dating app. Mouse Mingle creators have strict requirements for the quality of profiles on their platform; that is why all newcomers must pass verification. A detailed list of personal and Disney-themed questions makes accounts accurate and precise. People who decide to sign up on the site just for fun will unlikely want to answer dozens of questions to get access.
The majority of profiles on MouseMingle feature photos of real people. There is one cute detail about profile images that could not remain unnoticed. Many subscribers download photos from Disneyland or photos where they dress up as characters from Star Wars and Marvel movies. New members should understand that detailed data in profiles guarantee 90% of success on the dating site. The rest 10% depends on your communicative and search skills.
There is a section with stories of other members that prove that the site policy truly works. Singles who take some time and effort to create a good profile, download photos, and provide as much personal information as possible, have all chances to get their lucky ticket and find true love among other Disney fans.
Website Design And Usability

When new visitors come to Mouse Mingle for the first time, they usually expect to see a colorful and bright home page with multiple pictures of the Disney characters. In reality, the app's design has no relation to the Disney or Marvel theme. The only thing that points out on its connection to Disney is a photo gallery featuring the site members in Disneyland or people dressed up as characters from the Marvel films.
As for its usability, Mouse Mingle has a user-friendly interface and clear navigation. All the major sections for the convenient use of the site services are in the upper panel of the main page near the Sign in/Join buttons. In the top, you can find sections with the terms of use and policy rules and links to support service and Facebook/Twitter pages.
How Does Mouse Mingle Work?

A principle of work of Mouse Mingle resembles that of similar dating apps. It connects singles based on their shared preferences and lifestyles; in the case of Mouse Mingle, it is a love of Disney World, Marvel comics, and Star Wars. Members can communicate by sending messages and arranging chats. Profiles are precise here, and all new users must pass email verification.
The site contains sections with love stories of its former members and links to its official accounts on social networks, meaning that people can communicate and comment on posts on Fb and Instagram. There is no explicit content on the site pages; moreover, a moderating team can block some members for violating the site policy. Search filters are not so diverse for free subscribers, but there is always an option to purchase a premium membership.
Mouse Mingle App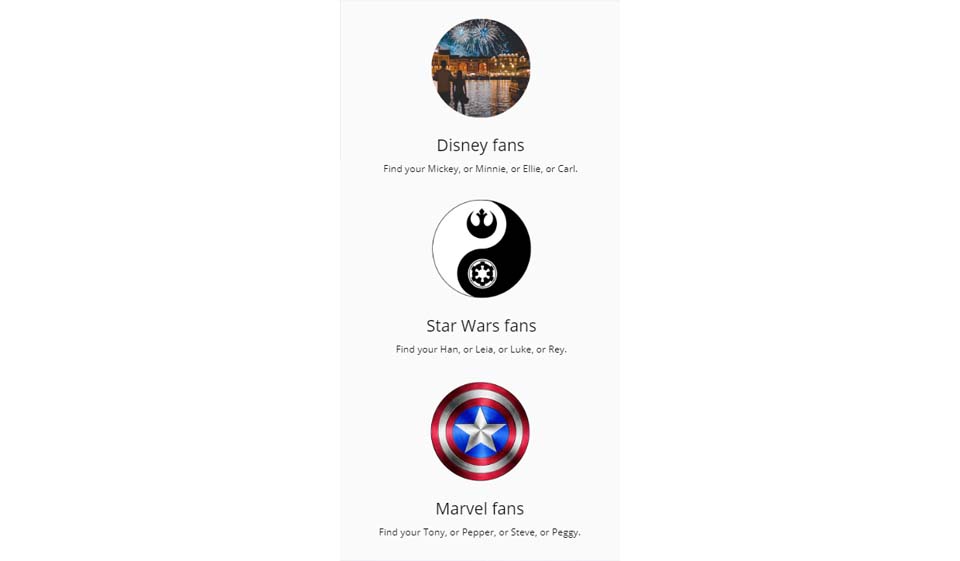 There is an official mobile app of Mouse Mingle for Android and iOS. There is also a mobile version that does not differ a lot from the site and the app. There is a link to the mobile version on the home page of the Mouse Mingle desktop platform.
Alternatives Of Mouse Mingle
If you are searching for other dating sites similar to MouseMingle, you can pay your attention to ChinaLove, Anime Dating Site, or FriendFinder. What do all these platforms have in common? They match people based on their particular interests, whether it is the love for Disney or passion for anime. All these sites work by the same algorithm; there are only some differences in the searching filters, messaging methods, and pricing.
Conclusion

Singles who come to Mouse Mingle have similar interests, and this bond makes them closer from the very beginning. Everyone who cannot imagine his/her life without Disney movies, Star Wars, or Marvel comics will immediately fall in love with this unique dating portal. The site has a friendly and intelligent user base, though the leading role here belongs to ladies. Persons of different religious preferences, ethnicity, and sexual orientations are welcome to register on the app. Registration is free, but profile creation takes about 30 minutes with a long list of personal and Disney-themed questions that users have to answer.
Singles who search for mature relationships with like-minded lovebirds can try their luck on the site. If you dream of finding true love similar to that in your favorite Disney movies, Mouse Mingle can be a perfect space for this.
Company: Mouse Mingle, LLC
Address: 97818 Boardman, Oregon, United States
Phone: +1 657-549-2855
E-mail:support@MouseMingle.com