Jackd is an online dating platform that targets connecting members of the LGBTQ community, namely gays, trans, bisexual, and bi-curious individuals. The members themselves specify the intention of their registration – friendship, romantic relationships, one-night stands, etc. Currently, the application has more than 5 million users from 180 countries of the world.
When Was Jackd Founded?
The Jackd application was founded in 2010 by Online Buddies, which also owned Manhunt. It was designed as an app for gay, bisexual, and trans people that tracks users' locations and recommends matches close to them.

Who Owns Jackd?
Online Buddies LLC owned the Jackd application. However, Perry Street Software, which is the parent company of another popular dating app, SCRUFF, acquires Jackd in 2019. Perry Street Software has introduced new designs and features to the app, so currently, it looks like SCRUFF.

Registration & Profile
Users' adventure with Jackd begins at the moment when they download the mobile application. Why? Because it's impossible to sign up or log in via the Jackd website. After downloading and successfully installing the app, Jackd asks users to allow storing the data on the device to increase the app's performance. Next, they should turn on location services or enter their exact location manually so that the application can find and show profiles of nearby guys.
To create an account, tap the red "Create Profile" button located at the bottom of the screen. Here you should enter your date of birth. To move to the next page, you should choose the "Next" option, but Jackd warns that by doing it, users agree to the platform's Privacy Policy and Terms of Service. On the next page, insert your name, which can be real or a nickname. On the third stage, you need to upload a profile photo. To move forward, you should verify your device by entering your phone number. You'll receive a verification code that should be entered into the corresponding field to confirm your phone. On the fifth stage, you should enter your email address and pick a password.

Communication/Matches
After registration, you should meet new people and start a conversation with them. The Jackd application offers a few options where you can meet other guys. The first one is the "Discover" section, where the system shows random profiles of guys online at the moment. To meet people closer to you, you should open the "Nearby" tab. Jackd shows 200 accounts of nearby guys to standard users, and 500 profiles to the holders of Jackd Pro membership. And the third variant is opening the "Match" section, where the app's matching system displays profiles of compatible candidates based on the commonness of information in your and their profiles. It's a popular swiping tool that allows skipping people by swiping left or liking them by right swipe.
Jackd has direct and indirect methods of interaction. The direct one is messaging, which is available for both standard and premium users. If you for some reason choose not to send a message to the users, you can let him know that you are interested in him by adding the profile into the list of your favorites.

How To Search For People On Jackd?
If neither of the methods of finding people helped you to meet the right guys, you could use the search tool. It's divided into four sections – General Search, Attributes, Preferences, and Scene. The General Search and Scene are available for both standard and premium users. They allow filtering guys according to their location, type – bisexual, twink, otter, chaser, drag, etc., and the type of guys they are interested in. In the general search section, you can also find people by their name. The Attribute category, which is available for premium users, only includes several filters. You can search for people according to their online status, availability of photo, relationship type, age, height, weight, and ethnicity – Asian, Black, Latino, White, Middle Eastern, etc. The Sex Preferences filter, which is also a premium one, allows searching people according to their preferences.
How To Delete The Jackd Account?
The most common mistake that Jackd users do is deleting the application believing that they also delete their profile. But it's wrong. There are two options for removing Jackd account.
Open the application and go to your profiles page. Here you can see the "About Jackd" section. On this page, you can find the "Delete Account" page where you should insert your email address, enter your password, check the captcha box, and click the confirmation button.
The second option is writing an email to the platform's support team, including your account details, and asking them to permanently delete your account.
Members Structure
According to official statistics posted on the Jackd website, the platform has more than five million users. They come from about 180 countries and 2 thousand cities in the world. Nearly sixty percent of users are residents of the United States. The statistics also show that the majority of users – 67% are young guys aged between 18 and 26 years old. They may join the platform with various intentions like finding friends, one-night stand partners, but almost half of Jackd users want to find long-term relationship partners.

Sexual Preferences
Jackd has a large LGBTQ community. The majority of members are gays. There are also bisexual and bi-curious individuals, trans and queer people. Thanks to the platform's large member base, all Jackd users can find their matches in a short time.
Race and Ethnicity
The Jackd member base is enormous and includes people from more than 180 countries in the world. It's quite logical that these people belong to different races and nationalities, ranging from Asian to Black and White people. According to statistics, 60% of members coming from the United States are Black and Latino. The key idea here is that Jackd doesn't put any restrictions regarding its users' race or nationality. Everyone is most welcome.
Religious Orientation
It's difficult to introduce any official statistics about the religion of Jackd users. The reason is the platform doesn't include any field for specifying the faith and doesn't consider it essential. However, judging from the fact that the Jackd users are from different corners of the world, they can be Christians, Muslims, Buddhists, etc. But the overwhelming majority is non-believers with no religious orientation.
Pricing Policies
The Jackd dating application offers two types of membership to its users – free and paid. After downloading the app and creating an account, all users access their standard accounts. As a rule, they have restricted features and functions, and users have to upgrade their accounts to premium to get access to the platform's full functionality.
Free Membership
The Jackd free membership gives users access to the following features:
All Jackd users can send an unlimited number of free messages to other users, both standard and premium.
Free members can search the profiles of 200 guys near their geographical location.
Standard profiles can browse the grid where the system displays accounts with multiple photos.
Free Jackd users can upload private photos to their profiles.
Standard accounts can apply primary, not advanced search filters.
Free members can add other guys' profiles to the list of their favorites.

Paid Membership
By upgrading standard accounts to premium ones, Jackd users get access to advances features.
Instead of showing 200 nearby guys, the premium version shows 500 profiles.
The paid membership blocks ads.
The ability to see the profiles of members who visited and viewed your profile is another Jackd fee-based service.
The Jackd matching system shows unlimited accounts.
Premium users can enable the incognito mode and browse profiles anonymously.
Paid members get the opportunity of ensuring the security of their accounts by setting passwords to access the app.
The Jackd premium membership package called Jackd Pro includes four subscription plans. All of them give access to the same advanced features. The difference between them is the membership period.
Members that aren't sure of whether it's worth purchasing the premium membership can buy the one-week subscription that costs only 3.99 USD.
The one-month membership costs 9.99 USD.
To use premium services for three months, Jackd users have to pay 21.99 USD in total.
For a twelve-month subscription, Jackd charges its members only 57.99 USD since the monthly price drops to 4.83 USD.
All prices are listed in US dollars despite the country. The amount for the whole three-month and twelve-month period should be paid in a single payment. Since Jackd is an application, the premium membership should be purchased via the Apple App Store, Google Play Market, or Windows Phone Store. All payments are made via credit cards.
How To Cancel Jackd Paid Subscription?
Right after the first purchase, the Jackd auto-renewal option automatically enables. If you don't disable the button at least 24 hours before the expiry date, you will be charged for another subscription period, and it will renew. To cancel your subscription, you should go to the app store of your phone like the Google Play Market or Apple App Store, open the subscription section, and disable the auto-renewal option. You can do this right after the purchase to be on the safe side. The subscription will be valid for the whole membership period, and after its expiry, your account will go back to being a standard one.
Is Jackd Safe?
Any user can get familiar with Jackd security measures in the Privacy Policy page of the website and the app. Here the owner company of Jackd describes what kind of information they collect, where it's kept, and how they use it. The data of users can be handed over to a third party if they need to provide a particular type of service.
Quality of Profiles
Your Jackd account will be ready in up to five minutes, and you can start browsing profiles immediately. Since, during registration, you entered little information, there is a chance of providing more data by editing the profile. Jackd allows uploading up to five photos – two private pictures and three public ones. By providing additional information, you can inform other users about your height, weight, etc. Besides, the application shows a short report to other users on the percentage of message replies.

Application's Design and Usability
The design of the Jackd app is very stylish, colorful, and modern, which makes user experience enjoyable and pleasant. Taking into account that the platform's users are mostly young guys, it takes only a few minutes to explore the app and understand its functionality.
The Jackd application includes a few menus. The one accessible from the menu icon located on the left upper part of the screen contains settings, profile information, and app preferences. At the bottom of the screen, you can find Browse, Matches, Messages, and Viewers categories. The Browse section is divided into three tabs – Discover, Nearby, and Search. These are the sections where users can meet new people and browse profiles.
While viewing a guy's profile, you will be allowed to see some information about him, such as his name, location, distance from you, the time of the last visit, age, etc. You can express if you're interested in meeting him or not, viewing the profile insights, and leaving notes. Besides, there are three features at the bottom of the profiles: sending a message, adding to the favorites, and sharing your private album with him. On the upper right-hand part of the profile, you can find a menu icon that includes two features – reporting and blocking the profile.

How Does Jackd Work?
The functionality of the Jackd app relies on two significant features – matching and messaging. The app's matching system compares your personal information with other guys' data and chooses the most compatible matches. But this isn't all. The system allows meeting new people based on their online status and location. There is a special section where Jackd displays profiles of guys close to you.
The second pillar is the messaging. One of the advantages of the Jackd application is the availability of unlimited messages for both standard and premium users.
Jackd App
The Jackd mobile application is compatible with iOS, Android, and Windows Phone devices and can be downloaded from Apple App Store, Google Play Market, and Windows Phone Store free of charge. Besides, if you use some Android device that doesn't support access to Play Market such as Kindle, you can download the Android APK file from the Jackd website and install the app on your device.
The application was developed by Perry Street Software Inc and launched in 2011. The developer regularly updates Jackd by fixing bugs, improving its security and performance, and adding new features and functions.
Since its first launch, the application has been downloaded for more than 5 million times from the Google Play Market only. Android devices require 4.1 and upper versions for installation, and iOS devices need 132.9 Mb free memory and iOS 12.2 or later versions. The application is compatible with iPhones, iPads, and iPods. Since the Jackd member base is international, the app supports more than ten languages like Arabic, French, German, Chinese, Korean, etc.
While speaking of the app's popularity, it's important to mention that it received over 100 thousand reviews on the Google Play Market with an average 3.0 rating. The picture is brighter on Apple App Store. More than 1.6 thousand customer ratings gave the Jackd application 4.0 stars.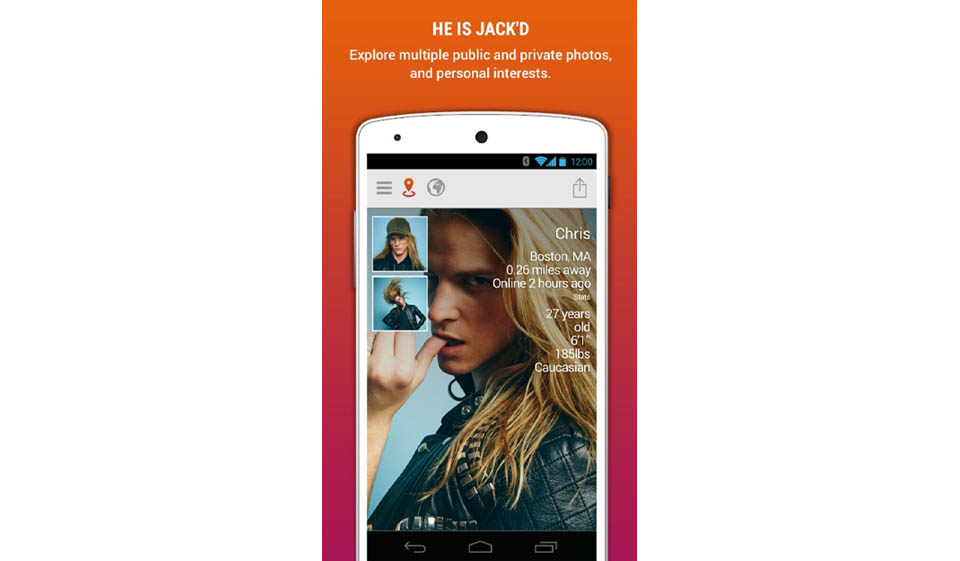 Alternatives of Jackd
GaysTryst is an online dating platform with over a million gay and bisexual users that are interested in casual hookups and one-night stands.
BuddyGays is an online flirting platform designed exceptionally for gays. The platform allows gay individuals to flirt, chat, and build romantic relationships.
GaysGoDating is a dating platform that has a large community of gays looking for life partners.
Conclusion
Jackd is an online dating platform designed for gay, trans, and bisexual individuals looking for friendships, love, or casual hookups. In 2019 it was acquired by Perry Street Software, which improved the app's performance, design, enhanced security, and added new features. Registration on the platform is quick and straightforward, but it requires SMS verification for security reasons. Jackd offers two types of membership – standard and premium. Free functions are limited, but the prices of Jackd Pro are modest. Though the application has a reliable security system, it's always recommended to take additional security measures to protect personal information on the Jackd app.
Company: Perry Street Software, Inc.
Address: 489 Fifth Ave, New York, NY 10017
Phone: (916) 445-1254 or (800) 952-5210 (for complaints)
Email: support@jackd.mobi