EastMeetEast is a dating site that aims to help Asian Americans meet other Asian Americans and start a relationship. Unlike most race-specific dating sites, this isn't a hookup site. Rather it is intended to create long-lasting relationships that could possibly lead to marriage.

When was EastMeetEast Founded?
EastMeetEast was founded in 2013 to bring Asian dating to the limelight. Due to the portrayal of Asians in strictly interracial relationships in the Western Media, EastMeetEast was created to encourage Asian dating in the diaspora. The goal was to create a platform for Asians who want to date other Asians but aren't based in an Asian county. This way, the Asians in the diaspora don't have to go all the way to Asia to meet a perfect partner. They can just download the app and find love.
Who Owns EastMeetEast?
EastMeetEast is owned by a group of individuals who came together with a common vision to start this project. The founders include the following names.
Mariko Tokioka: a serial entrepreneur who was the one to come up with the idea for EastMeetEast. She started off just helping her Asian friends get together then decided to do this same activity on a large scale
Kenji: An investment banker, lawyer, and marketer
Michael: he's an engineer and app developer
These individuals came together to create this app and have since dedicated all their free time to it.
Registration & Profile
The registration for this site is quite easy. You could simply register with your Facebook account and get started. It's that easy. However, if you want to create an account, you will have to fill the registration form. To get to the registration form, you first have to get to the homepage, where you will see a bright pink icon that starts with Facebook. Ignore this icon and look right below it, you will see another icon that says, other options, click on that icon.
The icon will immediately lead you to a registration form. The registration form has a lot of options that require you to fill in detailed information about yourself. These categories of information include your sexual preferences, first name, ethnicity, occupation, date of birth, zip code, email, and desired password. After this, you can click the sign-up button and proceed to the site. Once you get on your website, you should immediately begin the process of creating your profile. Your profile will require a lot of information from you. Some may even seem unnecessary. The key should be to fill your profile in such a way that you would enjoy looking through it if it was someone else's.
Your account will be easy to use and will have several taskbars that make all the necessary functions very accessible. Note that EastMeetEast will run a location search on you to make sure that you're not a catfish account. But don't worry, they do this to everyone, so you can join the site and feel safe and secure.

Communication/Matches
Getting matched on EastMeetEast is not difficult at all. In fact, it is quite easy. From the moment you get on the site, your home screen will be filled with different profiles, and you can begin browsing through them to choose one that suits your preferences.
The profiles that appear on your screen are recommended profiles which are brought to you based on the information you fill in on your profile.
For example, if you said you love reading books, the site will recommend other bibliophiles to you. This way, you have a much better chance of meeting someone you will like.
Another great feature that will help you get matched is the recommendation based on the profiles you check. The way this works is that the site uses an algorithm that studies the type of profiles you look through and uses the information it gathers from them to recommend similar profiles to you.
For paying users, this site has a specially customized one-on-one match. They select the profile they consider to be the most compatible with and match you both together. It's a two-sided thing, and both parties will be looking forward to the conversation. This automatically destroys the need for awkward ice-breakers or corny pick-up lines.
You should remember, though, that the site can only do so much to help you get matched. You'll be the one who will be holding conversations, and as such, you will have to be polite, friendly, and engaging. Your goal is to impress the person you're talking to. Shoot your shot and have fun.
How to Search for People on EastMeetEast?
Searching on EastMeetEast is made easy by the search function, which is made available to all users, even those using the free option. When you click the search function, you will be presented with a line of profiles chosen based on proximity to your location. If the results aren't satisfactory, then you can decide to filter your search results. The search results can be filtered based on location, new members, the highest rated profiles, ethnicity, and age. If you're using the paid option, you can even go further and filter your search results based on character traits, physical specifications such as weight, height, and even hair colour.
How to Delete EastMeetEast Account?
To successfully delete your EastMeetEast account, you will have to contact the customer support team. You will need to send them an email, detailing your reasons for deleting your account and leaving the site. To get their contact details, you will need to look through their contact us section where all the means of contacting them are made available. If you subscribed to a paid option, you would need to attach proof of your payment to the email you intend to send. This will save you a lot of stress and ensure that you get a swift response. You should expect them to try to persuade you to stay, and they can be very persuasive, but the decision of whether to stay or leave is ultimately yours.

Member Structure
Total Members

EastMeetEast has an extensive membership, which is surprising because they are a very niche dating service. They have a whopping 500 thousand users. Considering their numbers, they have a very high success rate. They can boast of having helped over 130 thousand individuals find love; that's quite an achievement.

Top Geography

Although this is a dating site that is exclusive to Asians, EastMeetEast is based in the US. The reason for this is that their target audience is Asian Americans. Because Asians are a minority group in the US, they have a tough time meeting other Asians and forming romantic relationships. This app was designed to bridge that gap.

Age

Most of the users of this site are really young. Although there is a noticeable presence of middle-aged Asians, the vast majority of users fall between the ages of 18 and 30. As for the age limit on this site, only individuals who are 18 or above are allowed on this site. If you are below 18, then you won't be allowed on here.
Sexual Preferences
The users of this site are mostly straight, and mostly we mean the vast majority of the users are heterosexual. However, it is important to note that this site does not discriminate against the LGBTQ community. They provide an option for you to choose what gender you're interested in. Whether you're a man interested in men or you're a man interested in women, you're still going to be provided with a profile. Identifying your sexuality on this site is treated the same way as any other category of your identity. There is no form of discrimination or homophobia permitted on this site. Any homophobia will be reported and will lead to the perpetrator being kicked off the platform. Though they aren't very vocal about their support for the LGBTQ community, they do support all sexualities, and the proof of that is in their settings.
Race and Ethnicity
Though this site is primarily for Asians in the diaspora who want to date other Asians in the diaspora, other ethnicities are allowed on the site. This site does not discriminate against any other race or ethnic group. There is no bigotry whatsoever. The goal of every dating site is to help its users find love, so whether you're Asian or Caucasian, if you find love on this site, it is still a win for EastMeetEast. The problem of race arises when you consider that other users of this site will only want to date Asians. So, if you're not Asian, then you'll have a tough time finding someone who will be interested in you romantically. But you can try if you want, you might just get lucky.
Religious Orientation
This site is welcoming to all religions. Asians are more religiously diverse than almost any other race, so it would be counterproductive for this site to decide to discriminate against any religion. There is a rich mix of people from different religious backgrounds on this site. All forms of religious discrimination carried out by any user will instantly be punished. The perpetrator will have their account taken off this site without warning or hesitation.

Pricing Policies
This site provides excellent service, so it is only expected that it will cost money. They have very affordable prices and discounts depending on what payment plan you decide to use.
Premium Membership
1 Month $34.99 per month ($34.99)
3 months $22.9 per month ($68.99)
6 months $32.99 per month ($197.99)
12 months $11.99 per month ($143.88)

Free Membership
This option is free. It gives you free access to EastMeetEast for as long as you're interested in staying on the site. Unfortunately, you will not be able to send messages on this site if you don't upgrade to a paid option. You will also have to endure ads popping up on your screen every now and then. There's basically no point in using the free option since you'll be seeing so many profiles you can't even interact; it's almost like you're not even a member of the site. The free experience is different for women though. Women are allowed to use the full features of this site for free.
Paid Membership
When you are ready to subscribe to the paid subscription option, you will be presented with several plans that give you total access to the full resources of the site for varying periods. With a paid membership, you will have access to the best that this site has to offer. You will be allowed to send and receive messages and have full access to all the available features. The coolest part is that you won't have to deal with any more annoying ads.
How to Cancel EastMeetEast Paid Subscription?
To cancel your paid subscription, be careful to make sure you're not canceling your account instead. When you cancel your paid subscription, you aim to cancel your premium subscription, not your profile. You will still have access to your account but won't be able to access the features that make the premium account worth paying for.
So just head to the dating site and log in. Then click on account settings, choose subscriptions or payments menu. You'll see options related to payments, look for anything related to auto-renewals, and cancel it. If you do not do this, then your payment will auto-renew anyway.
After this, make sure you contact the customer support and inform them of your decision to cancel your paid subscription. Do this and send your proof of payment as well. Make sure they respond; this way, they can't sneakily charge you for another month or a couple of months.

Is EastMeetEast Safe?
This site is very secure and protects you from hackers and people with fake accounts. They have a comprehensive registration process and only allow the most legitimate people into their site. EastMeetEast is very safe as far as your private information is concerned. They provide the government with only the information that is legally required. They also use location trackers to make sure the information filled in each profile is correct. Apart from your given information, everything else depends on you. So, you have to be smart and make sure you do not give your personal information to anyone you haven't grown to trust, or even better to someone you haven't met in real life enough times. But these types of encounters are not so don't get worried or anything like that. Just be chill and have fun.
Quality of Profiles
The profiles are very detailed and incredibly meticulous with how they present information. The way the data is displayed, from the profile picture to the itsy-bitsy details who owns the profile, is all displayed spectacularly. The profiles give a lot of information into the character and personality of the person who owns the profile. You can view the picture gallery of the person who owns the profile and also videos. If the owner includes them. The account provides information such as age, nickname, ethnicity, height, status, body type, as well as a bio and other helpful details about the person behind the profile.

Website Design and Usability
EastMeetEast is designed to meet the needs of its users simply and effectively. The design of the interface is basic but not lacking in quality. The functions are easily identifiable, accessible, and simple to use. You have your private inbox, your search function that helps you to search for possible friends or matches. There is also a customer support team that will help you out with whatever problems you may encounter, making your stay on the site easy and free of difficulty.
How does EastMeetEast Work?
As soon as you register your account (you must do this accurately because if it is discovered that you falsified any information, you will be at risk of having your account terminated), you can begin to use the site immediately. You then have to choose whether you want to pay for a premium subscription option or use the free option. This decision will largely determine your experience on this site. Once you've sorted out your registration and made your payments, you can begin to interact with other members on this site. You are free to use the search function to look for profiles that you like, and you can send messages and start flirting! As long as you abide by the rules, you'll have a productive time on this site.
EastMeetEast App
Yes, they have a working mobile app. This app works for both iOS and Android. The app is free and has a charming design. The aesthetics help create a romantic atmosphere, and the functions are easy to use, making it much better than the website.
Alternatives of EastMeetEast
ChinaLoveCupid

This is one of the most popular dating sites for Asians. It is only for Asians who want to date other Asians and, even more specifically, Asians in China. The site has a free mobile app. The downside is that you have to pay to get the best features of this site, but it is worth paying for.

AsianDate

This site is aimed at anyone who wants to date Asians. It isn't an Asian only dating site; all races are welcome. However, it markets its strong and beautiful Asian membership as its appeal. People who want to date outside their race and specifically Asian people are all welcome to this site.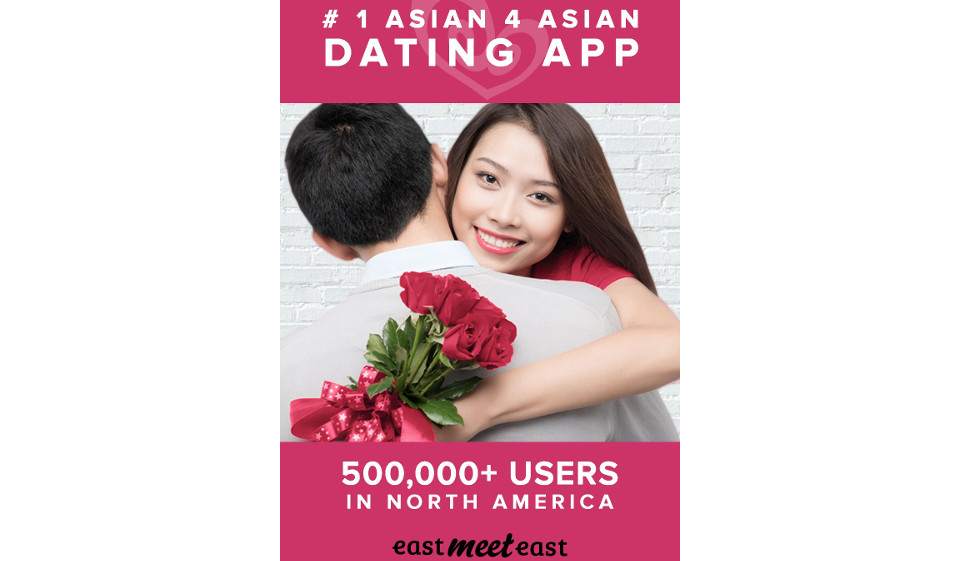 Conclusion
This site offers Asians in the diaspora the best dating experience. The features of this site are top quality and easy to use. The aesthetic is simply amazing and perfectly fits the theme of this dating site. Overall, we highly recommend this dating site and can assure you'll get quality for your money. Go try it for yourself.
Company:East Meet East, Inc.
Address: 32 W 39th Street, Suite 4, New York, NY 10018, USA.
Phone: N/A
Email: https://www.eastmeeteast.com/feedback