Online dating websites are currently very popular. Some of them deliver international dating services, some offer a more localized scope, and others focus on specific relationship goals, such as long-term commitments or hookups.
HER is a website that offers a unique dating experience. They are geared toward lesbian, hence the name. However, HER is more than just any other dating site. Users can find hookups and long-term relationships on the website. Also, this platform serves as a safe space for lesbians to come together as a community.
When was HER Founded?
HER used to have a different name in the past. It was called Dattch back when it was launched in 2013, which means "date catch." In 2015, this unassuming brand name was subsequently changed to a bolder one: HER.
Who Owns HER?
Robyn Exton founded HER. This site receives investments from various parties, including Telefonica and W3 Ltd.

Registration & Profile
So how does one become a member of HER? This site takes a new approach to profile registration. They believe that the popular email verification process is tedious, and it does not provide enough security. You could ask users to verify their details later, but those are additional steps people do not want to go through. Even worse still, scammers can get through with all of these measures. So clearly, it is ineffective.
What does HER do? They ask their users to link their social media, and it speeds up the registration process considerably. It saves people time and hassle filling in their details and uploading their photos. HER will do that for you by transferring all aspects of your social media profile to their site. Users can either link their Instagram or Facebook accounts. In doing so, your username will be generated based on either your Facebook or Instagram username. As for the photos, users can edit them later. The entire process takes around 60 seconds.
It also makes sense for security reasons. The moderation team on HER will review all applications and can approve or deny requests based on their evaluation of user profiles. Since authenticity is everything, it is complicated for scammers to craft a perfectly authentic social media profile. However, this review process has raised concerns. Some people reported that their applications had been rejected because they looked masculine, although they were women.
That said, keep in mind that men are not allowed on HER. This website is exclusive to lesbians. Other than that, we found that there is no way to register on HER via the desktop site. You will need to use their mobile app to do that.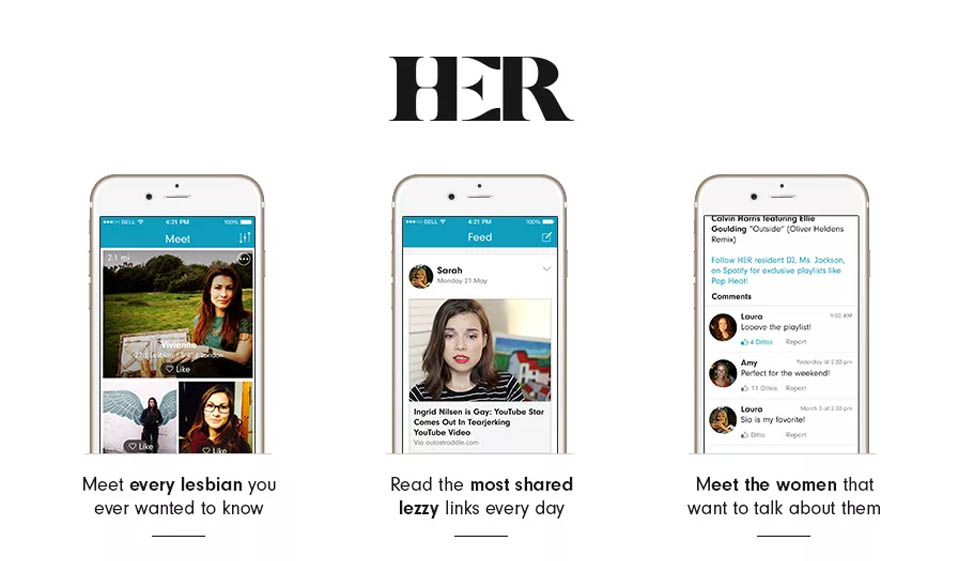 Communication/Matches
Next up, let's talk about how users can contact each other. As with any other dating platforms, we will need to look at the chat system first as it forms the bulk of communication. To our surprise, they do things differently here as well.
You see, free users can message each other without having to purchase a premium membership. However, this is only possible if users have added each other as friends or have been matched.
How to Search for People on HER?
The search feature is a bit limiting. There is no manual search, meaning that you cannot just look up every other member on HER. The search function only helps you find users whom you have added as friends.
So how does one reach out to other people? Users will need to use the match system to do that.
How to Delete HER Account?
This process is very straightforward. Simply go into your account, where you will see a support option. Click on it, and you will see the option to delete your account permanently. Click on it and confirm your decision. Keep in mind that in doing so, all your data will be wiped from HER database, and you will need to start from scratch. Your decision at that moment will be final, and there will be no way to recover your account after this.

Members Structure
First, it pays to know what you are getting yourself into. What does the user base look like on HER? There are more than 4 million users on HER worldwide, 1 million from the United States alone. Of course, everyone on HER is women, lesbians, to be precise.
Sexual Preferences
HER welcomes women who are either lesbian or bisexual.
Race and Ethnicity
HER does not discriminate when it comes to race and ethnicity. Users from all over the world can join their ever-growing community of lesbians.
Religious Orientation
Concerning religion, HER welcomes all users with all religious views (unless, of course, they like other women).

Pricing Policies
So, how much does it cost to use HER?
Free Membership
Technically, you can use this dating platform as a free user. You have enough functions at your disposal to find matches. Free users have access to the following features:
Creating an account
Check out other user's profiles
Live messages
Live notifications
Access to the Meet and Feed features
Paid Membership
However, to get the best experience on HER, you will need to upgrade to premium membership, of which there is only one plan. With a premium membership, users have access to the following features:
Online status
See who likes your profile
Change your location
Unlimited matches
See who read your messages
While there is only one plan, there are three durations to choose from. The 1-month plan will cost you $15 a month. Its 6-month plan goes for $10 a month. Finally, its 1-year plan costs $.75 a month. Users will be charged once immediately upon purchase and will be automatically renewed at the start of every billing cycle. That means you will pay $90 upfront for their 1-year subscription and will be charged every 12 months. For the 6-month plan, you will be charged $60 immediately and will continue to charged $60 every six months.
Needless to say, if you like HER and want to go premium, we recommend going for the 1-year plan since it provides the best value for your money. You only need to pay $7.5 a month, which translates into 25 cents per day. It is hardly a spare change.
Users have two payment options: credit card or mobile phone.
How to Cancel HER Paid Subscription?
Should users want to cancel their premium subscriptions, they can do so by going into the settings where they first activated their subscription, and they will find an option to cancel their subscription. Keep in mind that you will only be compensated within the first month of the plan. Anything more than that and you will not get a refund. However, when you cancel your plan, you still get to enjoy it up until the next billing cycle, by which your membership status will be reverted to a standard member.

Is HER Safe?
The biggest question is whether HER is safe? They strive to provide their users with a safe space to interact, but how well do they do that?
Thankfully, you have nothing to worry about because security is top-notch, and scammers will have a very hard time getting into the platform.
The fact that new users have to link their social media to register takes away all of the scamming threats because HER has a moderation team that reviews all applications thoroughly. Putting together a completely organic-looking social media profile is an impossible task.
On the cyber front, there is also nothing to worry about. Users' connections are secured and encrypted, meaning that there is no way a third party can see what data you're sending to HER, including personal and banking information.
Speaking of sensitive information, HER adheres to strict privacy guidelines. They guarantee that all sensitive data from their users will be kept confidential and will not be shared with a third party.
Overall, we have nothing to complain about HER in terms of security.
Quality of Profiles
Next up, let's talk about HER profile quality. Unlike other dating service providers who confine their users to certain templates, HER offers much more customization. The basic details of a user include:
Username
Age
Height
Sexuality
Gender identity
Relationship status
Photos
Text items
Friend list
Out of all of these, few stood out for us. For one, users have many options when it comes to defining their gender. It includes female, non-binary, gender fluid, intersex, two-spirit, agender, FTM, the list goes on.

Another thing worth noting is the text item, which is why we mention that HER offers its users many customization options. Users can add text items to their profiles to give them more space to express themselves any way they want. It is a pretty neat feature as there is no one-size-fits-all when it comes to profile customization. So why not let users put together their profiles as they like it?
Other than that, one's friend list is visible to everyone who visits your profile, although we do not know why HER takes it in that direction.
Finally, there are photos. Upon the account creation, users should have plenty in their profiles. However, we recommend manually uploading some pics yourself because the system can take some bad photos from 5 years ago. Based on our research, it appears that the sweet spot is eight photos per profile. That is considered to be plenty enough to tell others all about you. Providing fewer than this and other people may not learn much about you, but providing any more than that and it won't add too much value. So, eight photos are the sweet spot here. Do make every photo count.
Website Design and Usability
Next, let's look at the overall aesthetics of HER. From the loading screen alone, we are greeted by a very modern and premium looking landing page. It looks very clean and very well-made. All fonts are large and easy to read. Overall, very pleasing to the eyes.
The website is also very easy to use. Every button is thoughtfully placed so that users don't have to look far to find the things they need to click on.
It is on the landing page when we found that HER strives to be more than just a dating platform. They also want to provide a safe space for lesbians. At the top, users will be instructed to download their mobile app on either Google Play or App Store. From what we can tell, there is no way to register on HER from a desktop browser.
That means the desktop site is more of a community platform than a dating platform. Looking more into the landing page proves our theory. For one, there is an online resource for lesbians in the form of blog posts. HER desktop site also serves as a board to notify users of any events hosted by lesbians near them.
Finally, at the page bottom, users will find a place to share their success stories for those who have found true love on HER. There are also community guidelines to help new users familiarize themselves with this dating platform before joining.
Overall, HER is very considerate of new users and provides them all the information they can access. That way, new users will not be overwhelmed and feel always welcomed.
When it comes to features, there are quite a few that are noteworthy. They are Meet, Feed, and Events.
Meet forms the core of the HER dating platform. It functions similarly to Tinder's matchmaking system. Users are presented with many pictures of other users, and HER swiping functions are the same as that of Tinder. You swipe left to dismiss and swipe right to match. Only after two users can they start talking to each other. While this function is random, HER gives its users some control over the system by allowing them to tinker with a few features. That includes age and proximity.
Another feature is called "Feed." It functions similarly to the Facebook newsfeed, where you can talk to other users outside the messaging system. The live feed is updated with fresh posts constantly. Users can like and comment on those posts just like Facebook. Users can also write posts of their own and interact with other community members this way. We recommend you join in and post regularly so that other people can easily find you.
Finally, there is the "Events" feature. Users can find events on their live feed. There will be many, ranging from cooking to comedy shows. The users organize these, and we also recommend you participate if you can as you can get to meet other people in real-time.

How does HER Work?
Her matchmaking system works on user-provided info. The match system takes the details to match them with other people who share certain common traits such as sexuality, age, and proximity.
HER App
As with any dating providers, convenience is always a top priority. Users want to stay connected on the go effortlessly. Online dating would not be so convenient if they have to sit in one spot in front of their computer anyway.
For this reason, HER did not settle for mediocrity. They focus most of their efforts on developing its mobile app, which is available for both Android and iOS. Its interface quality reflects that of its desktop site counterpart.
The design is minimalistic and modern, which is very pleasing to the eyes. Users will have no trouble using this mobile app. While they are stuck with the small screen of their phone, they can remain connected while out and about.
Alternatives of HER
If HER does not suit all your needs here are some possible alternatives:
OkCupid: A free platform that also has a large LGBT user base
Chemistry: An LGBT dating platform with a powerful matchmaking system
Match: A safe platform with a large user base
Compatible Partners: Reminds of eHarmony in terms of functions, but exclusive for LGBT users
Senior People Meet: For lesbians looking for mature people

Conclusion
With all that said, is HER a good dating platform? Absolutely. They provide the LGBT community an exclusive space not just for dating, but for meeting and interacting as well. They have succeeded in doing so by a fair margin. Their platform is very easy to use and well optimized on both the desktop and mobile sites. The security is top-notch, and even the premium plan is very well-priced. We recommend you use HER if you are a gay woman looking for a safe and welcoming dating space, or even if you are just looking for interaction with other lesbians.
Company: Bloomer, Inc.
Address: 1760 Mission St, San Francisco, CA 94103
Phone: n/a
Email: support@weareher.com