LiveJasmin is one of the top-established adult video chat sites. Live chat and video cam features are up to the highest standards here, while naughty boys and girls try their best to seduce you. Magnificent beauties with lush bodies and angelic faces, gorgeous hair, and naughty eyes dare you to join. What makes this platform such a popular adult webcam dating site? You can fulfill your fantasies here, without technically being unfaithful to your partner. Members connect with amateur porn stars and models that perform live from studios or their own home anywhere in the world.
When was LiveJasmin Founded?

LiveJasmin was founded in Hungary in 2001 by György Gattyán, an electronic commerce entrepreneur who developed and subsequently launched the adult dating platform. Whatever one can say about the platform and its functionality, one thing is certain: LiveJasmin has stood up the test of time. Today, it is one of the oldest and most trusted cam sites in the world; and that does say something about this service.
Who Owns LiveJasmin?
Duodecad IT Services S.à r.l. with its head office in Luxemburg owns and operates LiveJasmin. Still, this service is truly international, so anyone can use LiveJasmin.
Registration & Profile
Signing up at LiveJasmin is as smooth and hassle-free as the website itself. Go to the chat site's home page to access the "Join Now" button. For obvious reasons, LiveJasmin does not offer any social media registration options. The simplest form of registration that does not require you to put yourself "out there" seems to be the right choice in this case. It includes only a username, password, and email address. You don't even need to verify your account, and in all probability, can you even use fake info. Your account is now active, and you can choose to remain a basic member until you are ready to add credits for additional Premium features. You don't have to add personal details or upload a photo, and you can enjoy total anonymity if you wish.
Communication/Matches
Everything is simple: you are here to enjoy it. If you have some preferences on the models you like, add them to your favorites list at the top of your screen for easy communication. Premium members can send messages to models. Take your time to look through and let the fun time begin!
How to Search for People on LiveJasmin?
The quickest way to search for anyone is to go to the top of the website page and access the search bar. If you know the performer's name, you can enter it, and she will appear. Other parameters that you can enter include terms like willingness, body type, eye and hair color, ethnicity, etc. When you want something different than a standard webcam model, access the main categories. Here you have options like a boy, girl, mature woman, BFF, couple, fetish, transgender, gay, etc. All in all, LiveJasmin has plenty of models to choose from and can easily accommodate any fantasies or sexual preferences.
How to Delete a LiveJasmin Account?
When you wish to cancel a subscription, go to your account's privacy settings. Here you select "Forget My Data." When you click the button, your account, along with all your personal information, is erased, and your profile is officially deleted.
Members Structure

LiveJasmin members show an incredible increase, especially when compared to its competitors. Few other dating and similar adult webcam platforms offer such a variety of models that you can find on LiveJasmin. Members appreciate the casualness that accompanies this site as well as its trouble-free navigation, models interaction, and model diversity online. Over 20,000 exciting users come from the US alone. In numbers, Canada takes second place and is followed by Australia and the UK.
As for the age distribution, most users are between 25 and 45 years old. There are plenty of members between 18 to 24, while there are fewer members above 55. There are strictly no under 18 models and no under 18 members allowed on LiveJasmin. 40% of their users are female, and 60% are male. So, the odds are more or less equal for both sexes, even though the gender ratio is still a bit skewed.
Sexual Preferences
LiveJasmin certainly welcomes people of all sexual orientations as it states on its pages and sign-up form. Trans models, couples, straight, gay and lesbians are very welcome on this site. Even more so, their presence online is clear. You can find satisfaction, no matter how kinky you are.
Race and Ethnicity
This site does not disclose precise stats about its ethnic structure, but the userbase should be diverse considering LiveJasmin focus. Anyone looking for white, black, Asian, or afro dating should have no problem with finding it here.
A colorful collection of nationalities is gathered on LiveJasmin. Here you have different races and models from countries around the globe. From Asian to Ebony, Latin and White users have thousands of exquisite models of both sexes to choose from. You can also search for any nationalities you feel like watching today. You will not be disappointing with the opportunities.
Religious Orientation
For obvious reasons, it would be inappropriate to ask anyone about their religious orientation on LiveJasmin. You will not be required to state your religious views. Still, given the nature of this service, we would not call this site religion-friendly. So, keep your faith within your heart, no need to talk about it.
Pricing Policies

The currency on LiveJasmin is credit-based. In exchange for credits, users get services. You can spend these credits on many things. Use the credits to have conversations with models, take pictures, use for private rooms, surprise your models with gifts, etc. Compared to competitor platforms, LiveJasmin does not have subscriptions. To enjoy the models and additional privileges that free members do not have, simply purchase credits — as many (or as little) as you please.
Free Membership
Few users remain free members for long, although LiveJasmin free services are quite impressive. You will be able to enjoy short conversations with the models during live broadcasts. You can browse model's galleries and vote for your favorites to be awarded. You can also add models to your personal favorites list. Ten minutes of free broadcast viewing round off the free member perks.
Paid Membership
For a paid member, LiveJasmin benefits get yummy as you will be able to enjoy live interaction with your model of choice. You can cheer her with gifts, play games, or start a private show since you can turn on your microphone for them to hear you, and yes, turn on your camera and let her see you, too.
Users can use payment options like Bitcoin, PayPal, Direct Debit, Credit Card, and Bank Transfer to buy credits. You can choose a custom amount, for example, $315.99 will give you 188 credits or use the following package examples:
$33.99 for 17.99 credits
$50.99 for 27.99 credits
$112.99 for 67.99 credits
$165.99 for 97.99 credits
$265.99 for 157.99 credits
Note, however, that the cost of using LiveJasmin will vary greatly depending on the services you order. Some models are rather affordable, while others will have a pretty steep price tag on their live shows. And, this site charges per minute, the amount you pay will also depend on how much you actually interact with LiveJasmin models.
How to Cancel LiveJasmin Paid Subscription?
LiveJasmin is not a subscription-based adult site. You are either a basic member, which is a free member. You may also buy a specific amount of credits that you use in various sections of the site, which makes you a premium member. As soon as you run out of credits, you become a free member automatically, until you top up your account. Simply put, you do not need to cancel anything — you can simply stop buying credits, and any previously purchased coins will not auto-renew. If, however, you want to delete your account permanently, you can always do so from the account settings. The whole procedure will only take a few clicks.
Is LiveJasmin Safe?

LiveJasmin users can rest assured that their data and personal information are safe and secure. Private data is protected using extraordinary measures. Both VeriSign and McAfee validate the platform on a regular basis.
The billing platform meets the stringent PCI DSS requirements that include software design safety, network architecture, security management, etc. As far as functionality and security go, LiveJasmin is a scam-free site. The unique design with consistent camera feed monitors ensure that to date, LiveJasmin has not had security breaches.
Quality of Profiles
LiveJasmin certainly offers the cream of the crop. It is difficult to figure out how it boasts such amazing models, attracting the stunning boys and girls. While the hundreds of models are categorized according to features, preferences, kink, diversity, sexuality, etc., not a single model looks out of place or can be called tacky or slutty. Even in the light of explicit videos and photos, profile quality remains classy and superior.
Regarding the authenticity of LiveJasmin users, you have nothing to worry about. This site is pretty straightforward — you pay, you watch. Performers' profiles are not very detailed, but since they perform, you can easily see that these people are real.
Website Design and Usability
LiveJasmin boasts an impressive design and, indeed, is an aesthetically attractive platform. It features a trademark red background with a sleek user-interface that balances refinement and class with the massive amount of visible skin. Consider that many similar platforms come across as shady and trashy with the amount of nudity and explicit sexuality, but somehow LiveJasmin remains classy. This is a huge point in their designer's favor because most adult sites do not feature such an elegant design.
Navigating LiveJasmin is easy as a summer breeze, and no one should have a problem finding features they need. This site is user-friendly, bug-free, and easy to figure out; all essential buttons are right where they should be.
How does LiveJasmin Work?
LiveJasmin certainly cannot be called unique when you consider the vast number of adult dating sites available. However, it does offer unique features that you will not find elsewhere. As a top webcam site, members choose their favorite model or models if they prefer a three-some. All models are willing and venture to a private chat room if a user wants. Using two-way audio, anyone can converse with models in private chat. Cam2Cam is another feature that allows the member and models to share camera feeds. It is important to take note that these are for premium members; that is, for users who only pay for privileges. Free members can chat with models in a chat room with other members. Depending on a model, they might watch live sex shows and other delectable adult actions aside from chat.
LiveJasmin App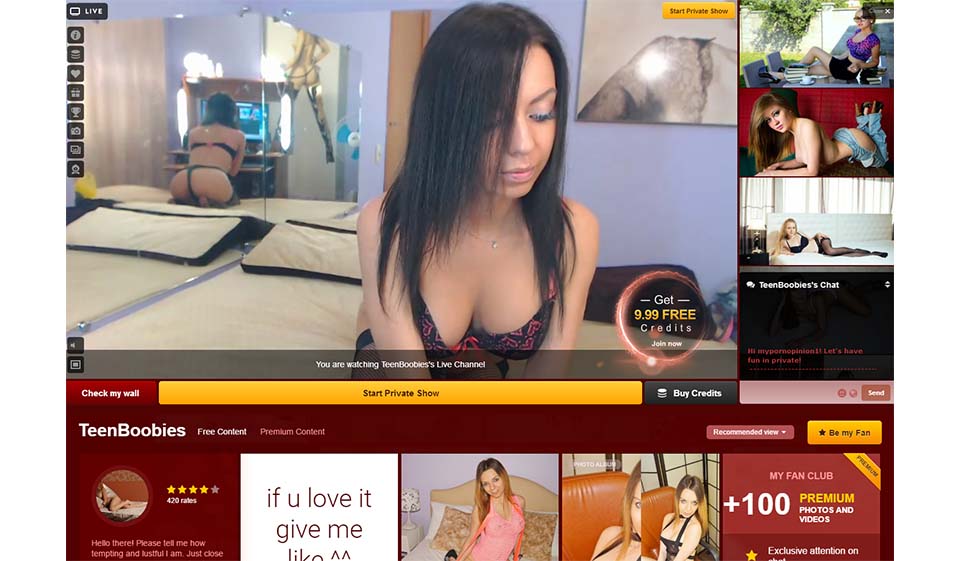 You should not try to get a LiveJasmin App from the Apple Store or Google play because, here, you will leave disappointed. Visit the LiveJasmin website via a mobile device, and you will notice a sleek, free to download LiveJasmin App. Via the app, you have all of the features and models available, and navigation remains as smooth as before via the desktop. And the best part is — this app works both with iOS and Android. On second thought, it is clear why you have to download it from the official site. After all, mobile market places limit the number of adult products in their respective stores. So, it really is not LiveJasmin's fault — they did a great job on app functionality.
Alternatives of LiveJasmin
While there should be no reason why you wouldn't want to be a member of LiveJasmin, you might still prefer to look at another adult website. For your pleasure, we include three top alternatives:
Ashley Madison: This is another established discreet adult website formed in 2001. It is one of the top websites with the majority of married and mostly middle-aged gentlemen among its members. A large number of this international platform's traffic comes from the USA, Brazil, Canada, and the UK. If you want another name for Ashley Madison, it is called the "Affair Site" as discreet online relationships are formed here.
Flingster: Flingster is different from the competition because there, you have AR masks that keep you anonymous. However, personal information must be shared during registration. On the other hand, you have a bonus to enjoy video chat for free. This platform is geared towards males, who present the vast majority of its members (70% to be exact). Over two hundred thousand male users come from the USA.
AdultFriendFinder: Adult Friend Finder has a member count of over 80 million, making it a sought-after chat platform with plenty of male members. Unfortunately, this widely used global adult dating site also attracts fake profiles and bots. New members must verify their account, as well as provide some personal information like sexual preference and other basic data. Members of Adult Friend Finder are sexually active, diverse individuals with the majority living in the USA. Only about 20% of Adult Friend Finder members are female.
Conclusion
Consider that LiveJasmin has been online for almost two decades, and you know that they must be doing something right. You will see other adult dating sites come and go due to increasing numbers of bots and fake profiles, but that is something you won't find on LiveJasmin.
LiveJasmin takes strict preventative measures against the rising number of scams that continue to plague other adult sites. Compared to affair dating sites, LiveJasmin members prefer webcams as these are not regarded as cheating. However, live cams do offer a chance to indulge in fantasies and sexual desires, especially for married and involved people.
While some models may be pricey, most of them live up to high expectations. Paired with high-security policies on LiveJasmin, you get one of the best live cams there is.
Company: Jasmin Media Group
Address: Duodecad IT Services Luxembourg S.à r.l.
Société à responsabilité limitée
L-1855 Luxembourg (Kirchberg)
44 Avenue John F. Kennedy, Axento Office Building
Grand-Duchy of Luxembourg
Phone: +352 20 88 27 91
Email: help@dditservices.com