BookofSex is a dating site for people who search for a sexual affair for one night. People who want to fall in love and start a family will not find these on this adult portal. The site community is attractive, hot, and emancipated men and women from all over the world. All of them come to the site not to find love; they look for mind-blowing sexual experiments, erotic encounters, and thrilling adventures with liberal-minded individuals.
BookofSex is a platform for those who search for one-night sex without any promises. Single and married people, couples, gay men, lesbians, swingers of all ages use this adult site for occasional hookups. Members can send messages, arrange video chats, and watch incredible erotic shows with the webcam models. Registration costs nothing, but there are a lot of subtle features available for paid subscribers.
If you are a romantic person who feels embarrassed to talk about sex openly, BookofSex is not the right space for you. On the other hand, if you are an emancipated man or lady who loves sex and does not feel shy to talk about your erotic fantasies, this adult platform is what you need.
When Was BookofSex Founded?

The site dates back to 1996. The site has served a lot of curious adults during its 25-year existence in the global dating arena. BookofSex user base counts around 80 million people. It is an impressive number considering a keen competition on the market. Still, BookofSex proves its effectiveness in connecting hotties who search for sexual adventures with similar minded people worldwide.
Who Owns BookofSex?
BookofSex belongs to a well-known dating portal Friendfinder. The site is operated by Various Incorporation in the United States of America and by Ventnor Ltd in Europe. Their contact details appear on the official website of BookofSex.
Registration & Profile
When people come to an adult dating site, the last thing they want to do is to waste too much time on registration. They wish to sign up right now and start searching for other hotties in their area. BookofSex creators understand their primary audience and try to follow their needs. For this reason, they made a registration process for newcomers like a piece of cake.
How to sign up
Signup on BookofSex takes about 3-5 minutes, depending on how quickly you type and want to fill in all the necessary data for starting using the site services. The Signup button locates in the upper right corner of the home page. Click on it, and you will see a pop-up window which consists of several fields. You will need to write your valid e-mail address, password and come up with a username. As a rule, the site members chose creative nicknames, which reflect their actual aim of coming to this adult portal.
In the next sections, you will need to specify your location and age. Note that only people older than 18 can sign up on BookofSex. That's it! The registration is over, and it did not take much time or effort. New accounts do not need to pass identification by a moderating team. On the one hand, it is good because it makes the signup process easy; on the other hand, ID confirmation might be effective against scammers.
How to create a profile
The profile creation is as simple as registration on BookofSex. The site developers deserve admiration for this. New members need to go to the Profile setting section and fill in their personal information there. First of all, they need to write a title and a short description of their profiles. The paragraph should be no longer than a couple of sentences. It is useful not to write such phrases as "I am looking for true love" or "I want to meet my life partner and build a family." Remember that BookofSex is not the portal for love-seekers; it is a place where people want to get sexual encounters for one night.
The site members do not have to pass personality tests or something like this, but they still need to add some personal information to help them connect with other users. This information involves ethnicity, body type, sexual orientation. Members can also add some details about their sexual preferences and their secret fantasies. It is essential to write honestly while filling this information because it will help you match those who share your interests.
The final phase is describing what kind of person you want to meet here. You can mention his/her appearance, height, weight, ethnicity, preferred location, and age. After filling in all the text fields, you can download photos to make your profile complete. There is no need to say that nude images are welcome on BookofSex. The site policy allows adding explicit images, and most of the site members do it with pleasure. That is all about the profile creation. The site administration does not check the profiles, but they always react to the claims about the reported scammers or misbehavior.
Communication/Matches

When the profile creation stage is over, it is time to start searching for other hotties. Fortunately, the primary audience of BookofSex is adult men and women who are not shy to connect with like-minded individuals and start a simple conversation. The members have several options to start a conversation: messages, winks, likes, video chat. However, some of these features are available only at an additional fee.
Paid subscription gives priority to contact other visitors. You can still express your interest in someone by sending likes if you have no desire to pay a pretty penny for the golden membership. Paid members can arrange video chats and streams with webcam girls. It is a useful option for those who do not want to write long ice-breaking messages to get into contact. During video chatting, you can see a person in a private atmosphere and make the first impression face to face. At the same time, golden members do not have an option to highlight their profiles when searching for matches.
The best thing about profiles searching on BookofSex is that, first of all, the site members see the matches in their location. For example, when you just come to the site and do not register yet, the first thing you will see is the introduction window, which says, Find sex partners near your city. And it mentions the name of your city, for instance, New York, Berlin, Prague. It is a convenient feature because, as a rule, the site visitors look for sexual partners in their area. None of them will cross half of the globe to meet someone just for sex. The site developers did a great job making a search process as effortless as possible.
How to Search for People on BookofSex?
BookofSex does not ask the new members to pass psychological tests to get the best possible matches afterward. Nevertheless, the users still have to answer some questions to make the search process effective for their favor. People need to mention what kind of relationships they look for, their sexual interests, and their secret fantasies. The more precise answers you will give, the better the chances of connecting with the proper candidates.
First of all, users can see matches in their area. After that, they just need to scroll the profile's gallery and connect those persons whom they like more. For a start, you can send likes to an object of your interest or a welcoming message (if you have a paid subscription). Golden members can search for hotties using advanced filters.
How to Delete BookofSex Account?
If, for some reason, you want to stop using the BookofSex site, you can always delete your account. If you find true love and do not wish to surf dating sites for new erotic adventures, you can live BookofSex once and for all. Go to My Profile section and click on 'delete my account.' The site will ask you to confirm your actions. Just choose 'Confirm,' and the system will automatically delete your account. If you decide to return to the portal later, you will need to create a new account.
Members Structure

The site user base counts around 80 million people worldwide. Research shows that the most massive audience locates in the United States and Europe. The average age of BookofSex fans is 26-40 years old. A strict condition of the site policy is that all members should be older than 18.
The primary audience of BookofSex is adult men and ladies of different ethnicity, religion, and sexual orientation. These are emancipated, free, and open-minded adults who do not come to the site to search for love at first sight. All of them register on the platform to get new breathtaking and thrilling sexual impressions.
Sexual Preferences
BookofSex is an open dating portal for adult people of diverse sexual preferences. Men come here to search for ladies; singles search for couples; swingers want to find threesomes; married people search for sexual affairs aside from the family nest. In general, this site is suitable for people who love sex and do not shy of talking about their preferences openly.
Race and Ethnicity
Members of different races and ethnicity are welcome on BookofSex. The prevalent number of users is white men and women at the age of 30-35.
Religious Orientation
Religion is not the primary thing that interests other users about you. Some members do not even specify their religious orientation in their profiles. However, if this moment matters to you, BookofSex is an open dating site for persons of different religions. If you search for someone particular, for example, Christians, you can specify this detail in your profile description.
Pricing Policies
All sex-seekers can use BookofSex for free, but they will get only a standard set of options. If you want to use supreme search filters and other additional features of the platform, you will need to consider buying a premium subscription.
The costs are the following:
one month — $30;
three months — $60;
one year — $161.
The price is not super high, but it is not the cheapest variant among similar adult dating sites.
Free Membership
Newcomers can register on the portal for no fee, but, in this case, they will not have access to most of the site features. Besides, many free members complain about lots of advertisements while surfing the platform.
Free features:
Search for other matches;
Send winks;
View profiles;
Block annoying members;
Contact the customer support team.
Paid Membership
Paid members receive all the features available for their free co-members plus a lot of other excellent features considering chatting and messaging.
Paid features:
Get messages and respond to them;
Connect through video chats;
Arrange streams via the webcam;
Favorites list;
Check who visited their profiles;
Apply supreme search filters;
No annoying ads.
There is no free trial period on BookofSex. Users can purchase a subscription for one, three, or twelve months. Experienced users recommend starting with a one-month subscription to evaluate all pros and cons of the dating platform and its members.
How to Cancel BookofSex Paid Subscription?
Members cannot cancel a current subscription before the expiry date. After the existing subscription expires, they can cancel it in the account settings.
Is BookofSex Safe?

When adult people come to such dating sites as BookofSex, the first thing they worry about is whether it is safe for use. It is easy to understand their fears because some members are married or have children and do not want their relatives to find out about their guilty pleasure. The site policy states that they store all personal information of their members solely for the internal needs and do not pass it to interested parties.
Quality of Profiles
Profiles on BookofSex are not very detailed because members do not pass any personality tests when they register on the site. There is also no ID confirmation as a moderating team does not ask the newcomers to verify their profile photos. On the other hand, a lack of these security measures does not influence the quality of profiles. All members try to present themselves in the best way and pick up their favorite (often explicit) images for adding to the accounts.
Users can boost their profiles efficiency in the search ranking by writing an attractive title and description. Plenty of BookofSex members are mature men and ladies who search for one-night affairs and sexual encounters with similar people.
Website Design and Usability
BookofSex design corresponds to its primary goal – connecting sex-seekers in their location. There is a large picture of a kissing couple on the home page. The signup and login button are on the upper panel for an easy search. The site has localization available in eleven languages, including English. In general, members admit that they have no issues about using the site, but free subscribers complain in multiple promotional ads they see here and there.
How Does BookofSex Work?
BookofSex works on desktop and mobile phones. Registration will take less than five minutes. Users do not have to verify their profile photos to get a membership on the site. Members search for sexual partners and casual hookups in their area. Even though a subscription is free, only golden members can use messaging and chatting features on the platform. There is also an option to watch streams with webcam models.
BookofSex App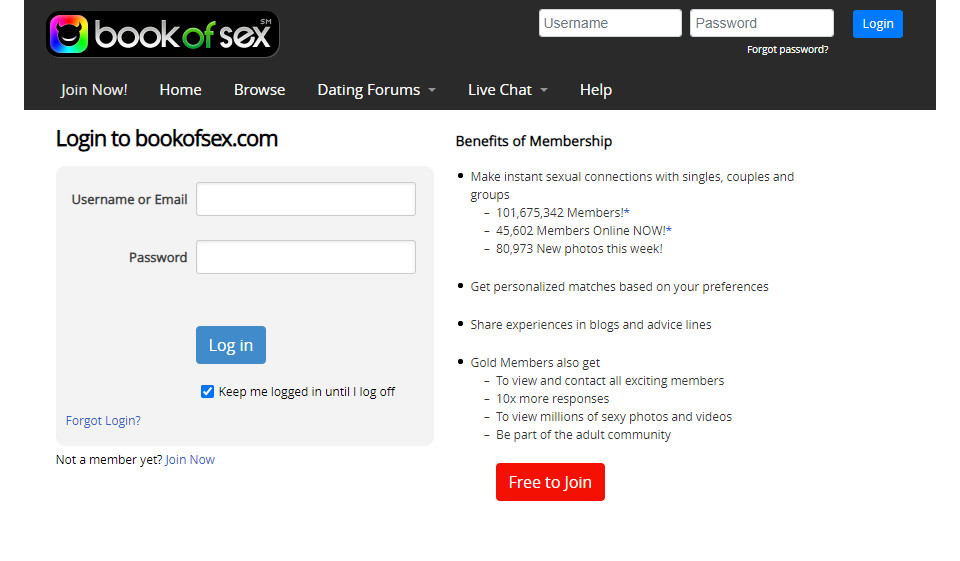 One of the main disadvantages of BookofSex is the absence of the mobile app. It is even weird that a dating site with almost a 25-year existence on the market does not have its mobile application. For those who prefer using the site on their phones, the only thing to do is to use its mobile version. In general, it has the same features as the desktop one.
Alternatives of BookofSex
BookofSex has a long history in the online dating market and has a lot of competitors. Those who use BookofSex will probably like its alternatives, like Fling, UberHorny, SnapSext, etc. All these sites have a lot of in common: their primary members are attractive, hot, and emancipated ladies and men who do not search for something serious, but just want to get a sexual affair for one night. For those users, who hesitate about what dating site to choose, experts recommend selecting by pricing policies, profile quality, and security concerns.
Conclusion
BookofSex fans admit that it is a platform full of the most attracted and unconstrained hotties from all over the world. The site helps connecting adults who search for sexual affairs and erotic experiments with someone likeminded. Those who dream of true love and romantic relationships will not find all of these here. They can search for love on other dating platforms, but those who love sex and want to try something new with attractive hotties from their area will evaluate all the benefits of BookofSex.

Company: FriendFinder
Address:
US by Various Inc.: 910 E. Hamilton Ave. Suite 600, Campbell, CA. 95008
EU by Ventnor Enterprise Limited At Suite 2, Second Floor 145 High Street, Colchester Essex C01 1PG.
Phone:
+1-408-702-1033
888-575-8383 (US toll free),
0800 098 8311(UK toll-free),
1800 954 607 (AU toll-free),
408-702-1033 (worldwide).
Email: use the sending form in the 'Help' section of the site