SilverSingles is a senior dating site focused on singles who are over 50 years old. The focus of this site is on creating serious relationships, so those looking for short term hook-ups or flings are not encouraged or welcomed. With a reputation built up over almost 20 years, SilverSingles aims to offer a safe and friendly environment for seniors looking for a first or second chance at love. This site uses an intelligent matchmaking system, based on algorithms, to create personalized pairing for their members and claims that it is never too late to find your ever-after partner.
With the pressures of living in a fast-paced society with declining moral values, the divorce rate is the highest it has ever been. Many people find themselves alone later in life. It is not always easy to jump back into a dating pool that is fueled by Millennials and their unrealistic expectations of desire. SilverSingles' success is that it caters to older, professional users and provides a safe place to meet people without actively joining social scenes catering to the young.
They have an impressive and educated user base, with over 80 percent of their users being degreed professionals. The intelligent matchmaking system makes use of detailed personality tests to provide highly personalized matches, which lends itself to those who are seeking long term relationships.

The personality test was created by a team of psychologists and relationship experts is based on the Five-Factor Model of personality traits, which are the fundamental building blocks of anyone's personality. These are extroversion, agreeableness, openness, conscientiousness, and neuroticism.
The downside is that you pretty much have to buy a premium membership to do anything on the SilverSingles site, and its memberships are comparatively pricey. However, this does not seem to dissuade the ever-growing user-base from signing up. Since most members are highly educated professionals, it doesn't seem to be a great deterrent.
The 50 plus community has never been more active on the online dating scene, in an environment where being older neither defines you nor restricts you from enjoying dating and making the most of your life. Some say that 50 is the new thirty, and statistics support that notion with the 45 to 65 age demographic numbers increasing exponentially in the online dating community.
Some users are dissatisfied with the lack of independence in searching for a mate. The intelligent system does it all for you and presents you with your potential dates. Although handy and relevant, not all matches are based purely on similarities. The heart wants what the heart wants, as the old saying goes.
When was SilverSingles Founded?
SilverSingles started its life in 2002 under the name PrimeSingles, and then underwent an overhaul, becoming Single Seniors Meet in 2009 and finally SilverSingles in 2011.
Who Owns SilverSingles?
SilverSingles is owned by Sparks Networks SE, which is a global company with a whole host of famous online dating brands such as Zoosk, EliteSingles, eDarling, Jdate, and Attractive World. This company is found in over 29 countries and is run by CEO Jeronimo Folgueira.

Registration & Profile
The registration is free, but be sure to find a comfortable seat as its lengthy personality test will take you a good half hour. The sign-up is only available on the desktop version, but from there, you can operate the app easily on the go.
Registration questions are the usual: age, your gender, and which gender you are seeking, as well as your email and your chosen password. Then comes the exam, of over a hundred, soul-searching and head-scratching questions about who you are, what you want, and how you view yourself and your world. This is a lengthy process, but it is cool to get your results sent back to you (hopefully you aren't too neurotic and disagreeable).
Generally, these questions are to be answered on a sliding scale of how strongly you feel about certain things. After you have finished this personality test, you are asked to provide a profile photo and give free written answers to 7 questions, which will then be shown on your profile.
Communication/ Matches
Once you have bared your soul on the personality test and uploaded your photograph, you will be presented with your first five matches. The ethos of SilverSingles is to provide you with quality scientific algorithm-based matches. The emphasis here is on quality, not quantity, and the matches are highly specific and personalized to your unique world view and interests.
All suggested matches are presented with a matching score, based on shared interests and hobbies. Users also have access to a 'Have you Met?' feature, where individual matches are presented for a more mature version of hot or not.
There are several ways to communicate with matches, but you need to purchase a membership to access these features. Free users are allowed to send 'Smiles' to other users. There are many options of how to communicate on SilverSingles. You may send 'Flirts,' 'Smile,' a message, or even an e-card.
How to Search for People on SilverSingles?
Each member has a search tab where SilverSingles present their proposed matches based on algorithm-based compatibility. You have a choice of filtering your searches by factors such as height, age, proximity, and similarities, with further advanced filters according to education, income, and ethnicity.
Users can check 'Who's Online' or add a potential squeeze onto their "favorite" list; after that, they will be notified of their "favorite" status. One may also scope out who has been viewing your profile and play the 'Have you Met Me?' Tinder-style swipe game.
How to Delete Your SilverSingles Account?
If you would like to delete your SilverSingles account completely, your matches and messages will be permanently and irreversibly removed. It is advisable to cancel the auto-renewal of your membership before deleting your account.
To delete your account, navigate to 'My Account' via the Membership tab in the main menu. Select the 'Cancellation' link, click 'Cancel,' provide the reason for termination, and tap 'Continue.' Enter your password and tap 'Confirm.' You will receive a confirmation email from the site to access all paid-for premium features until your subscription ends.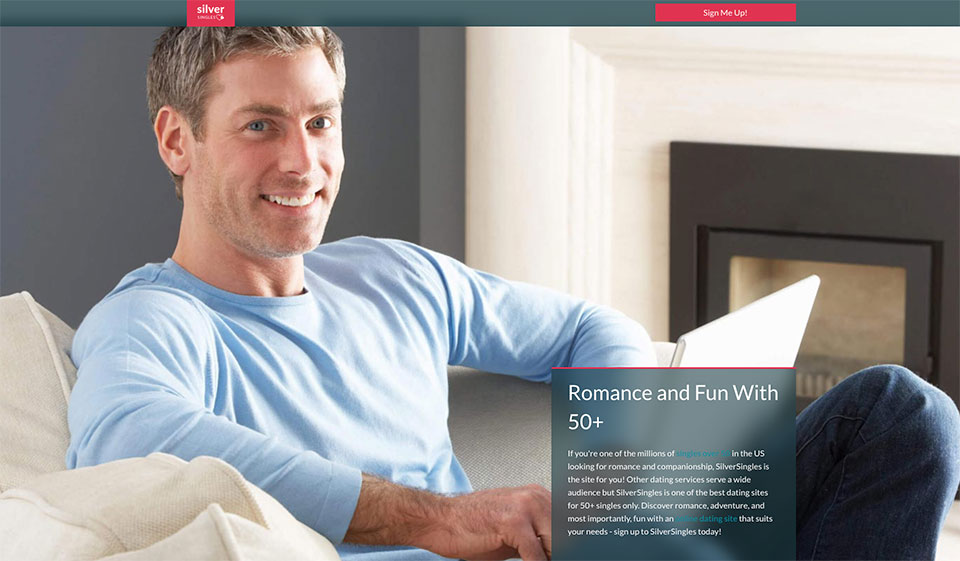 Members Structure
This site is aimed at an age group in the fifty-plus region, and although Silver Singles does allow younger users, it discourages members under 50. Over 80% of their members are degreed professionals, and most of the user base is located in the UK, US, Canada, Australia, and France. The ratio of female to male users leans toward more women, who make up 59% to the 41% male demographic. The bulk of users are around 45 years old, up with only 5% in the 18 to 24 age brackets.
SilverSingles' user base is rather small in comparison to figures on other dating sites, with 50 000 paying members last year. Far from being a drawback, the more intimate setting lends itself to the seriousness of website members looking for long term relationships. With over 5 000 logins a day, there is ample chance for you to find your perfect match.
Sexual Preferences
SilverSingles, like EliteSingles, embraces gay memberships. SilverSingles come up again and again in the best gay dating for over 50s. The more intimate nature of its small member base lends itself to gay over 50's who are seeking mature and long-term relationships outside of the larger, more hook-up orientated sites.
Race and Ethnicity
Although some hail SilverSingles as elitist, much like their partner site EliteSingles, catering to a 30-something community, they do have an all-inclusive policy regarding race and ethnicity.
Religious Orientation
SilverSingles has a non-discriminatory policy regarding religious affiliations. Although this site allows filters based on religious orientation, they claim that this is solely for the purpose of helping members find compatible partners.

Pricing Policies
SilverSingles finds itself, like its sister site EliteSingles, in the higher end of the price spectrum. Free users are pretty much restricted from contacting other members, and users need to purchase a subscription to enjoy all features of this site. SilverSingles accepts Credit Card and PayPal.
Free Membership
Free membership features:
Basic user profile
Intensive personality test
Suggested matches
Send "Smiles" to other users
Favorites list
Paid Membership
Paid membership features:
View profiles of other users
See who viewed your profile
Comment on photo's
Send and receive messages from other users
Receive daily matches
View photos of other users
App version
SilverSingles pricelist goes as follows:
Premium Light membership: 3 months @ 49.95 USD/Month Total 149.85 USD/Year
Premium Classic Membership: 6 Months @ 37.95 USD/Month Total 227.70 USD/Year
Premium Comfort Membership: 12 Months @ 27.95 USD/Month Total 335.40 USD/Year

How to Cancel SilverSingles Paid Subscription?
Simply navigate to 'My Account' via the Membership tab, select the 'Cancellation' link, and click 'Cancel.' Provide a reason for your cancellation and click/tap 'Continue.' Then enter your password and tap 'Confirm.' A confirmation email will be sent to your registration email.
Is SilverSingles Safe?
SilverSingles states its commitment to maintaining user privacy and management of any data and information that you provide them with. All personal information you send SilverSingles, including profile contact and payment information, is SSL-encrypted (Secure Socket Layer). This site has firewalls to protect users' sensitive information, while and personal data is restricted to select staff members.
Quality of Profiles
All members of SilverSingles have access to the detailed profiles of their fellow users. However, only paid members have access to user photographs. The information on each profile includes written answers to the seven questions in your initial registration, which give some idea of what brings a particular user joy. It also gives a glimpse at certain things important to those users.
The number of fake profiles on this site is negligible due to SilverSingles' verification process, along with limited activities allowed to free users. Advanced intelligent matchmaking systems provide a fairly detailed description of users, which is necessary for a site that gears toward long-term, forever-after matches.
Website Design and Usability
Most recently redeveloped websites and mobile apps are sleek and easy to navigate, even for those who are not tech-savvy. Silver Singles, luckily, is not an exception. The dashboard clearly shows a 'Message' section, which hold your three top matches and their photos. It is easy to view all your compatible matches in a 'Visit Your Matches' link.
A Cupid's arrow icon at the website header directs you to 'Have You Met?' where you will have access to people who have common interests with you. Those accounts are not on your matches list yet. If you would like to add them to your matches list, just send them a smile or a message.
Messages are accessed through an envelope icon, and you can spy on other users who have been checking your profile, with the magnifying glass option.
SilverSingles have created an interface that provides guidance to those who are unfamiliar with app systems and presents them with matches for approval. It also allows users to become involved, offering them a chance to and use advanced search filters in their quest for a perfect match.
How does SilverSingles Work?
SilverSingles is an advanced algorithm-based dating site that caters to a professional and mature market of 50+ in search of long-term relationships. It does not have revolutionary features, working pretty much like all other dating apps out there.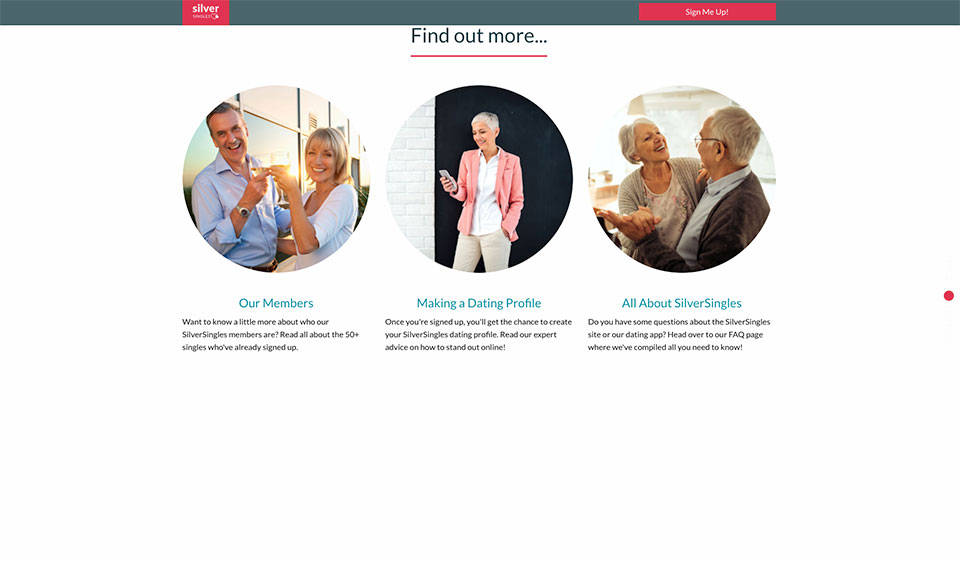 SilverSingles App
SilverSingles app offers the same experience as the desktop version, but for users on the move. Members can access the same functionality of the desktop on mobiles and tablets, and they can search through suggested matches to send and receive messages from wherever they may roam. This app can be downloaded for free from both Google Play and App Store, but it is only available for premium membership holders and not free users.
Alternatives of SilverSingles
Ourtime.com has a much larger user base than SilverSingles and caters to pretty much the same age demographic. They even boast a small but thriving eighties plus user-base!
Although Match.com does not cater specifically to 50+ demographic, due to their enormous user-base, they have quite a large membership of 50+ users.
Senior LiteSingles.com also plays host to a highly educated and professional membership that also targets over the fifty market.
eHarmony is also an alternative to SilverSingles, even though it does not have any age specifics.
Conclusion
BBC has noted that the largest growing market for dating apps is not just in the 18-24-year-old demographic. Their number is being rivaled by a flourishing over fifties market. In the years between 2013 and 2015, the 55-64-year demographic engaging in online dating has more than doubled.
With a mega-star like Madonna thrusting her hips in her tight dance suits giving the world a new image of 60+ people, 50+ singles are no longer happy to bow out of the dating scene and blend into the wallpaper in front of their telly. Therefore, it is of no surprise that niche dating sites such as SilverSingles are becoming exponentially more popular.
As more and more mature singles turn to online dating sites and apps, the more need there was to create more age-appropriate platforms such as SilverSingles. This year SilverSingles was voted the best online senior dating site, which is an impressive accolade.
The price tag for membership is reasonably high but, in a sense, is protection for users on this site that otherwise might fall prey to Boomers creating fake profiles. All the fancy research that goes into this site personality test is also not free, and indeed, it makes sense to pay more to engage with a higher caliber of users.
With their advanced fraud detection system and strict ID authentication as well as their SSL encryption, SilverSingles take privacy and security of their users very seriously. Their site is sleek and easy to navigate, and their algorithm-based matchmaking is some of the most advanced. SilverSingles seems to have found the sweet spot providing a secure environment for older singles to mingle.

Company: Spark Networks Service GmbH
Address: Kohlfurter Street 41/43, 10999 Berlin, Germany
Phone: +493 099 194 9532
Email: support@SilverSingles.com