There is no place like home, and even when you are away, you might dream about that rolling that chair on the porch. Don't be harsh to yourself, and check this nostalgic and fancy place where Polish people gather and find their soulmate: Polish Hearts.
This review will provide you with an overall opinion on all the Polish Hearts' functions, features, and everything you may have asked about. You will learn more about the audience and figure out if this place is legit. Check if this is a suitable environment to find a mate or a hookup platform where fakers and scammers lurk from polished Polish profiles.
Ready to scan it? Let's dive in!
When Was Polish Hearts Founded?

Polish Hearts is a working and nice dating app founded in 2008 to help people of Polish descent meet and find common roots.
Now it hosts more than 1 million and a half users, and it's keeping on growing and gathering people from all over the world. Thinking about finding your ethnic identity? If your grandparents were Poles, this website and app might be a good starting point.
Who Owns Polish Hearts?
Triginita Limited is the company that currently owns Polish Hearts. They are based in Sheridan, Wyoming.
Registration & Profile
You can go for a web browser version of Polish Hearts or directly to the mobile app. Either way, the registration process will be effortless and take you no more than 2 minutes.
Go to the Polish Hearts website and check it out: you will be asked your name, e-mail, and birth date. This is a widespread sign-in path, and it serves two primary needs: firstly, it verifies that you are a real person. Secondly, it will put at least a hurdle to those people who are here with bad intentions.
After you have filled in all the form's fields, you will receive an e-mail containing an activation code. You might receive it in the Polish language, even though you have filled the form in English.
Although you don't speak Polish at all, you will be able to understand the letter. The website is in both languages, and now you don't need a translation — just copy the pin code and paste it in the corresponding entry.
Now, your profile will be displayed. It might be in the Polish language, again, but now you can switch to English. Strange how the English text is half shorter!
You will be sent to your Polish Hearts profile, and it actively encourages you to upload a picture and write down something about you.
Then, you will need to wait a few hours before the page gets approved by the webmasters. Another security measure to make sure the information provided is true.
Here, there is no automatic matchmaking, so no other members will be virtually sent far away from you because of the fields you fill in here in your profile. Have a closer look.
Communication/Matches

The first flaw comes at this point: there is no live chat on Polish Hearts. You will be able to communicate with other users only through e-mail messages. Don't worry. You won't receive them in the personal mail you gave in the first place.
See the "mail" tab? There you can manage your conversations, reply, and so on. Just one more insight: don't try to write messages if you are a free member. You will need to pay to do so.
What about the matches? As was mentioned in the above paragraph, on some other dating websites, the app's algorithm merges people's interests and eventually spits out potential matches.
On those platforms, you can see in a sort of dashboard all the members who the application thinks you may like. How does it know? No Big Brother, don't worry, it's just an automatic and kind-of dumb match most of the time, performed comparing the profile's descriptions.
So, what happens here on Polish Hearts? No fake, robot-like match. Here you can just see people close to you, or all of them. See the flag in the top left of the page? Use that to select other members' distance from you.
How to Search for People on Polish Hearts?

Bear in mind that you can also sign up through your Facebook profile. This way, you will be able to cut out from Polish Hearts those who are already your friends on Facebook.
There's a privacy measure, allowing you to stay anonymous within your friends' network in case you want to. There's nothing to be ashamed about in being on a dating website. Still, you don't need to say it out loud, do you?
So, you can search for people by looking for new members (see the flag in the toolbar?) and close users (this feature has already been discussed, you can select them from the flag in the top left corner of the screen).
Basically, the search features are not that many, and you are not able to narrow your search as much as you may have liked.
This makes Polish Hearts look more like reality. It doesn't really happen in the real world, that you can look at — let's say — a big crowd and automatically scan all the people, and only see who you like.
For a nano-second of your life, you will come across a profile you won't like for sure. Still, you are free to go on. If you are interested in someone, feel free to mark them as your favorites, using the "remember this profile" button.
It will all be saved under the "my friends" tab, and you will be able to check them later. Then, the VIP membership allows you to add your contacts to your "VIP" list. If those are free members, you will still be able to contact them, but only if you own VIP membership.
How to Delete Polish Hearts Account?

First of all, remember that if you are suffering from any kind of harassment, you are free to block users. So, think twice before you leave.
If you are still unsure, you can freeze your profile. See the profile section? Go there and change it into a frozen one. You won't receive notifications or messages from your friends, but as soon as you return, you can communicate again.
Then, if you would like to delete the page, there's the "delete my profile" button. No handcuffs, you are free to go.
Members Structure
Polish Hearts boasts 1.6 million users, but depending on the country, you won't find that big of a crowd online. First, remember that they are spread all over the world. Let's say that in the very center of Europe, there are no more than 700 members online, which is not bad.
What's good is that there are no relevant episodes of fake members and tricky scams. Here the environment looks real and peaceful, and people are mostly young and happy to be here in a safe space. The ratio is 60% men and 40% women, more or less.
Sexual Preferences

No homosexual person has been noticed, so, probably, there are little. The vast majority of Polish Hearts is composed of straight people.
Race and Ethnicity
Eighty-five percent of the visitors are of Polish descent. Some of them do not declare Polish origins, so they are likely here to find a mate from that beautiful country.
Either because they fancy the ethnicity, or because they do have a Polish descent, but they are not writing that down in their profile.
The majority of people here come from Eastern Europe, the rest of Europe, and North America.
Religions Orientation
Some members are claiming that they are "Christian." Still, religion is not a must-have value to be here. As the website keeps on saying, a Polish heart is what keeps you here, so do not feel discriminated against because of your religious ideas.
Pricing Policies

There is a free Polish Hearts membership, using which you can only take a look around, without basically being able to communicate with users. Then you can avail of a premium membership if you would like to chat.
At last, there is a VIP membership, which allows you to contact free members and make them answer back to you. This is useful in case you find a penniless or disenchanted user or just a curious one who stays on Polish Hearts for a while but does not feel in need of paying for it.
Catch that last one while you can. Let's now see the different features of both the memberships.
Free Membership
By signing up, you automatically earn a free or Standard membership. You cannot do much with it, though. When you decide it's time for you to go for a premium version, you will be able to start chatting.
As said, with a VIP membership, you can contact free members and make them reply to your texts, so here's another feature you can use as a free visitor. Then, you can perform searches and add people to your "my friends" section.
You can update your profile, upload a profile picture, and start showcasing yourself. That's all that you are allowed to do. Not much, but you will have a broad idea of how Polish Hearts works.
Paid Membership

Premium membership costs 19,99$/month if you buy one month. If you go for one year-long membership, it's just 5$/month. You can combine a premium membership with a VIP membership, and you will pay 36,99$/month if you take only one month and 8,33$/month for the 12-month VIP membership.
You can use different payment methods, and if you go for the app, the payments will be performed through your apps store.
How to Cancel Polish Hearts Paid Subscription?
Beware! The membership automatically renews a little before the deadline. You will be charged every billing cycle unless you unsubscribe some days before the auto-renewal.
You go to the same section you have seen for upgrading if you are using a web browser version. Then, click on "downgrade" and write to Customer Support. As they are managing millions of users, it's better for you always to send a notification.
If you are using the app, go directly to your apps store, look for the Polish Hearts app, and follow the directions you will be given there. Same suggestion: write to Customer Support, too.
Is Polish Hearts Safe?

Security and privacy are a primary concern for the webmasters. Just consider all the hurdles noticed during registration. Well, for you, they won't be hurdles but necessary steps; however, if you consider them from a scammer's point of view, they are a bad thing.
There's an e-mail verification first. Then, Polish Hearts uses an SSL security protocol. The payments are encrypted. You can also perform app's payments through the apps stores if you are using a mobile application.
Plus, you can blacklist users who start annoying you, and you are welcomed to report them and make them be banned if they are reaching the limit.
So yes, Polish Hearts is a safe place to make acquaintances without being afraid of cons.
Quality of Profiles
What's good is that there are no relevant episodes of fake members and scams. Here the environment looks made by real people, it is peaceful, and people are young and happy to be here. All in all, Polish Hearts is a safe space to share experiences and common roots.
The profiles are moderately detailed. If you don't find the information you are curious about, you can ask the person directly. Who knows where a single question can lead to.
Website Design & Usability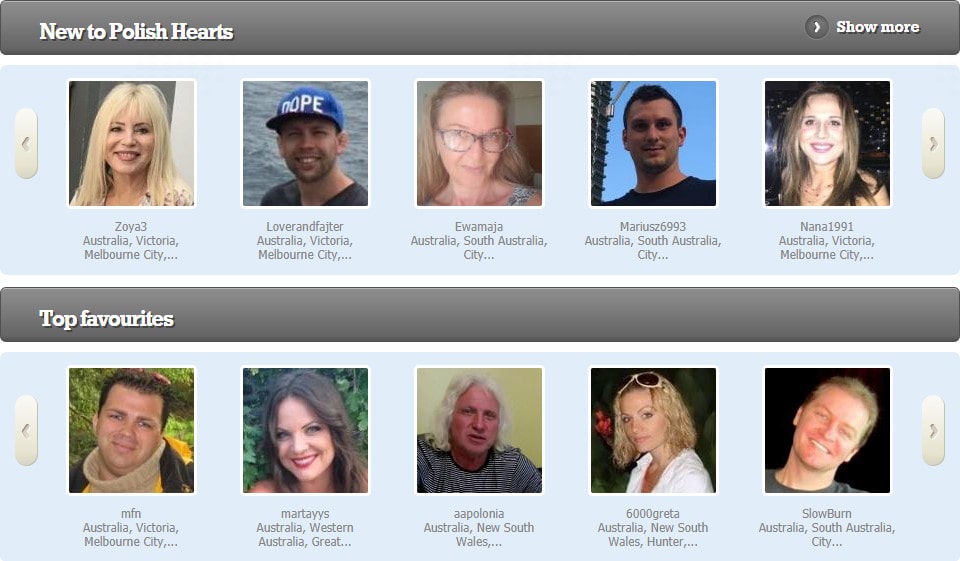 The design is a little flaw, but nothing to be worried about: they have a quite old-fashioned interface, after all. There are many free themes around, which are better than this one, but consider this proof of goodwill.
Sometimes users get the impression that apps and dating websites are made by professional developers who are extremely good at their jobs but who don't really understand their real needs. A dating website sometimes appears to them as a vast video game, where matching and browsing can be done through complicated, massive search filters.
Here, members perceive that the priority is creating a free, nice, and friendly environment of like-minded people. That is the right call.
How Does Polish Hearts Work?
Basically, like that: you sign up for free. You edit your profile and create it according to legitimate purposes. You take a look and explore the matching and searching features.
Then you are free to pay or go. Good for you if you find a VIP user wanting to chat with you for free. Considering the gender ratio, you will more likely find a VIP subscriber talking with you if you are a woman. But that's just a general consideration.
Polish Hearts App

The Polish Hearts app is available both for Android and iOS. It works pretty fast, it's straightforward to use, and it's an excellent alternative to the website — especially if you are on the go.
Alternatives to Polish Hearts
If you are a Western man looking for a Slavic wife, there's plenty of competition — Slavic brides, for example, can also be found in Ukraine. But if you are just a Polish person looking for a like-minded partner, Polish Hearts is simply the best.
Go to your apps store and just type "Polish dating." Dozens of options will pop up: Poland Social, Polish Chat Room, Poland Dating, Dating.com.
Conclusion

Now that you have a broader point of view, you can make your choice wisely. This is a decent site, which you will hardly find anywhere else. Some hookup platforms offer different services, though, but they gather Polish and Slavic people, especially women.
If you have read so far, you might have developed some interest in Polish Hearts. Is this the right place for you? Well, if you can't answer by now, it's time for you to sign up and see that with your own eyes. Finding similar roots is a process. A dating website might be a good starting point. Good luck!
Company: Polish Hearts, Triginita Limited
Address: Triginita LLC, 30 N Gould St., Ste 3823, Sheridan, WY 82801
Phone: not displayed on the website
E-mail: admin@polishhearts.com