Used to be an online gaming site, MocoSpace is now a fun space where you can look for a date while getting entertained! It offers a clean and modern layout, making it easy to connect with matches. Also, it provides an enjoyable experience even for those who don't have the most sophisticated mobile phones, which is rather thoughtful.
When was MocoSpace Founded?
Mocospace has lately become something like a combination between a social media platform and an online dating site, but when it was founded in 2005, it was used mostly for playing games. Now you can meet other members, chat, and also have fun using special features and, of course, by playing games!
Who Owns MocoSpace?
The site belongs to JNJ Mobile — a company co-founded by Justin Siegel, who is also its CEO. JNJ Mobile is a global organization that provides its users the opportunity to play games on their platforms, while also making new friends that they can chat and keep in touch with.

Registration & Profile
Signing up with MocoSpace is a fairly easy process. Newcomers can either create a username or use their Google or Facebook accounts, and then set a password. People will need to provide some basic information about themselves, such as age and location. A profile picture is also to be set. Once you have a page, fill in the answer for a list of questions about yourself. This list covers topics like your interests and personal preferences. These are used by the MocoSpace's algorithm to find suitable matches for newcomers and are definitely the most important part of setting up any new profile. Providing as much information about yourself as you feel comfortable with doing is a good idea, as it will let others know you care about the way you're perceived.
Having just your name and profile photo displayed might discourage some other users and sometimes cause them to send the wrong message, as they may think you're not at all serious about finding a partner. So, it's better to take as much time as you need to complete your profile in a way that really speaks about yourself! Once you do so, there's no pressure to get it right the first time. Anyone can always go back and change, edit or delete any information they have submitted. After a while, and maybe after looking at other great accounts, you will learn to see what others find to be attractive and apply what you've discovered to your own page.
Also, users can choose between making their profiles public or keeping them private. If a person opts for the last option, other people will need to be accepted as friends before viewing that entire page. What makes MocoSpace a good and beneficial place is that anyone can start using it almost instantly, and people must not provide that much information about themselves. On the other hand, lacking in detail about other visitors makes things a little confusing. To see if someone is interested in dating, the best option is simply to text someone you're interested in.
Of course, there's a chance you'll run into some fakes. The profile pictures are a good indication of that most of the time. This puts MocoSpace at a disadvantage when compared to other services that are solely dedicated to dating. It's not really comfortable knowing that when looking or talking to another user, they may not be who you think they are. But to protect yourself, you can always change your page from public to private.
Communication/Matches
Another unique feature of MocoSpace is that all conversations on the platform are made public. If the dialogue gets more intimate at a certain point, members can always take it somewhere, for example, on a different messaging platform outside MocoSpace. This feature makes it more of a space where people can just meet and talk rather than a proper fully-fledged dating site.

How to Search for People on MocoSpace?
Once you have your profile all set and you're ready to go, you'll find yourself on the main page, where you can begin exploring the community. If you want to look for someone, you can either search for others or look through your daily matches. After another member has caught your eye, you can immediately start chatting with them, or, in case you need a little warming up, there are plenty of already established chat rooms on different topics. Just like on other social media platforms, you can look through someone's photos, see who they're friends with, and even leave comments. You're also encouraged to let users know yourself by sharing your photos and creating your own ten-second videos.
How to Delete MocoSpace Account?
If you decide the fun is over for you, go to the main menu and click on Select Account. To deactivate, participants must enter and confirm their password. Before getting permanently deleted, people have three days to change their minds and decide to stay.

Member Structure
MocoSpace is definitely a dating site with a lot of users! In 2019, it counted 100 million. Over 50% of its members are women, and more than two-thirds use the platform through a mobile app. MocoSpace visitors are racially mixed, including Hispanic, Caucasian, and African American users. Moreover, MocoSpace itself conducted a survey that concluded that almost 50% of all participants broke up with someone by text.
Sexual Preferences
MocoSpace is a very inclusive platform, welcoming all sexual preferences, from straight, gay, lesbian, and more. So, whoever you're interested in, you'll most likely find him or her here!
Race and Ethnicity
This site is all-round diverse, from the race and ethnicity point of view, too! A third of its users are Hispanic and another third — African American. Close to half are under 24 and a quarter — between 25 and 30 years old. Most members access the platform through their phones.
Religious Orientation
All religious outlooks are welcomed and embraced on MocoSpace, be it Christian, Islam, Hindu, Buddhist, or other. There's no obstacle while having fun and hanging out!

Pricing Policies
There are three different types of membership: regular, VIP, and VIP Legacy. The difference between them is that specific categories give more access to certain features and services while expanding your overall experience on MocoSpace. It looks like most users prefer the VIP experience.
The price for 1-month membership is £7.99. For six months, you'll pay £5.83/month — £34.99 in total. The VIP subscription costs £19.99 for 1 month, and 3 months — £16.33/month, £48.99 in total. The VIP Legacy service is available for either 1 or 3 months, costing £19.99 and £48.99, respectively.
Other special features that you can spend your money on are the Moco Gold credits. They go for:
£4.99 for 500 credits
£9.99 for 1100 credits
£48.99 for 6500 credits
Free Membership
Even if users can access the site free of charge, most of the MocoSpace's best features cost money. With a free membership, people can create their profiles, see posts, join groups and chat rooms, scroll through profiles of other members, see their gallery, and access the messaging service.
Paid Membership
A paid membership has quite a few advantages that include viewing who has looked at your profile, an option of going invisible, ad-free experience, and having your photo labeled as VIP. Also, you have a priority for support assistance and will be able to buy eCards and stickers.
How to Cancel MocoSpace Paid Subscription?
If users decide to cancel their VIP subscription, they should access the My Gold page and click on Cancel VIP, which is only visible on the website and not in the app. If you want to close your account as well, cancel your paid subscription before doing so to avoid being charged again. If this process makes your head spin, you can contact the MocoSpace team at support@mocospace.com and request your subscription cancellation. However, if you go down this route, it'll take you about seven working days for the process to be completed.

Is MocoSpace Safe?
From a messaging point of view, MocoSpace is totally safe, as all sent and received messages are encrypted. However, in other aspects, the site is not so protective of its members. It takes no responsibility for the conduct of users. You're advised to keep precious personal information to yourself, as someone might not be who they claim to be.
It's good to remind yourself that you're sitting in front of a screen and not of a real person. This might help keep you out of harm's way. It's nice that you have the option to keep your profile either private or public. Before being able to go through someone else's page, your request for friendship must be accepted. Instead of seeing lots of information about other users, most of what you'll get is photos and their activity feed. It's useful to keep in mind that the feed shows a person's entire activity, including images you liked in the past.
Quality of Profiles
As mentioned earlier, you don't bet much information about others on MocoSpace, but this also means that you can start enjoying the entire experience on the website pretty much as soon as you're signed up. Finding someone like-minded can prove difficult, like finding a needle in a haystack made of 100 million other people. Because you can't see much about the rest of the members, your best bet is to initiate a conversation. You need to be aware of the possibility that you may encounter fake photos that don't actually belong to real individuals.
If you're looking for true companionship, it might be challenging to find it on MocoSpace. Always having to look out for fake profiles and guess what other members are interested in can be tough. For this reason, it may seem to be a little bit easier to just go to a regular dating site. To protect yourself, you can at least choose to keep your page private.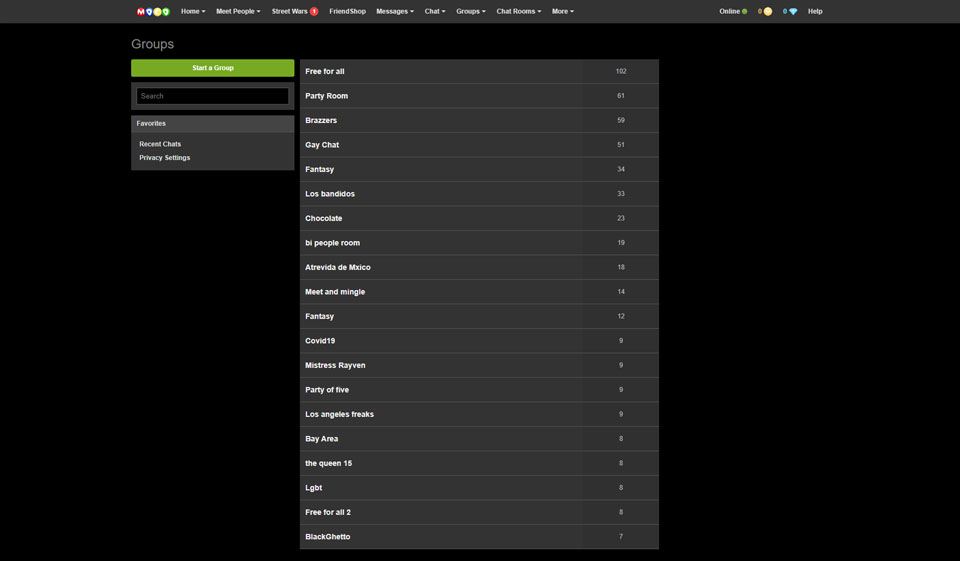 Design and Usability
MocoSpace's clean and modern design is definitely an advantage that makes it very easy to navigate. On the other hand, seeing updates from all the platform's members instead of just your friends can get a little bit cluttered. The site seems to be aware of the dangers regarding privacy, and so it makes a habit out of warning members not to share delicate or private information. Games are easy to find and very fun to play, and so even if you don't find someone that sparks your interest, you can still have a good time! The app is equally easy to navigate, but the same issues regarding the number of feeds you will get on your main page seem to occur. At least you can block people you decide you have seen enough of!
How does MocoSpace Work?
You can use both your Facebook and Google accounts to sign up on MocoSpace, with all the information you have provided at those platforms. If you're using the MocoSpace app, you must be warned of the pop-up ads, unless you're using the premium version. However, this is only available to Android users.
Another great advantage of the MocoSpace site is how easy it is to use. You can scroll through the profiles of people that are near you and keep up with all your interactions very nicely. Just remember that if you choose to keep your profile public, everybody will be able to see your information and posts. Again, the games that you can play are always an exciting bonus!
MocoSpace App
There's the dedicated MocoSpace app both for iPhone and Android fans. It is simple yet creative and reminds one of Facebook a bit. If you're using the free version of MocoSpace, you may find the ads very annoying, so you may consider switching to the paid version. The program does a pretty good job at what it's set out to do, minus some responsiveness issues. On the main page, you'll see the section "Main People." There are a few filters that you can use in order to meet like-minded individuals. However, when compared to other similar applications, MocoSpace falls a bit short because it's rather basic and doesn't have much to offer.

Alternatives of MocoSpace
If you don't find that MocoSpace is your thing, there are quite a few alternatives like Facebook, ChatHour Mobile, Chatiw, ChatBazaar, or Tagged. Note, however, that while these examples could be better for dating and making new friends, they do not offer the same game-like interactivity as MocoSpace.
Conclusion
The name of MocoSpace comes from its developer's desire to create a place that could become a real community. This platform makes the passing of time very fun and enjoyable through its many features and entertaining games. You don't have to expose your identity in order to enjoy the services of MocoSpace, as you don't have to connect your account here with some other social media pages if you don't want it to. You don't even need to give your real name if you're not comfortable with that, and instead, you can opt for a nickname.
MocoSpace has many users, so it's nearly impossible not to find a person you can enjoy chatting with. While coming across a relationship on MocoSpace may seem a little bit unrealistic, you can still have a nice time and play some really cool games! All in all, MocoSpace provides its members with very good times in various ways, be it chatting, meeting someone new, or playing. Whatever it is, it seems that MocoSpace always has your back! However, it is not a dating site, so it will unlikely land you dates or hookups. It is more of a casual platform to spend the time, but it will unlikely get its visitors any farther than that.

Company: JNJ Mobile, Inc.
Address: 186 South Street Boston, MA 02111 United States
Phone: (877) 323-4815. (877) 323-4815; (617) 542-1633
Email: support@mocospace.com