It seems like LoveAndSeek made it possible for Christian singles to find their true love in the digital era. It is not an easy task to find a life partner for people who do not pay close attention to religion. But it is even more complicated for those who want to remain true to their religious beliefs. LoveAndSeek connects people who want to find a like-minded partner with whom they will wake up with, eat, talk, love, and pray. The dating site is priceless since people here are focused on serious relationships or friendship, which is expected to transform into a strong romantic bond at the end of the day.
However, even the best niche dating sites are not flawless, and LoveAndSeek has pros and cons that are worth mentioning.
view the users who sent you flirts;
look through the members who added you to their list of favorites;
send and reply to regular messages;
communicate with other members in Instant messenger;
get your account highlighted in the search results (this function is available only upon buying a six-month membership).
When Was Loveandseek Founded?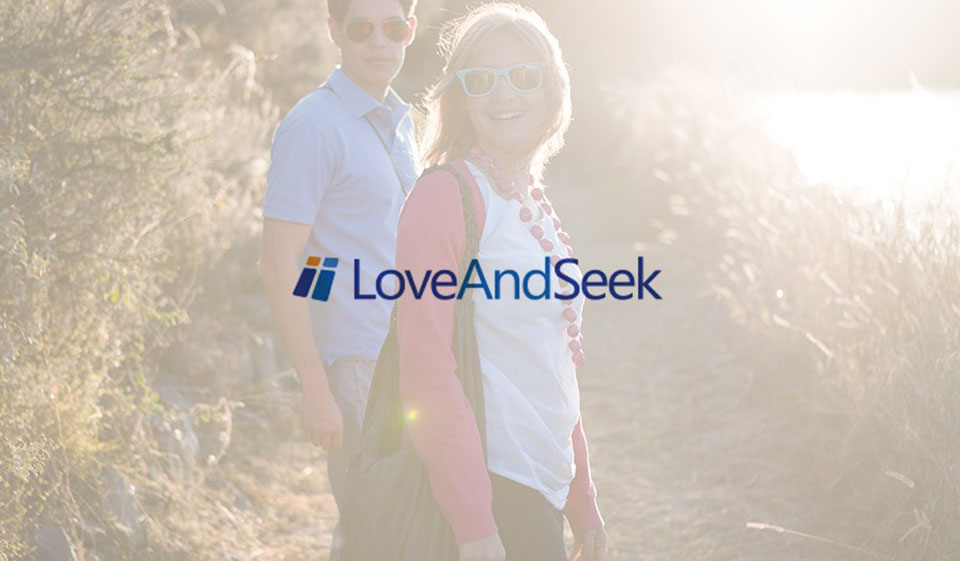 LoveAndSeek began catering to the niche of Christian dating in the early 2000s. Ever since it has gained trust and popularity among many faithful singles and become the most popular dating site for rightful dating.
Who Owns Loveandseek?
The LoveAndSeek dating site is a part of the company called People Media, one of the most trustworthy holdings when it comes to dating. It is worth adding that it is a sister company with Match.com and OkCupid, which certainly have credibility.
Registration & Profile
It will take a little of your time to sign up with LoveAndSeek, which was a surprising fact because usually, registration on other Christian dating sites takes ages. On the homepage, you only need to enter your sex, location, date of birth, and valid e-mail address. You will need to create a username and password that will be used as credentials for entering the site after registration. Once you fill out all this information, you will be offered to add your profile picture, complete the About Me section (up to 1250 symbols), and buy a premium subscription. You can upload a photo from your Facebook account if you do not have any on the computer or phone. All of these parts, including the first two, can be easily skipped, just like you do not need to verify your e-mail address. However, unless you add a bit of information and one photo, your account will be hidden.
You can log in to the created profile on LoveAndSeek with the credentials (username and password) you used during sign up.
Communication/Matches

The matching system is not LoveAndSeek strength, as the only matching feature it has is Instant Match. It is the regular swiping stuff, which shows you a person if they like you back. In this case, searching would be a better option for finding your better half.
LoveAndSeek does not offer a great variety of communication features, especially for users with free accounts. The most basic way to show your interest to other members is by sending a Flirt, which does nothing except draws the attention of the person you endowed with the flirt. Interestingly, only the premium user can view received flirts.
If you feel like get yourself involved in more severe communication, and buy a premium subscription, then you will be able to send regular messages and communicate using Instant messenger. However, if you are not ready to upgrade the account immediately after registration, you should look around first, add some users to the list of favorites, and contact them later, once you buy a subscription.
How to Search for People on Loveandseek?
If it did not work out with the Instant Match, you should look for users using the search on LoveAndSeek. It has plenty of search filters like age range, city, relationship goals, way of life, relationship status, children, and so on. Apart from the search filters, you can also sort the found users by distance, activity, online status, etc. Overall, using this tool, your chances significantly increase.
How to Delete Loveandseek Account?
If you decide to stop using the LoveAndSeek site, you can remove your profile in the My Account menu, go to Account Status – More Account Status Changes, and click the link Remove My Profile.
Members Structure

Sadly enough, but LoveAndSeek is available only for users from Canada and the United States. 95% of all users are from the US, which is about 500,000. The site members are pretty active, and on average, around 14,000 users are visiting LoveAndSeek, which is impressive for a niche dating site, one must admit.
There is an equal proportion of men and women on the site – 50/50. The majority of users are in the age group from 25 to 44. Basically, at this age, people tend to look for a serious relationship, especially when it is crucial for their belief to have a family of their own.
Sexual Preferences
Do not get it wrong, but if you are a rightful Christian, it is improbable you are of other sexual orientation but a straight one. LoveAndSeek connects heterosexual men and women. However, it understands the diversity of people and accepts other people's choices. But if you are gay, lesbian, or bisexual, you may want to try your luck with finding a partner somewhere else.
Race and Ethnicity
Everyone knows true love does not know skin color or ethnicity, so there are people of various nationalities on LoveAndSeek. There is one thing that unites all the members of this dating site, and this is their belief that if you are searching for a Christian life partner, you have nothing to worry about and should check LoveAndSeek out.
Religious Orientation
There is no restriction regarding your faith. You should remember, though, that since LoveAndSeek is a Christian dating site, so naturally, most of the users expect to meet a Christian single. At the same time, there are various denominations of Christianity, so you can indicate which one exactly you practice, e.g., Catholic, Orthodox, Evangelical, Pentecostalism, etc. You could find a like-minded person with the same beliefs by noting this detail in your account information.
Pricing Policies

There two types of membership offered on LoveAndSeek: free and paid one. By default, you get a free account right away after registration. With an unpaid profile, you get a limited set of features that allows you to look around on the site first and understand whether you need a premium profile. The cost of the paid subscription is moderate, especially in comparison to other Christian dating sites. LoveAndSeek offers to buy a membership for one, three, and six months. The prices for the subscription are the following:
one month of premium account will cost you $16.99;
three months – $36.97 in one payment (which is $12.32 for a month);
six months costs $53.94 in one payment ($8.99/monthly, which is a real bargain).
Note that you will also have to pay a one-time additional fee for upgrading to a premium account for $3.99. Purchase on LoveAndSeek is possible with a credit or debit card and Paypal.
Free Membership
Different dating sites offer various features for free. LoveAndSeek allows you to look at the users, layout, and usability of the site without paying a premium for a premium account. Basically, for free, you are allowed to:
Paid Membership
For more, you need to buy a premium account, having which you will be able to:
How to Cancel Loveandseek Paid Subscription?
You should remember that all LoveAndSeek premium subscriptions automatically prolonged for the same period. In case you want to cancel it, you need to go to My account-View account status. Clicking Remove Automatic Renewal will cancel your premium membership, and your account will not be charged at the end of the billing period. However, you still will be able to enjoy the benefits of the paid subscription until it expires.
Is Loveandseek Safe?

As a part of People Media, LoveAndSeek has proved its credibility over the years of existence. Apart from the high standards of data protection and strict compliance with its privacy policy, you do not have to use your real first and last name on the site. Instead, you are free to choose any username you want.
Besides, LoveAndSeek has safety tips regarding protection on the Internet and when meeting in real life. You should check them out since they are useful. If only all people knew and follow them, this world would be safer. Also, do not hesitate to report a user if you noticed something fishy, as such profiles get immediately revised and suspended in case of confirmed suspicions.
Quality of Profiles
User accounts on LoveAndSeek do not contain too much information, as it is not required to complete the profile on 100%. There are three tabs – About, Photos and Our History. In the first one, About, you will only find such details as occupation, children, status, and some info about appearances like height, weight, and body type. Since it is a Christian dating site, the person is likely to indicate their denomination. Below there is also a question about the best place to go on a date, where people can describe themselves as well as tell what they expect their future partner to be.
In the Photo section, you can look through all the pictures person has uploaded. The maximum amount of photos that can be added to the profile is thirty. Note that the photo gallery is open for viewing to everyone, so you may want to remove some pictures you do not share publicly.
If you click Our History part, you will see all interactions with the person from the beginning, which can sometimes be a good thing to refresh your memory, especially if you have been using LoveAndSeek for a long time. Overall, the accounts are not detailed and will not give you a complete dossier on a person, but it will undoubtedly give you a hint about what you should begin the conversation.
Website Design and Usability

The desktop version of LoveAndSeek looks sleek enough as for the Christian dating site. Simple and minimalistic layout, quality fonts – all that shows that one hell of work has been done in terms of design. The user interface of the website corresponds to the styling and can be described as intuitive and straightforward. On the left, there is a menu bar with all the interactive features. On the right, you can access the Instant messenger and communicate with other users who are online right away. In general, it is visible that the LoveAndSeek website was created with care.
How Does Loveandseek Work?
LoveAndSeek is meant to become a haven for Christian singles who are seeking for a life partner. Apart from moral commitments, members of this site also have religious ones, which makes it harder to find a decent person for serious relationships. However, it seems that LoveAndSeek is doing great with this task by connecting lonely Christian hearts for almost twenty years.
Loveandseek App
The mobile application is finally available for both camps – iOS and Android. And both of them are equally good and offer identical functions as the LoveAndSeek website. At the same time, despite the app has the same functions, people opt-out using it and prefer the desktop version. It is hard to tell what this is connected with because it has a nice design and understandable navigation in both versions. Even though people note that search results rarely get updated and mostly, you browse through the same faces. If it is so now, hopefully, it will change soon, as updates happen quite often.
Alternatives of Loveandseek
When it comes to Christian dating, there is no doubt that LoveAndSeek is the best dating site. However, if you want to try out other services, you should check out ChristianCrush, ChristianMingle, Christian singles, or ChristianMatchmaker.
Conclusion

Overall, it is not a piece of cake to meet a decent person, especially with like-minded religious beliefs. That is why a great way out could be a dating site, but a niche one, of course. LoveAndSeek deserves to be called the best Christian dating site. Naturally, it has its advantages and disadvantages. It is limited to only two countries, does not offer too many communication features, has contradictory reviews about the mobile application. But at the same time, it has the biggest and active user base of Christian singles with a few fake profiles thanks to the high-security standards, good-looking, and understandable website. All of those, along with the affordable price of the premium subscription, makes the dating site a great place to meet your Christian soulmate you will be able to share your life and prayer with. If you have been looking for a site like this, check out LoveAndSeek, and make sure it is the perfect option.
Company: People Media Inc.
Address: PO Box 12627 Dallas, TX 75225 United States
Phone: 1-866-727-8920
Email: security@loveandseek.com