When Was Be2 Founded?
Be2 was wounded in 2004 and had been successfully operating for over 16 years. After its foundations, it has thrived and has expanded in 38 countries. Be2 is open to complaints, and if the service finds the feedback reasonable, they do everything to fix the drawbacks. Since all the contacting features are accessible for premium users. The matchmaking algorithm facilitates the process of finding your ideal match. However, the essential features like reading and sending messages are available for premium members. Free members can only browse their matches on Be2, and the other users' pictures are often blurred. So, to get all the advanced features of the website, it is better to purchase a premium membership.
Who Owns Be2?

Be2 belongs to Be2 S.à.r.l. The website was founded by entrepreneur Robert Wuttke and Andreas Etten. It started operating on the 1st of April, 2004, in German. Its headquarters is in Luxembourg. The same year Spanish and Italian services were added to the existing one. Since its foundation, the company has gone through a lot of changes. Based on the reviews and complaints, the company has changed some of its features, adjusting it to the users' needs. Now, Be2 is one of the leading dating sites, and it is available in 38 countries all over the world.
Registration & Profile
The registration on Be2 requires information about your gender and sexual preferences. If you are gay, while signing up, you can choose the same gender. For the verification of the account, you need to provide an email address. The verification code will be sent to your email. When the account is verified, you should choose a username. When the username is approved by the Be2 administration, you will be asked to answer a personality test questions. The test includes questions about your character and the personality of your ideal match. You need to answer the questions using a numbered scale of 1-5. After the completion, your results will be analyzed by the Be2 system. Based on that calculation, the system will show your match recommendations. Afterward, you need to provide more information about yourself, including your name, birthday, profession, and so on. Some of the information is private, while some are visible for the public. It is important to know that you cannot live any space blank. Once this process is over, the final step is to upload a photo. Be2 has a photo blurring picture if you do not want to show your profile picture to other users or you show it to some of them. Although uploading photos is not a must, it is recommended. The registration process of Be2 is rated 4.5 out of 5.
Communication/Matches
Once you purchase premium membership on Be2, the interaction with other users of the dating site becomes limitless. If you like a person, you can put the person in your Favorite list, read and send unlimited messages. Be2 suggests two ways of member-matchmaking. The first way is suggesting a match based on compatibility. The system provides a list of compatible matches every 24 hours. Each suggestion on Be2 has a circle, which shows how compatible you are with that match. The circle uses two colors. The green color is used to show how much you and your much are alike. The red color is used to show the difference. The number inside the circle is the score showing your compatibility. The higher number shows that the match corresponds to your preference.
The other matchmaking approach that Be2 suggests is "Picture Voting." If you look on the right sidebar, you will see the "Match" page. A roulette-type matching feature is shown there. There are "X" and a "thumb up" button. If you click on "X," the system automatically will bring you to the next photo. If you choose a thumb up, you will send like to that particular member.
How to Search for People on Be2?

Be2 suggests advanced level searching for premium users. However, as a standard user, you can also use navigation tools to find potential matches for you. Moreover, the system regularly brings new matches suggestions for you.
How to Delete Be2 Account?
Be2 users have the right to terminate their accounts any time without explaining hisher reason for doing so. If you have decided to delete your account permanently, go the "Settings" and click on "Deactivate profile."
Members Structure
The majority of Be2's users are mostly from European countries. When it comes to age and gender, the members of it are diverse. Since the Be2 is a matchmaking website, most of its users are people who look for serious and long-term relationships. However, the majority are standard users because Be2's premium membership is quite expensive. According to some sources, Be2 has over 30 million users worldwide. However, when we look at Be2's home page, it is stated that 766.000 singles use it. This may be because of its monitoring system, which removes inactive and suspicious users. The women dominate on this website, composing 57% of the overall population. The dominating age for women is 35-44, for men 25-34.
Sexual Preferences
There is no sexual limitation for Be2 users. Any person with any sexual preferences can join Be2's big community. It is required for you to fill the space with proper information about your preferences. After that, the system will suggest the best choices for you. If you have no standard sexual orientation, in the space for choosing a gender, you can pick the same gender as well.
Race And Ethnicity

Be2 is open for everyone, and the ethnicity and race make no difference. The company is available in 38 countries. However, the majority of the users are from European countries. However, there are not many users from Australia.
Religious Orientation
Once you sign up on Be2, the system will ask to provide detailed background information about you. This information also includes your religious orientation. There are no restrictions or limitations for a user with this or that religious orientation. The website welcomes everyone who is looking for serious and long-term relationships.
Pricing Policies
If you want to enjoy Be2's all the features, you need to buy its premium membership. All the contacting features are available only for a premium subscription. If you are a standard user, you can daily view your daily matches. However, most members prefer to blur their pictures and hide to free members. You can request to have access to the picture of you purchase a premium membership.
Be2 premium membership suggests three subscription plans; basic (57.95USD/Month), classic (34.95 USD/Month) and committed (31.95 USD/Month). The time limit for each is also different; for basic users 3 months, for classic users 6 months and for committed users 12 months. Premium membership is auto-renewed for all the subscription plans, except for the users who are registering from certain regions. Those regions are California, Virginia, Louisiana, Connecticut, and New Mexico. Your premium membership is renewed for the same price and package duration when you initially have chosen. The subscription price of Be2 is considered above average.
Free Membership
One of the disadvantages of the Be2 website is a quite expensive premium membership and limited features for free users. The account registration and profile creation are free. After the registration, you can also upload photos without any payment. If you like someone, you can add him or her to your favorite list and view your daily matches to find potential one for you. However, if you like someone and want to message that person, you need to purchase one of the premium subscriptions that Be2 suggests.
Paid Membership
Be2 offers a wide range of advantages for its premium users. You can send messages to other users and read messages, view photo galleries, and see who visited your profile. If you like a person, you can add him or her to your favorite list. You can pay for the premium membership with your Credit card or PayPal.
How to Cancel Be2 Paid Subscription?
If you do not want to continue using Be2, you are free to cancel your subscription plan anytime you wish. You need to go to the billing setting and choose the "Cancel my membership" button. If there is some time left until your subscription is over, you can enjoy the perks that come from your membership plan.
Is Be2 Safe?

Be2 offers 100% security for its users. The profiles are visited and reviewed regularly. If the system finds an inactive, incomplete, or suspicious profile, it terminates it. Be2 has also published terms or guidelines and Privacy Policies to protect its users' data. If you find a member suspicious, you can also report about that. Go to his or her profile and choose the "Report member" option.
Quality Of Profiles
The profiles of Be2 users reveal a lot of information about its users because the system asks a lot of personal questions for the registration process. Each profile on Be2 has an "About me" section where you find a one-liner introduction about the user. Under it, a short review is provided about the user's background, interests, and appearance. The user's interests are categorized into different sections, such as Music, Sport, Reading, and so on. The sections also include traits and characteristics.
On the right sidebar, you can find a section called "Your Compatibility." In this section, your compatibility score is given with a summary of the points of similarity of what you value. When you click "More details about matching," you can find an explanation and a more detailed graph of your compatibility.
Website Design And Usability
Be2 uses a matchmaking algorithm, and it is quite easy to use. The website takes into account the information that you provide by completing a personal test. After analyzing the results, it brings the list of potential matches for you. The compatibility shows how much you and the recommended match are alike. The higher the number, the more chances to find the perfect match for you. Moreover, Be2 shows mostly your most compatible matches. If you customize your search filters or answer more personal test questions, the system automatically brings more suggestions.
Be2's website has an easy and simple design. The website does not have any clutter and has only two primary tabs. These two features – Matches and Message Inbox- are displayed by specific icons. If you have new matches or messages, the icons show a red notification. The primary colors of Be2 are white, grey, and pink. This makes the website straightforward for the users. Be2 desktop and mobile versions do not include any fancy design or something unusual. The website has done everything to make the interface pleasing to all age ranges and levels of users.
How Does Be2 Work?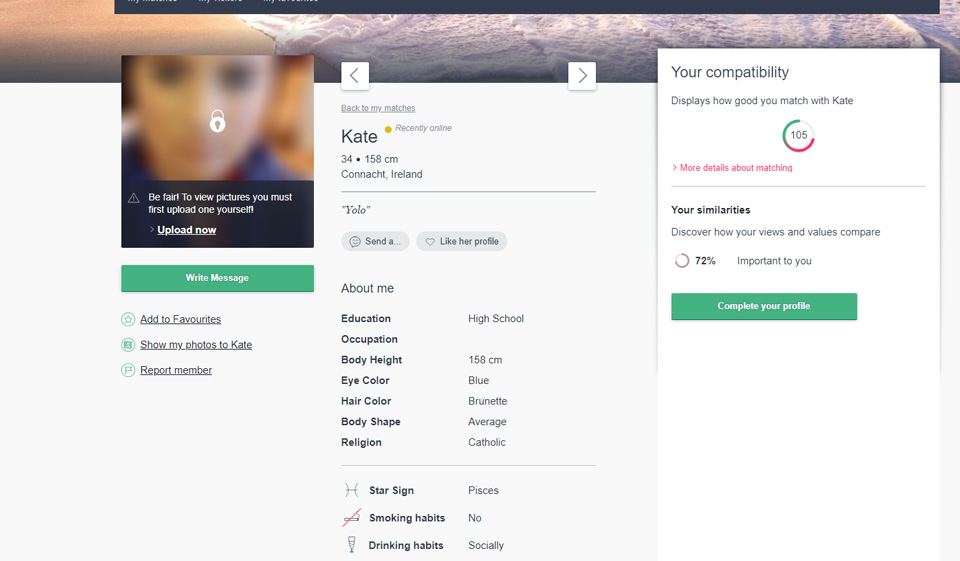 Like other online dating sites, Be2 also uses matchmaking algorithms. You are asked to answer personal test questions, and the results are analyzed for finding the people who correspond to your character and preference. Then, the system daily brings your ideal matches and refreshes the list. If you like a person, you add himher to your Be2's favorite list for contacting them later.
If you like the person, you need to purchase one of its premium memberships to send him/her messages. The advanced features of Be2 are available only for its premium users.
Be2 App
Be2 mobile version suggests the same features as its desktop counterpart. It is available for both iOS and Android users. The mobile version gives an excellent dating experience to all its users. On the top menu, you can see features organized as tabs. The account settings are on the collapsed menu on the right.
On the Be2's desktop version, your matches are shown in a list, while the mobile app displays your matches through a two-column grid. The grid includes the profile pictures of your matches along with some personal information and compatibility score. Since the profile picture of a Be2 user takes up most of the mobile screen, you need to scroll down to see the information. The messaging and adding to your favorite list buttons are on the ride side.
The mobile version is a good solution for those who cannot spend a lot of time in front of their desktops. This saves a lot of valuable time; moreover, you can check your messages or favorite list whenever and wherever you want. The mobile application of Be2 is rated 3.5 out of 5.
Alternatives Of Be2

If you want to find more dating websites like Be2, you can go through eHarmony, ThaiCupid, and Ashley Madison. These are also popular and safe dating website for those who are looking for serious and long-lasting relationships.
Conclusion
Online dating websites are the best choices for those who live in remote places, and their chances of finding a good match are too low. Be2 is one of those choices, which may help you to find the ideal match with the help of its advanced filtering functions. The personality test answers are used to analyze your features and characteristics and bring matches similar to yours. However, the advanced features are available for premium users. The Be2's paid membership offers three subscription plans for you. You can choose any of them, they are auto-renewed. However, you are free to cancel the subscription whenever you want. Premium users of Be2 have the advantage of hiding their pictures from other users and make their personal information private. However, because of Be2's high price, there are not many premium users.

If you want some more information about Be2's company, you can use the information provided here.
Company: Be2 S.à.r.l.
Address: 13 Rue du Commerce 1351 Luxembourg
Phone: N/A
Email: customerservice@Be2.com