Mingle2 is an online dating platform that was created in 2008 and was formerly called JustSayHi. One can typically say that Mingle2 is a FREE dating site (as they pose to be) because most of its features are free when compared to other dating services. Perhaps, this explains why over three million people visit this site daily.
Mingle2 is easy to use, which makes visitors eagerly explore all the benefits it has to offer. Singles can find each other fast, communicate, and possibly, set dates. This site has consistently grown over the years, with more members joining in every day.
When was Mingle2 Founded?

Mingle2 has been in existence since 2008, and it grows stronger with each passing day. Today, this platform has over 12 million visitors worldwide. It is open to men and women from 18 years old and above. Mingle2 aims to bring FREE dating experience to all who need it. This service has a desktop website, a mobile-optimized site, and a mobile app, all of which have the same functions.
Who Owns Mingle2?
Mingle2 is owned by a company called Minglenet.
Registration & Profile
Registering on Mingle2 is easy and simple, taking no more than 30 seconds to complete. Only direct and simple questions are asked. You can choose to go with email registration or signup with your Facebook account. In the case of email registration, you will have to do simple email verification by clicking on the link sent to your registered email. Once that is done, your account is set up, and you automatically have a profile and access to most of this site's features.
You can start chatting right away with other users. You can upload one photo during registration and more after. The more photos you have on your profile, the more attention your profile gets. While most Mingle2 features are free for all users, you may want to take a step further to become a paid member. With this, you will have access to a little more privileges than free members, and it marks you out as a serious user looking to find a date on the site. People can match with each other using the Mutual Match feature, which is available to all users.
However, some profiles are not very detailed, which makes it difficult to judge someone's personality and see if you two could become a match. This, on the other hand, is common for most dating sites. Besides, you can always complete your profile later and look for other people with equally completed profiles.
Communication & Matches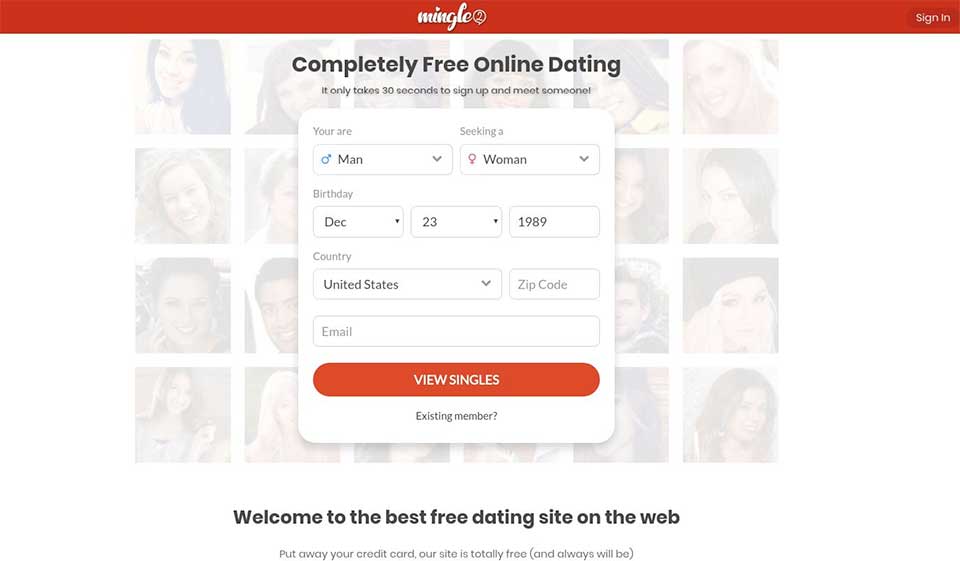 Both paid and free users have access to unlimited communication – something you rarely see on other dating sites. If a dating site is generous with its communication features, it is a bonus, right? Because communication is the first and the key step in making a relationship. Mingle2 deserves some kudos on this one because they have got it. Most communication features are available for every user. Limits are placed, however, on free members' First Contact function, and their messages are automatically deleted after 30 days. Such a policy exists to prevent spam and scam. Even when new users exhaust their First Contact limits, free members are still permitted to continue chatting with already made friends or acquaintances or anyone they have ever chatted with on the platform. There is also a very active forum and a chatroom where users can communicate with each other.
Recommended matches with complete profiles appear on the user's account page, and users can manually search for profiles through the search box. The search results show only completed profiles. This is supposed to be an assurance that only serious users' profiles appear when searched for. In practice, it is just an assumption because completing one's profile is not a guarantee that they are serious about finding a date. The search results also show which users are online.
How to Search for People on Mingle2?
You can search for a profile by typing a specific username in the search box. Incomplete profiles do not display on the search results. As for website search filters, they are pretty good. Like most other dating sites, Mingle2 gives access to basic and advanced search filters. The first ones are poorly detailed, but the second type allows indicating a bunch of different personality traits and lifestyle habits.
How to Delete Mingle2 Account?
On your desktop browser, open your profile page, look under "Your Account" and click on "Settings," then click on "Deactivate account" – "Remove Profile."
If you are using a mobile app, in the right down part of your screen, tap on "Menu," then tap on "Settings," next tap on "Deactivate "account," and your profile will become inactive on the site.
Members Structure

One can become a member by filling out a quick and simple signup form that takes less than a minute to do. The process of completing your profile is not rigorous, with the majority of the answers being in the multiple-choice options, and only your basic details are needed. Members can view these basic details of yours. There is no form of personality test. You will have to upload one photo during registration and add some more later, if you want to. The signup can also be done with a Facebook account. When you log into the site, spontaneous match suggestions appear on your account page, giving you a quicker chance at meeting your perfect match.
The total number of members globally can be placed around 12 million, and men seem to favor this service more than women. Approximately 60% of users are men, and 40% are women.
User age ranges from 18 to 65 years and higher. Quite logically, users over 55 years are the fewest demographics on Mingle2. The highest one, not surprisingly, is between 25 and 34 years old.
It is hard to determine the geographical statistics of members because the members' profiles are usually not well detailed and, therefore, may not contain their location, which is a basis for keeping track of this kind of statistics.
Sexual Preferences
Unlike some online dating sites, gay singles are welcome to find love at Mingle2. This site gives equal opportunity for everyone to find love irrespective of their sexuality. Everyone deserves a shot at love. Both straight and gay singles can find love or friendship on this site.
Race and Ethnicity
This site does not discriminate against race or ethnicity. Interracial relationships are encouraged. Love does not belong to any race or ethnicity, so Mingle2 is open to everybody. Sadly, there are no exact stats on ethnic diversity, but given the number of its users, we assume you will find all nationalities here.
Religious Orientation
Every user has a right to their religion and is expected to respect others'. Once again, Mingle2 does not track religious stats, but since this platform works worldwide, denominations will vary.
Pricing Policies

Mingle2 paid membership, which is otherwise known as MinglePlus. It offers three payment plans, which are 3-month, 6-month, and 12-month payment plans. With three months, you pay 9.95 USD per month, that is, a total of 29.85 USD for the whole period. The six-month plan offers a reduced price of 7.95 USD per month, so that means you are paying a total of 47.70 USD. And finally, the 12-month plan offers an even more reduced amount of 5.95 USD. Apparently, the higher the plan, the lower its price. Users can make payments using PayPal and credit cards.
Free membership
A lot of features that are open ONLY to paid members at other dating sites are completely given for FREE on Mingle2. Free members on Mingle2 enjoy more privileges than most other websites are willing to offer.
Sign up and profile creation are usually free on all dating networks. On top of that, Mingle2 free members can send and receive instant messages. The only limitation is that messages that are older than one month are automatically deleted. Free members can also search unlimited profiles, view profiles and photos, see who views their profiles, add friends, use the Mutual Match feature, add to their favorites lists, and participate in forums. Free members can also see testimonials by other users.
Paid Membership
Paid members enjoy all of the privileges open to free members and more. They have larger visibility in profile search results. They can see who likes them on Mutual Match; know when their messages are read; go to an invisible mode when viewing other users, etc. Paid members have their messages stored forever, unlike free users whose messages can only last one month.
How to Cancel Mingle2 Paid Subscription?
To cancel your paid subscription (aka, MinglePlus, click on "My Account," followed by "Settings," then click on Premium Membership Status link, then click on "cancel your premium membership" link. Finally, confirm your cancellation. Once canceled, you lose unused days remaining if there are any. Note that if you paid with PayPal, then you will have to log into your PayPal account and finish the cancelation. You can cancel your paid subscription at any time.
Is Mingle2 Safe?

From the tech side, Mingle2 is a safe and secure site. Confidential information entered here is private and protected against unauthorized access. On the other hand, Mingle2 does not have any reliable form of verification, only email verification. And that does not help in any way because anyone can create a new email with a fake identity and have their Mingle2 account verified. Due to this reason, there are lots of fake profiles on the site.
Quality of Profiles
The member profile is set up with a few simple, easy, and quick steps that could be finished in no time. You are required to create a username that you would like to use on this site. It will, later on, be used instead of a real name. No rule binds you against changing your initially registered information later. You can add a short description of yourself and your interests to your profile after registration.
You can upload one photo during registration and upload as many as you want after registration. You may want to take advantage of this and attract attention to your profile since pictures are the first point of focus rather than personal information. Besides, few profiles are detailed, so pictures speak better when it comes to representing Mingle2 users. For some people, this could be a problem because it would seem users are matched based on pictures instead of personalities. Your profile pictures and all of your photos can be freely seen by anyone, just like you can see theirs.
The members' profiles on Mingle2 lack details and credibility because website owners chose moderate measures during registration. There is no strict or rigorous identity verification, which makes room for easy profile creation and ultimately makes Mingle2 a home for game players who hide under fake profiles and pretend to look for love on the site. However, you have the option of reporting any suspected fake accounts, and the team will inspect them and take appropriate measures.
Owing to the lenient mode of registration, many game players could register with different fake identities and abandon the accounts in the long run. Or, their accounts would be suspended for scam attempts.
Website Design and Usability

If what you expect is a unique and professionally crafted website, you may be disappointed because it is the exact opposite. Potential users can be put off by the mere fact that this webpage does not look enticing enough, especially when there are many other better-looking competitors. Mingle2 design is very simple and easy on the eye. This simplicity, for sure, accounts for impressive usability. The features are uncomplicated, and anyone can use them with ease.
However, there are too many ads that you will have to deal with on this site. You may want to be careful while making your clicks so that you do not mistakenly click on any of the dating company's ads scattered over the page. You could accidentally click your way into another dating site and not know that you have left Mingle2 into a new one.
If you can handle seeing so many different ads online, fine, but they are just too much of them, which makes enjoying Mingle2 free version almost impossible. Premium members, fortunately, can block those ads.
How does Mingle2 Work?
Mingle2 presents singles with an opportunity to find dates online. Once you are registered, you become a member and can start your journey of searching for that special one. There are many features available to help you start communicating.
Mingle2 App
Mingle2 has a free app, which serves just about the same purpose as the website, but with few variations. For instance, the chat set-up on a desktop is not complex and even much less complex on the app. The app is more modernized, better-looking, and even easier to use than the desktop or mobile site. But, its pages could take a longer time to load compared to the website. It has the same issue of too many ads on the pages. The app has over 5 million downloads.
Alternatives of Mingle2
If you do not like the sound of Mingle2, here are few other alternatives you may want to check out – eHarmony, AdultFriendFinder, Ashley Madison, Tinder, Badoo, InterracialLove. Some are better for relationships, while others target quick hookups. However, few offer their users, so many communication means for free.
Conclusion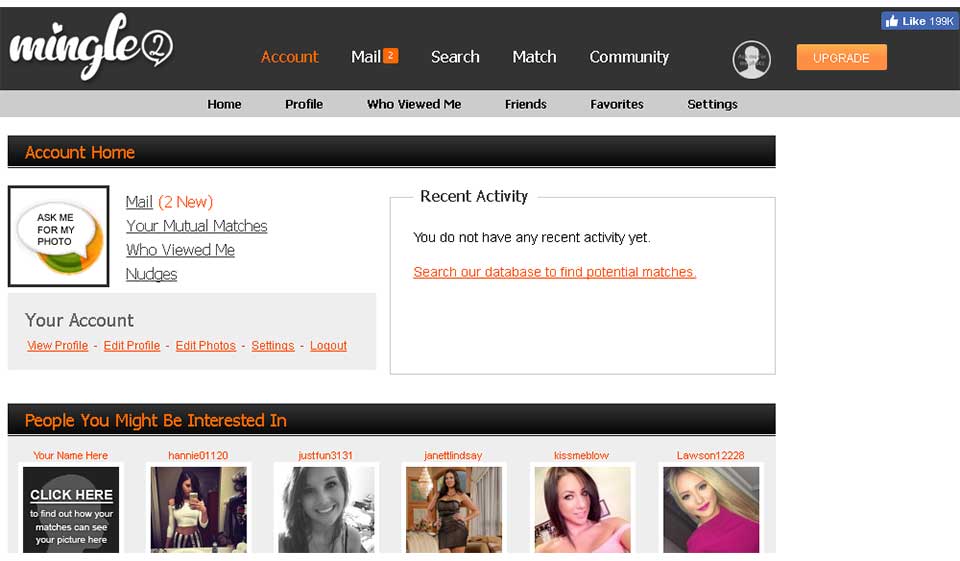 Mingle2 is one of the many online dating sites that offer singles an opportunity to find love from the comfort of their homes. While this sounds fantastic, it is advised that you tread with caution while dealing with Mingle2 or any online dating site. What may stand Mingle2 out from other competitors is the fact that its messaging features allow even a free member to send and receive texts to and from any other user. However, to prevent spamming, free members have limits placed on their First Contact function, and their chats are automatically removed at 30 days.
Meanwhile, an overall concern about Mingle2 is that it may have a lot of fake profiles. This site has effortless registration and lacks authentic verification measures. Besides, both paid and unpaid (or better put, serious and unserious) users can access many communication features. Players and online scammers can take advantage of all these and hide under fake identities and scam other users. Everyone wants to find that special someone who is true and genuine.
On the other hand, no dating site in this world has a 100% authentic user database. So, you may give Mingle2 a try if you are willing to keep a clear head.
Company: NextC LLC
Address: 350 Sansome Street, Suite925 San Francisco, California 94105 United States
Phone: (415)373-4066
Email: accounts@mingle.com