Swinging Heaven is the dating service that specializes in open relationships for swingers. Its primary audience comes from English-speaking countries such as South Africa, the UK, Canada, the USA, and Australia. But people all over the world can join this service and seek partners in their regions. The site organizes offline events and parties. The concept is to provide affordable niche dating for all, so there are many free services on Swinging Heaven. This swingers service can boast of almost 2 million users and a rich collection of private home videos, images, and other adult content. It is not only a dating site but a blog and a news resource.
When Was Swinging Heaven Founded?

The service has been founded in 1999 and started in the UK. The Swinging Heaven site grew more prominent, and its separate departments appeared in Australia, South Africa, the USA, and Canada. Now there is the exclusive filial site for the swingers in any of these countries. With its vast audience and the 21-year-long history, this resource has won global respect in the swinger community. People all over the world trust and join Swinging Heaven.
Who Owns Swinging Heaven?
Symbios Solutions Limited is the company that operates Swinging Heaven. Its headquarters are in the UK. You can find the registration number of the company's legal entity as well as all contact information on the site. SwingingHeaven is open about its origin and the business it leads.
Registration & Profile
You have to enter personal detail during the registration. It means when you initially create the account, fill in the profile, and can proceed to match and to browse after you enter the essential information — the registration process is no longer than 5 minutes.
The site gives you instructions on how to complete the registration. Signing up consists of the few steps, and they won't take you long if you follow SwingingHeaven's guidelines. First, you need to insert the email, user name, and password. You should not write your real name. It is a rare thing to do on a dating site, especially with such an inclination. After the email, you fill in your birth date, gender, orientation, location, and preferences. Users can link their profiles to a Facebook account, and then the registration becomes more secure and comfortable.
If you choose the latter option, the information you list will be about your sexual preferences, goals on the site, and fetishes. You should answer what you would try out with a person you meet on the site and, in general, what your orientation is. This data is useful for other members and helps optimize the search algorithms.
Then the verification comes. All Swinging Heaven users should upload at least one photo, which will be their profile avatar. And the system will also ask you to verify your identity by taking a picture in a specified pose. These photos will not appear on your account. They are needed so that the moderator team can tell you are a real person. After the identity check, you finally access the site. But the whole process is quick and will not take you long.
Communication/Matches

All people, regardless of their subscription, can enjoy the full functionality of the site. Even those who did not purchase the membership can text, read messages, and use the search filters.
On Swinging Heaven, there are various options to make contact. You can like people, and they will receive a notification about this. You can see people who liked you and text them as well. However, for free members, the number of messages is up to three per day. There are more than twenty-three hundred live chat rooms on Swinging Heaven that you can join. This feature is of extraordinary popularity during the lockdown. Such chats rooms became the space for people to meet online, have cybersex, flirt, or just communicate.
What is more, you have various groups on the site. This dating resource allows people to unite into the communities, have parties offline, or meet online in chats. The groups focus on personal interests or sexual preferences. Joining them is a great way to meet like-minded people and make contact on Swinging Heaven.
The last way to attract the attention of people who have the same ideas and goals as yours is blogging. On Swinging Heaven, you will find the fiction section where people post fanfics they wrote on different topics. This part of the site is particularly popular, and there are many active users there. Everyone can post their story or attach erotic photos to fan fiction. If another member likes the post, they can contact the author for further communication.
How to Search for People on Swinging Heaven?
Users can apply different filters and weed out people based on various criteria. Among them will be age, sexual orientation, fetishes, gender, body type, location, and many others. However, some results are visible only to the Swinging Heaven premium members. Still, even if you do not use the search, this dating site will daily send you a few options of people you should like. You can then freely contact these matches if they meet your requirements, filter them out, or sort new people.
How to Delete Swinging Heaven Account?

To cancel your account once and forever, you should go to the profile setting and choose the "Cancel" button. This action is irreversible. Deleting the account will remove your conversations and personal details from the Swinging Heaven site.
Members Structure
The women-men ratio one this dating site is 3 to 2. So, the level of the female audience is higher. This percentage is not a big difference, considered that there are generally more females in the world. And given that Swinging Heaven is queer-friendly, some of the women are bisexual or lesbians. Thus, they are not interested in men anyway, and there are still enough women who want to date a person of the opposite gender. The majority of the users are willing to meet in real life. Whether you are looking for a quick flirt online or casual dating with a regular swinger partner, it will have something to offer you.
Sexual Preferences

Swinging Heaven specializes in swingers dating, but that doesn't mean they cut off other sexual communities or casual relationships. If you try hard enough, you can even meet the person for a serious romance here. But as a rule, everything starts with a hookup. Members of this dating resource are open about their sexual preferences and actively seek those who share them. You can search for people with various fetishes, of different orientations, and diverse interests on the site. But most often, it is the best for seeking partner for the night or the swingers to join your couple in intimate experiments.
Race and Ethnicity
There is no division according to the race on Swinging Heaven. People of all nationalities register on the site in search of swinger dating. When you filter out the potential matches, you can choose the region they come from and their skin color. But only because people of a particular ethnicity can be someone's sexual fetish. There will be no problems for people from any country in the world to join this open community.
Religious Orientation

Because sexual experiments and casual dating are things that often run contrary to most religions, this site is not the best to seek religion-oriented people. There are no such criteria among the Swinging Heaven search, and you should be ready for the uncensored explicit content on the site.
Pricing Policies
In terms of the process, Swinging Heaven's politics is reasonable and attractive. It appeals to so many people that the site's audience grows from day to day and is near two million people. Even users with the basic non-paid membership get a broad functionality that offers them exciting features. They can enjoy the site to the fullest event without paying. If they want to make their user-experience more advanced, they can pay for additional features and the absence of limitations.
But the restrictions regular SwingingHeaven users face are seamless, and they can still perform various actions. Messaging and replying in the limited amount, putting likes, seeing who has visited you, and discussions on forums are available to all.
Free Membership
Every free user can use the following features:
The initial creation of an account;
Editing your profile later;
Sending three messages per day;
Replying to no more than three people per day;
Seeing people's profile;
The statistics of the profile's visits;
Sending a brief message to the group of members;
Basic search filters;
Using the adjustments to receive matches;
Hiding your profile;
Browsing the albums of users;
Participating in the live chats;
Forums, discussion, and the blog section are available.
Paid Membership
Paying for the subscription you will be able to:
Enjoy full messaging abilities;
Access the adult content (home photos and videos of other users);
Use the chat with multiple access for swingers;
See who has read your profile's description;
Join chatrooms unlimitedly;
Create your webcam parties.
The services of the paid subscription are divided into two options. You can buy the essential premium subscription and the one with extras. The difference is not big but pleasant, especially for the price. As for the niche site, the paid subscription on Swinging Heaven does not cost a lot. You can see the prices below.
Premium subscription:
One month for $ 21;
One year for $ 70.
Premium subscription with advanced access:
One month for $ 21;
One year for $ 92.
How to Cancel Swinging Heaven Paid Subscription?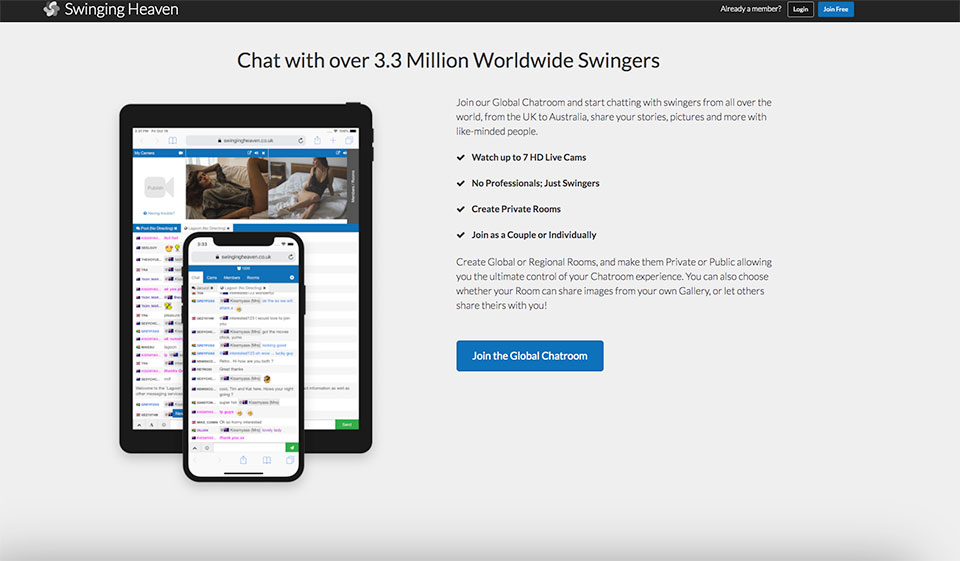 You can cancel the payments without deleting your account. The system will save all your data, and you can browse the site for free later. To annul your paid membership, go to the profile settings and choose "Cancel" in the "Subscription" section.
Is Swinging Heaven Safe?
All the information you provide to the Swinging Heaven is confidential, and the site doesn't pass it to third parties. Unauthorized users can still see some photos of the users when they open the main page. The dating service provides examples of photos and profiles of members to attract more people and encourage you to register.
The initial verification allows us to weed out fakes and bots at the first step of signing in. If you pass the check, the moderators allow you into society, but then they do not verify the member's photos. Because Swinging Heaven is an adult site with a vast community of swingers, there is a lot of content on its pages that people may find shocking or offending. If you face a picture that displays something particularly unacceptable, you can always report this user.
The information other people see about you is adjustable. Even free members can browse the site in the safe mode, and then users will know they visited them. People who purchase paid subscriptions get broader functionality in terms of anonymity and security. They can hide practically all their activity and filter what people will see their profile. In this way, they disappear from other member's search results.
Quality of Profiles
The profiles on Swinging Heaven correspond perfectly with the theme of this dating site. Most of the profile pictures include nude bodies, people in sexy poses, showing their best angles, or straight out photos of a couple who seeks a common sexual partner. The accounts of users include some tags and interests which determine the search. Based on what information you specify about yourself, the algorithm chooses the criteria to use when matching you to other people. There is plenty of space on the profile where you can tell about your fetishes, whether you are willing to flirt online or date in real life, and what you want to try on the site.
There are more females on the site. But all users are active and seem authentic. Fakes would simply not pass the verification because you have to send a photo proving your identity. What is more, all users should upload at least one profile photo during the account creation. The general Swinging Heaven feed of the looks orderly and all users have account pictures.
You cannot be 100% sure about people's behavior in live chats or offline. When you choose to communicate with a person privately, you never know who hides on the other side of the screen. Users of adult sites should be ready for everything. In case the person is not who they pretended to be, you can send the report to the Support Team. When it comes to the meeting in real life, here everything is to your responsibility.
Website Design and Usability

The design of Swinging Heaven is neat and inspires confidence. It shows that you deal with the site with more than 20-year-long history who cares about its reputation. This dating resource also cares about the users because browsing the website is secure and pleasant. All the main buttons are on the toolbar menu on the top of the page. You can find sections like chatrooms (with the number showing how many of them are currently live) or galleries there. The latter contains pictures and videos of the members of the Swinging Heaven community. Then you can click on "Forum" or "Stories" and explore more about the swinger community.
The site works smoothly and is exciting to browse. You can spend hours on it because the content posted is very engaging. Here you get access not only to searching and matching. You can read fanfiction, erotic stories, watch adult content, join the discussion on forums, and enter the live chat rooms.
How Does Swinging Heaven Work?
The site provides information about the swinger parties in your locale, allows joining groups, and browsing swinger chats. Swinging Heaven also arranges real-life swinger events where all members can meet and get to know each other closer.
Swinging Heaven's main idea is to unite people who want to meet in real life and switch the partners or flirt online in the live chats. The subscription is not expensive, but you can purchase it either for one month or for the year. Members rarely cancel the subscription, so they regularly pay, and the site receives a steady income. This concept allows it to work appropriately without ads, and gain popularity over posting the adult content. Even free members get a lot of exciting functions, not all dating sites have.
It is interesting to spend time on the site. You can compare it to the full-fledged adult resource rather than to a simple dating site. On Swinging Heaven, you get tons of activities, and almost two million people prove that it works.
Swinging Heaven App
There is currently no mobile app available. This news comes as a surprise if you think about how big the community of the site is. It is undoubtedly a significant drawback of the Swinging Heaven site. Of course, the site's mobile version is well optimized for all devices, and you can open it from the phone. However, every time you open the site, you will have to sign in or wait till the page loads. Doing this is time-consuming, and coming up with an app would be a great decision.
Alternatives of Swinging Heaven
If you are looking for a swinger-oriented website, Swinging Heaven is undoubtedly the best. It has the biggest audience and can boast of serious profile verification. However, its main pitfall is the absence of the app and not so low prices. One alternative to this dating site can be Ashley Madison. This service for adult dating also provides broad functionality and takes multi-level security measures.
Another site for quick hookups and exploring people with the same fetishes is AdultFriendFinder. The service focuses on connecting people who live in the US region and want to meet for the night or regularly see each other for sex without obligations.
Conclusion

There are no many drawbacks to this dating site. Except for the fact that Swinging Heaven doesn't have a mobile app, this service offers a lot of functions for its members. You can message people and reply to those who reach out to you. Even if no more than six messages and replies are available in a day in total, many dating sites do not yet provide this amount. On most dating services, you should pay to receive advanced search, communication, live chats, or see who visited you. On Swinging Heaven, all those services are free.
The dating website also provides a high level of security. All members should pass verification and upload a photo to register. This measure reduces the risk of wasting time on a fake account and dealing with a scammer. Exceptional security measures and a low percentage of fake users add extra points to the reputation of this online resource for swingers and sexual experimentation. Considered all this, Swinging Heaven may be the best choice for your spicy dating.
Company: Symbios Solutions Ltd
Address: Symbios Solutions Ltd., 16-18 Barnes Wallis Road, Segensworth East, PO15 5TT, United Kingdom
Phone: 0370 490 0000
Email: info@swingingheaven.co.uk