JDate is one of the biggest online dating platforms created specifically for Jewish singles. The users who join this site are Jewish singles looking for a serious relationship and are willing to create a family.
In 2020, JDate celebrated 20 years of providing support for Jewish singles in their love search. JDate claimed that almost plenty of Jewish couples had found their current partners online as of 2011. In 2006, JDate won the Webby award for social networking and continued uniting Jewish singles worldwide.
This site's members come from many countries, so JDate updated its platform, and now it is available not only in Hebrew and English, but also in German, Spanish, and French.
Joining JDate, people have different intentions starting from simple friendships to lasting relationships and marriages. JDate doesn't have a reputation of a platform for unserious dating.
Besides, you shouldn't necessarily be Jewish to search for a partner on JDate. Still, people who come here are interested in finding a Jewish partner to share religion and have something in common. If you are thinking of giving a JDate try, keep reading to find out whether this is worth it for you.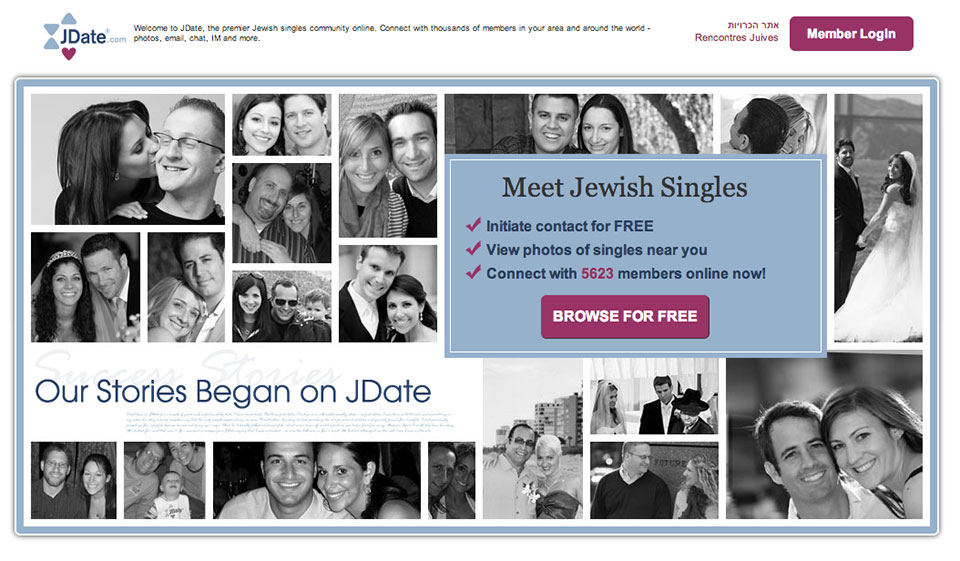 When Was JDate Founded?
JDate was founded in 1997 to help Jewish to find their true love online and help the Jewish community from all over the world connect.
Who Owns JDate?
JDate is owned by Alon Carmel and Joe Shapira, who comes from Israel. Shapira owns the company called Spark Network that also operates such dating websites as ChristianMingle and SilverSingles. Now, JDate CEO is Adam Berger. This company has headquarters in Los Angeles, California, the United States.
Registration & Profile
The registration process is very easy and doesn't take much time. Newcomers will be required to fill in the basic information about themselves. Other questions concern users' height, education, and profession.
To register on JDate, people don't need to be Jewish, in fact. This site focuses on Jewish people, but everyone else is welcome to join, keeping in mind that this platform is still mainly for Jewish singles. There are some questions related to religious beliefs during the registration, where people have to choose theirs. This will be seen on the profile. You should aim at including as much information about you as possible, because this may increase your chances of meeting a great match.
After that, there is a place to upload your profile photo. A profile photo is an integral part of virtual dating because other members will see only your photo at first sight. Moreover, uploading a photo is mandatory, and the site checks all these pictures. After uploading, you will need to wait for 24-48 hours for JDate to approve it. The maximum number of photos you can upload is six. Try to upload only up-to-date, high-quality photos, as this will make you more noticeable.
Besides, you can always edit your profile at any stage of its usage. Anyone can easily do it in the Account Settings.

Communication/Matches
Like other dating sites, JDate has the same strategy, making contact possible only for paid users. Consequently, only if you have a premium subscription, you have an opportunity to get to know other members. For paid users, there is a chatroom where they can exchange messages. Moreover, if a user reads your message, it will be seen. The same goes for your messages; if you read them, it is seen to their senders.
It could be a real challenge for you if you plan to use JDate only for free. However, another way of showing interest in users is to like the profiles. Other singles will see those likes.
If you don't want to get any more messages from a particular user, you can add him or her to a blocked list. Blocking users will prevent them from sending you any kind of words or likes. You can unblock a user in the Account Settings.
Interestingly, JDate is one of a few websites that organize events for its members. So, JDate subscribers can meet up in person in the big JDate community.
How To Search For People On JDate?
Searching for people on JDate is completely free. You can browse members' profiles, and this site will also send you matching suggestions. Anyone can change their search preferences by clicking on a photo thumbnail. You can search for people based on height, age, location, etc.
As a paid member, you can access another feature called hidden search, meaning that you can search for people anonymously. While searching for people, you can protect your account, but it will still be visible when other people are looking for you. You can activate this feature in your Account Settings.

How To Delete JDate Account?
If you want to delete your account, you can do it in the Account Settings. Go to Profile Display Settings and click on to remove the JDate profile permanently. You should know that all information, inbox conversations, your matches, etc., will be gone when you delete your account.
It is essential to mention that you should cancel your subscription before you delete your account. Otherwise, you will be charged again on your next auto-renewal period.
Members Structure
JDate has an approximate number of 1 million people, including 250,000 users from the USA. The Jewish community is entirely spread worldwide, so you are likely to meet people from different countries, not only the USA and Israel. Every week nearly 200,000 people visit this site and stay active. Moreover, almost 1/3 of all members have a paid subscription.
Most members come from Israel and the USA. The most significant number of users are of Jewish descent.
Besides, on this platform, there are 43% of women and 57% of men. Meanwhile, men are also more active and get premium membership more often. Women aged 35-49 years old are likely to be involved in a conversation.
The age distribution is as follows for women and men:
Females: 18-24 years old – 6%
25-34 years old – 11%
34-44 years old – 8%
45-54 years old –7%
55+ years old – 12%
Males: 18-24 years old – 8%
25-34 years old – 14%
34-44 years old – 10%
45-54 years old –9%
55+ years old – 15%
Hence, there are more chances that you meet an unmarried woman aged 25-34 or a divorced or widowed aged 55+. For men, it might be a bachelor aged 34-44 or a divorced or widowed aged 55+.
According to JDate statistics, everyone can meet their soulmate on this site, despite the user's age.

Sexual Preferences
JDate is open to everyone. During the registration, you can choose the gender of a partner you are looking for, meaning that men can search for men, and women can look for women on JDate. Therefore, the JDate website supports both homosexual and heterosexual couples.
Race And Ethnicity
JDate is for Jewish singles, so you can expect most users to be of Jewish ethnicity. The Jewish community is one of the world's biggest in the world, so people can come from different countries. However, you may meet people of different races and ethnicities on JDate. Many users are interested in finding a Jewish match, even though they are not Jewish themselves.
Religious Orientation
JDate is an online dating platform for Jewish singles who follow Judaism, one of the oldest religions on the Earth. Yet everyone, despite their religious orientation, can join JDate. Still, they should respect Judaism and understand that it might be their future partner's religion.
Pricing Policies
JDate offers a paid subscription to its users. That type of subscription provides members with different advanced features like sending and reading messages, seeing whether messages have been read, hiding a profile during a search, and more. Unlike other websites that offer a one-year commitment, the JDate website allows only a 1-, 3-, and 6-month subscription.
Another critical point is a $1 charge on a credit card that can be seen for some users. It is just a pre-authorization fee that will be removed within 24 hours, and you will not be charged an extra dollar if you decide to buy a membership.

Free Membership
JDate offers some basic features for free users.
Unfortunately, that's all, and according to some JDate members, free memberships don't allow users to enjoy and use this site to a maximum.
Paid Membership
Premium membership allows JDate users to dive into online dating for full, as there are no barriers for you with a paid subscription. Those users that have a paid membership can communicate with any member of the site, and they can also send and receive messages. They are notified when they receive messages. Besides, you can search for people anonymously, hiding your status and removing your profile from searches.
For an extra fee, you can put your profile at the top of any search results. Finally, you can upgrade your account on the app as well.
Regarding prices, JDate offers only one type of a paid membership called VIP membership. You can get a 1-, 3-, or 6-month subscriptions:
VIP Membership
1 Month
59.99 USD / Month
59.99 USD total
3 Months
44.99 USD / Month
134.97 USD total
6 Months
29.99 USD / Month
179.94 USD total
As you can see, in total, the 6-month subscription is the cheapest in the final results. However, you can still try JDate only for one month for almost $60. Comparing with other online dating platforms, JDate is a bit more expensive.
You can pay for a subscription by credit or debit cards, PayPal, or via mobile phone store (Google Play or AppStore).
How To Cancel JDate Paid Subscription?
If you want to cancel JDate paid subscription, you should go to your Account Settings. From there, you can click on Manage subscription and choose to stop your billing. Stopping subscription means that you stop your auto-renewal. Remember that you should receive a confirmation email about the results of your action.
If you purchase a subscription via iTunes or iOS account, you will need to cancel auto-renewal via your iTunes or iOS account. JDate doesn't have access to your subscription over there. You should cancel a paid plan before its renewal date.
Is JDate Safe?
JDate calls its members security their main priority and puts its members' happiness in the first place. Understanding that they cannot protect their members 100%, JDate shares some advice that can prevent users from bad experiences. These tips include not sharing private information with other members, avoid rushing to take the relationship out of the platform, and trusting your intuition.
Moreover, you can always block or report a user if you don't feel safe about them. You can report a user on their profile or via inbox. You can also remove people from the blocked list in your Account Settings.
JDate customer support is available 24/7 to get in touch with them if they need it.

Quality Of Profiles
The quality of JDate profiles is high. First of all, it is almost impossible to create a fake account because of the strict rules and constant user monitoring. The photos need to be approved, and they are also examined for possible copies. If someone's profile is detected or accused of being fake, it gets suspended, and the owner needs to contact the customer support to solve this issue and prove their identity.
You can look for people according to different criteria like age, gender, location, etc. Moreover, user information on the profile is quite detailed because people have to answer some questions during their registration.
Viewing each other's profiles, including photos, is entirely free.
Website Design And Usability
JDate website is well-designed and easy to use. Members find it easy to navigate and search for other users. All the features like send a like or send a message are visible on the profile. The interface is simple not to distract users from their aim of finding true love. The site helps to focus only on online dating. Besides, it has a smooth color scheme, easy on the eye. JDate is simple to use, regardless of one's tech experience. So, we call their UI a job well done.

How Does JDate Work?
The primary purpose of JDate is to help Jewish singles find a partner. Everything starts with the registration and account creation. It is free and doesn't take much time. During the record, you should answer all the questions and upload a profile photo. After that, you are ready for the next step, which is searching for other users. You can search for people according to different criteria like age, gender, location. Also, the site will offer you the matches that it thinks will suit you.
From that moment, it is up to you. If you want to, pay for a VIP membership to message other members; or, you can simply view profiles for free. If you don't have a paid subscription, you cannot communicate with other users, and it can restrain you from using JDate to its fullest.
When you get that paid feature, you can get to know other members and finally arrange a call or a face-to-face meeting.
JDate App
In 2014, after thousands of requests, JDate launched a dating app with the same name so that Jewish singles could have easier access to the platform.
JDate app is completely free and is available for both Android and iOS users. On the app, you will be able to view matches, send and receive messages, search for people, send likes, and change information.
The app is well-designed and is easy-to-use. There have been no complaints regarding the app yet.
Alternatives Of JDate
JDate is one of the biggest sites that focus on the Jewish community. However, if you want to broaden your search, you can try Ashley Madison, eHarmony, or MillionaireMatch. All of those services have bigger audiences, not only for Jewish singles. Note, however, that not all of these websites are for serious relationships. Ashley Madison, for example, is the most significant affair site. Finally, if you are unsure whether you want a link or something more casual, you cannot go wrong with Tinder.
Conclusion
JDate is an engaging and exclusive site for the Jewish community. Only here, you can meet so many singles of Jewish ethnicity. According to JDate itself, their online happy-ends rate is high, and many couples have already met each other on this platform. If you think it is something for you, why not try to JDate, even for just one month?
Company: Spark Networks, Inc.
Address: 11150 Santa Monica Blvd. Suite 600, Los Angeles, CA, the USA, 90025
Phone: 1-877-453-3861
Email: support@jdate.com